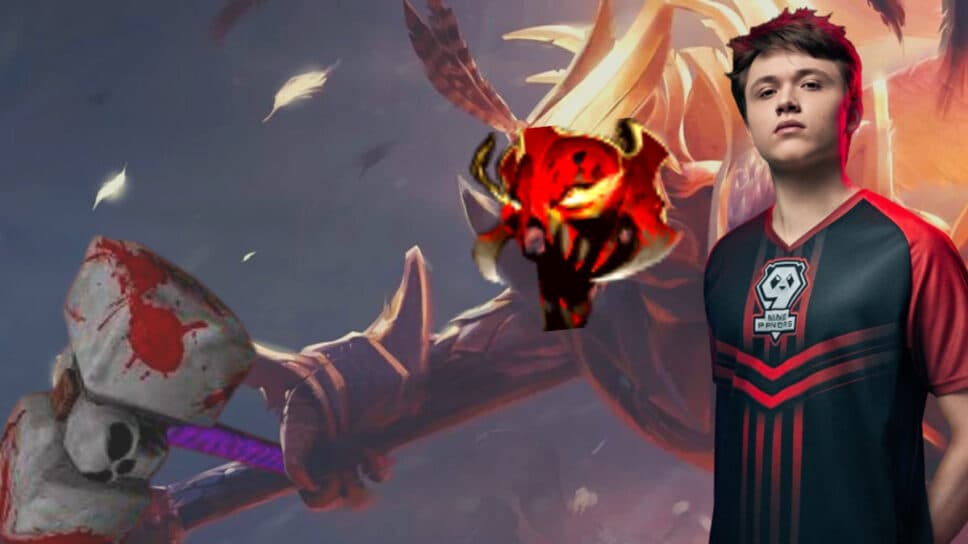 9Pandas Antares goes wild in DPC by buying Skull Basher on a support Skywrath Mage
9 Pandas' Antares went Hand of Midas, Skull Basher and Mask of Madness on a support Skywrath – and spoiler alert.. they won the game.
If there is a rule against players promoting bad behavior in pubs, 9Pandas' pos 4, Vladislav "Antares" Kertman, would be guilty on many accounts. As if their Tinker was not bad enough, 9Pandas doubled down with a support Skywrath Mage purchased a Skull Basher. Yes, you heard that right. Pubs beware, because here we go again.
9Pandas Antares goes full carry as a support Skywrath
In the Eastern European Dota Pro Circuit (EEU DPC) series against One Move, 9Pandas had shown total dominance. The series went 2-0 in favor of 9Pandas and the games were not even close. Both games ended in less than 35 minutes with 9Pandas having the net worth advantage almost 100 percent of the time.
Net worth advantage sitting one-sidedly on the side of 9Pandas (Image via Dotabuff)
Position four player Vladislav "Antares" Kertman played Skywrath Mage in both games. In the first game, he went for a typical support Skywrath build - going for items like Mana Boots and Force Staff. However, something flipped his switch in game two that pushed him to go for the most ridiculous Skywrath build.
Antares began with two Null Talismans, which was rather normal. In the seventh minute, he bought a Crown which many would expect him to turn it into a Rod of Atos. It became a Solar Crest instead. Still, it was nothing too out of the ordinary. Nearing the 20-minute mark, he purchased a pair of Phase Boots. This was where things started to look iffy. Five minutes later, he bought a Hand of Midas before following up with the haphazard Skull Basher pickup. Just moments (about one second) before One Move tapped out of the game, Antares got himself a Mask of Madness, which was most likely just a flex move. With that kind of build, it looked as if he had zero respect for that game.
Though credit is where credit is due. The biggest reason Antares was able to play in such a ridiculous manner was mainly because of Gleb "kiyotaka" Zyryanov's Tinker. Some may argue that he is currently the best Tinker in the world. With such prowess, no wonder Antares did whatever he wanted.
9Pandas currently holds the top place at EEU DPC
With their win over One Move, 9Pandas now sits at the very top of the EEU DPC, undefeated. They will next face BetBoom Team, who are currently undefeated as well, on May 27, 10:00 AM PST. Be sure to catch their game available on the Paragon Twitch channel.