T1 esports' Pos 1 player, 23savage talks to esports.gg about his time with T1 esports, the WePlay Animajor and his mentality on his new squad.
The WePlay AniMajor wrapped up the Group Stages, seeing 2 teams eliminated from the tournament as the level of Dota being played rose beyond their capabilities.
With squads like PSG.LGD and Team Nigma putting on world class performances, it would be easy to forget this is not even the main event.
Handicapped during last Major, T1 strikes back in DPC Season 2
Amazingly, 6 top-tier teams have yet to play a single game, having earned direct playoffs qualification. Among these teams is T1, who made the controversial decision right before the Singapore Major to replace their then carry player Souliya "JaCkky" Khoomphetsavong, in favour of the superstar carry player Nuengnara "23savage" Teeramahanon.
Though handicapped at the Major due to losing their captain Kuku for the event, they've since demonstrated that he was the right choice by winning the 2nd DPC season. Now they want to use this opportunity at the AniMajor to add to their barely enough points tally, and stamp their ticket to TI.
As the teams prepare, we had a moment to catch up with the Thai prodigy.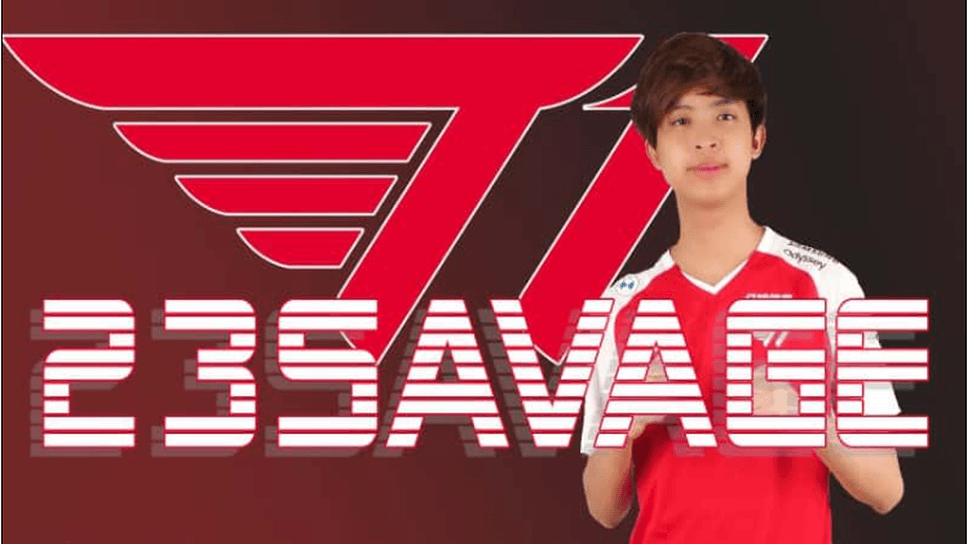 23Savage, Carry player for T1 and ranked #1 on the SEA leaderboard.
The journey of a thousands steps
"I put a lot of effort into being a pro player and it requires discipline as well as diligence."
23 Savage
Dota is not an easy game. in fact it is one of the most difficult games of all time. However, Dota also demands a mental resilience to play at the highest level that few can match.
The ability to consistently grind out win after win, despite occasional losses or difficult game environments, on a bevy of heroes, all without losing your nerve or mettle which leads to a mistake.
23Savage spent significant time honing his nerve and mettle in the SEA servers, reaching 12,000 MMR in the process and spending much time ranked 1st. Almost as if to silence his critics about SEA being the weaker region. he's achieved rank 4 in Kyiv. playing a server literally filled with the best in the world.
"I just wanna win. I like to win, that's all"
23Savage
However a pubstar is not automatically a pro, as attested to when joining T1, 23 savage had not been in a pro team for almost 8 months.
Despite having their captain back for the DPC Season, T1 initially struggled, dropping 2 of their opening 3 games. 23Savage undoubtedly skilled, but seemed to lack the killer edge needed by his team to win.
"We lost the last Major really badly. Our mentality was not in the right position"
23savage
Something needed to change. It was not a lack of skill but the approach to the game for T1's players.
23Savage: "I thought too much about DPC. I thought too much before. Now I'm kinda getting back to myself more and just focus on the game"
As attested, 23Savage showed he was amongst the most resilient players by bouncing back in the season in exhilarating fashion. He became the bedrock of a T1 that, though losing 2 early series, only dropped 3 games for the rest of the season.
Arguably, the biggest change came due to the obvious shift in mentality from being individually flashy as a player to being the sort of carry who elevates his team.
23savage has had a smooth transition to T1 esports. Image Credit: 23savaage's Instagram.
---
"The transition has been pretty good so far, captain Kuku and coach March are helping me a lot."
23savage
In addition to having incredible talent, 23Savage still acknowledges the impact of veteran experience in Kuku and March. Learning from his predecessors, he's intent on avoiding the SEA curse of skilled pubstars who don't transition into pros.
His maturation has also been evident by his hero choices, spending less time on the solo carrying Morphlings and more on Lifestealers, Wraith King style heroes who play better as part of 5-man lineups.
"The part that impressed me the most is that everyone in this org is so professional, mature and orderly."
23savage
These changes seemed to have reflected positively on him as a person, with a renewed outlook on what to take from this experience.
23Savage: "In my opinion, I feel like being in a competitive environment is great because we can always improve by competing with the good teams."
To forge steel, one needs fire and certainly that fire was available in the 2nd DPC Season. With competition getting tougher every week, despite having dropped games to underdogs, T1 found themselves improving the stronger their opponents were.
However those who can take it to the next level don't survive in situations where failure simply isn't an option, they thrive in them.
"I think I played the best against TNC in the tiebreaker."

23savage
With the ultimate competitive environment to come at the AniMajor Playoffs, there is no shortage of incredible teams for 23Savage to prove himself on.
23Savage: "I don't expect anything about the placement. As long as we are learning and improving that is already a satisfactory result for me."
With a clear drive to win yet still unproven on the big stages, there are still many unknowns about the young Thai and the true heights of his potential.
Having earned a Playoff berth means he and T1 will have much needed time to study their upcoming opponents and prepare, crucially also a single lifeline as they start in the Upper Bracket, avoiding the chaos that comes with round 1 of the lower bracket.
"Since we can watch the game first and learn from them. I would prefer to be a playoff team since it would grant me more DPC points."
23Savage
Needing only top 8 in order to qualify for TI, the stakes are extremely high for the entire team to find the single needed Bo3 victory.
23Savage: "I have VG, Fnatic and T1 supporter packs. The voice lines I'm expecting to hear a lot is Fnatic-เป็นเกมที่ดี by Jabz."
However overthinking things has plagued him before, so he has made sure to have fun outside of Dota by playing games like Valorant, as well as engaging the ever increasing 'Chat Wheel Meta'.
When asked about who he is most excited to face, 23Savage also reminds us of another reason why he is special, by living up to his name.
To be honest, no team impresses me specifically, but I would like to face Secret the most.
23savage
The top SEA carry will debut at the WePlay AniMajor in the Playoffs again Team Aster, who many contend are the best team in the world at the moment.
We will discover if 23Savage will be the one to carry his team to a Bo3 victory. T1 esports and Aster kick off the playoffs with a best-of-three series on June 10 at 11 CEST.