11Monkeyz suffered their third defeat in a row in the DPC WEU, this time to Nigma Galaxy. Post-win GH says NGX are trying to remain humble.
Nigma Galaxy continue their dominance while 11Monkeyz are still looking for their first series win in WEU DPC Div. II tour 3. This makes it three 2-0 victories in a row for Nigma Galaxy who are undefeated and tied for 1st place in Div 2 with Into the Breach.
Post-win GH: "We feel good in this team, we feel really good. Hopefully we're going to get back to Div 1."
Following Nigma Galaxy's third consecutive win, Maroun "GH" Merhej spoke to the WEU panel about their run so far.
"Definitely getting relegated to Div 2 is a knock to our confidence," said GH when asked about his feelings on being in Div 2. "But we try to be as humble as possible to fix our mistakes, and take it slowly.
"We believe that we all have the same goal and we're working towards it. We feel good in this team, we feel really good. Hopefully we're going to get back to Div 1."
GH was then asked by panelist Ephey if Nigma Galaxy were still scrimming Div 1 teams or only Div 2 teams.
"We've been scrimming with almost anyone. We've played with Div 1 teams, Div 2 teams, with anyone basically. We believe that scrims and officials are not really the same. We just the scrim games to practise our strategies and what we believe in, then the officials are something completely different."
How the war was won - NGX aggression
The first game starts with both teams mirroring each other's move by going all five heroes into the enemy jungle to try to snag a quick first blood before bounties spawn.
NGX have highest average assist per game for WEU Div. 2, with an average of 88 assists per game, favouring aggressive and fast paced heroes. For this game NGX opted for both Void Spirit and Dawnbreaker.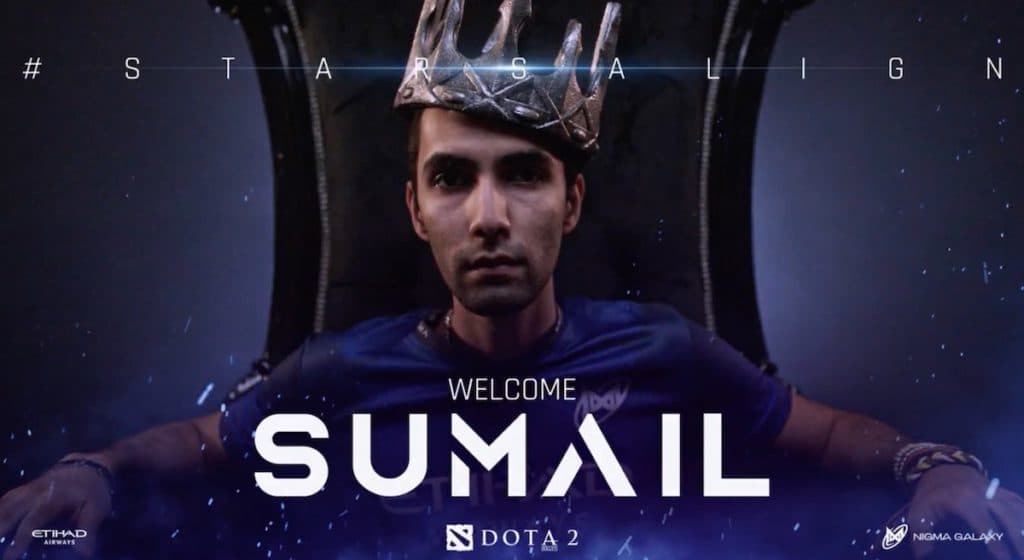 Screengrab via Nigma Galaxy
NGX showed their aggression early by going up eight to one in kill score by minute ten. 11Monkeyz tried to match their aggression with an equally aggressive and responsive draft, picking Tusk and Invoker as core heroes but as 11Monkeyz failed to capitalize on getting early trades, NGX started snowballing into a comfortable gold lead - resulting in a 5k gold lead by minute 12.
NGX kept building up a gold lead minute by minute by getting some key pick offs and simply farming more efficiently than 11Monkeyz. The game was quite stompy in nature with NGX giving 11Monkeyz no chance to get comfortable in the game. Nigma then got a quick 4-0 teamfight leading into a free Roshan at 19 minutes.
At minute 28 11Monkeyz showed some nice synergy resulting in a kill on Amer "Miracle-" Al-Barkawi, but the team fight still ended in a 2-for-3 trade in NGX's favor.
This team fight led into NGX going for a Roshan kill to get an aegis for Miracle- on his Monkey King which makes him able to push high ground. 11Monkeyz tried to defend their high ground but this results in a three to zero team fight favoring NGX resulting in 11Monkeyz calling "good game" at 32 minutes into the game.
The domination of 11Monkeyz continues
NGX starts game 2 the same way as game 1, by playing very fast paced and  aggressive, resulting in a 1k gold lead and a four to zero kill score my 2 minutes.
The game continued in the same fashion with NGX being up by 13-to-5 in kills by seven minutes as well as a 3k gold lead.
All their three cores are top net worth and for every move 11Monkeyz try to do NGX counter it perfectly leading into very bad trades for 11Monkeyz at every opportunity.
The game ended with a 20-minute "good game" call from 11Monkeyz, thus ending our series.
Small glimpses of hope for 11Monkeyz
There was not much to write home about for 11Monkeyz, but they did show small signs of good teamwork and synergy. They had several good pick off routine, but sadly they always came too late and when the game was too far in NGX's favor.
A Kuro Salehi "Kuroky" Takhasomi led Nigma continues their dominance in the western Europe Division II, now the the only question that remains now is whether or not they will join Goon Squad in being the only teams to go completely undefeated in any DPC tour.