The PGL Major is nearly upon us and we've got the full breakdown of all the new Team Patches, team stickers, and pickems.
The PGL Major is nearly upon us, and you know what that means - viewer tickets, team stickers, and all sorts of other goodies have arrived in CS:GO. This year, with the return of the Major, Valve is debuting Team Patches for you to put on your agent skins. Fans will be able to decorate your agent's attire with the logos of their favorite teams, alongside the stickers fans are already so fond of.
How much will teams earn from the CSGO Major Stockholm cosmetics?
50% of the proceeds from the team stickers, team patches, and viewer pass go to the teams and organizations taking part in the PGL Stockholm 2021 Major. Unlike The International, these go directly to teams evenly distributed instead of being added directly to the prize pool.
Player autographs will be available for teams of the Major finalists, but only after the Major has concluded. They will be available for any team that makes it to the quarterfinals, semifinals, and Grand Finals.
All purchasers of the Viewer Pass will get a Stockholm 2021 Event Coin that you can upgrade by the Stockholm Pick'em Challenge. Every time you upgrade your coin you will earn a Souvenir Token that can be redeemed for a Souvenir Package from the match of your choice.
How much are the PGL Stockholm Major stickers and team patches?
Team Patches will be available for $1.99 and can be purchased for the Contenders, Challengers, and Legends individually.
Likewise, Team Stickers are available at the same tiers and are available for $.99. Both the patches and stickers are selected randomly by tier.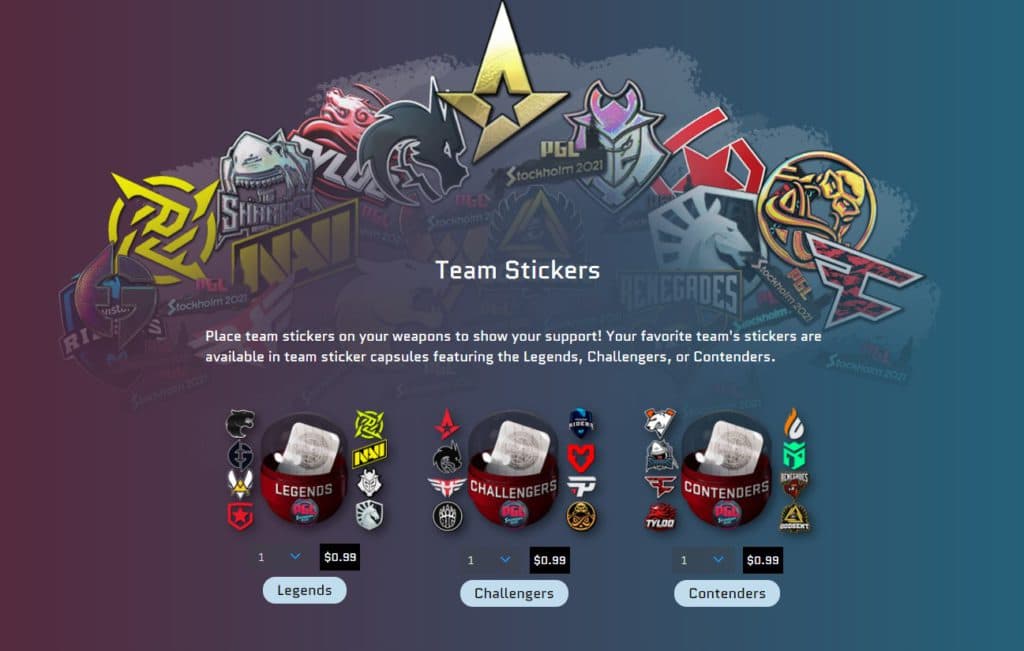 Viewer passes are available for $9.99, and the Viewer Pass + 3 tokens is available for $17.99. These Souvenir Tokens can be redeemed for a souvenir from the match of your choice, and are the same tokens you can earn from your Pickem.
The PGL Major will be the first CS:GO Major in 790 days, and will be the first Major to feature a live audience in more than that. The last CS:GO Major, Starladder Berlin Major in 2019, saw Astralis take home the glory. They won the last three majors that were played.
Esports.gg will be providing extensive coverage for the CS:GO Major, so be sure to stay tuned.