The First ESL Arena Event kicks off with the IEM Katowice 2022 Play-In. Will the favorites come through or will there be big LAN upsets?
ESL has announced the Play-In Stage draws and Group distribution for IEM Katowice 2022. With 24 teams, the Capstone of the IEM Circuit will be our first Arena event since 2021. BLAST Premier Fall Finals 2021 was the last time we saw the players on stage. Now with many roster changes locked in, how will the new teams fare at the LAN?
IEM Katowice 2022 Play-In Stage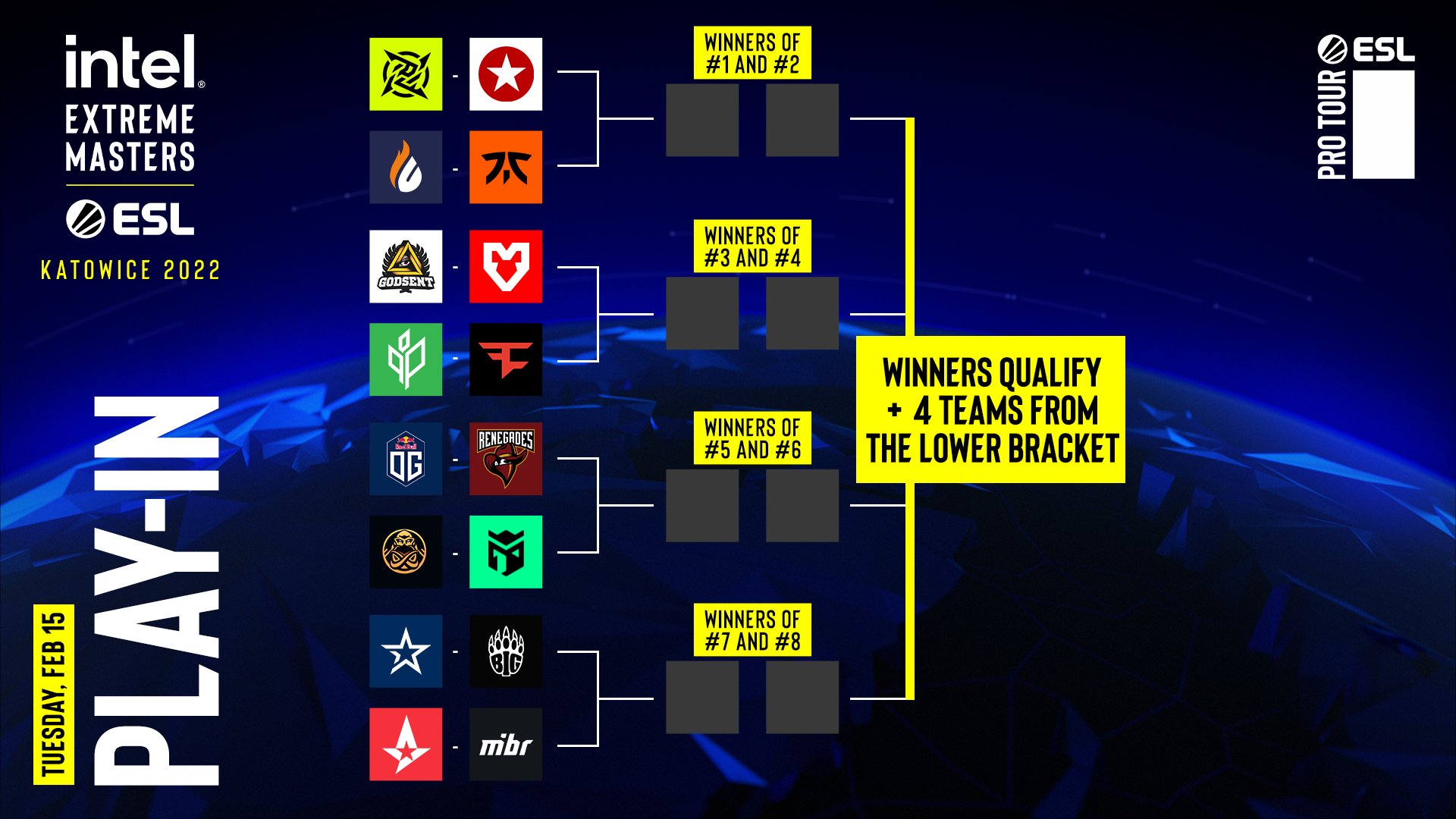 The Play-In stage features 16 teams competing in a Double Elimination bracket. With 8 spots on the line, this portion of the event will determine the final group stage. The Play-Ins feature the following teams:
Ninjas In Pyjamas
Wisla Krakow
Copenhagen Flames
Fnatic
Godsent
MOUZ
Sprout
Faze Clan
OG
Renegades
ENCE
Entropiq
Complexity
BIG Clan
Astralis
MiBR
Ninjas In Pyjamas vs Wisla Krakow
Head to Head – Never Played
World Ranking – #6 vs #31
Key Matchup – phzy vs snatchie
The first game of the tournament will be NIP vs Wisla Krakow. As the highest-ranked team in the play-ins NIP has matched up against by far the easiest opponent in the entire stage. Qualifying through the ESL Polish National Championship, Wisla Krakow hasn't shown any promising results. On the other hand, NIP with phzy has looked better and more consistent than NIP with dev1ce. The LAN factor should further tilt the scale towards NIP. With even their title of best Polish team under attack from MOUZ NXT, Wisla Krakow are unlikely to win any games here.
Copenhagen Flames vs Fnatic
Head to Head – 4-1
World Ranking – #14 vs #17
Key Matchup – Smooya vs nicoodoz
Copenhagen Flames rose to fame at the PGL Stockholm Major, where they made a strong run but ended up being denied playoffs by LNZ's magical rounds. Since then they have settled back down to a decent tier 2 team that occasionally wins the smaller online cups. After losing out on a chance to sign with Complexity, they have resigned with Copenhagen Flames and at this event, they should be eyeing an upset.
Fnatic might be primed for that. For the rebuilt English roster, this is the first big LAN. Fnatic was in the top 5 teams when they made playoffs at IEM Katowice 2020. Now at the play-ins, they need to secure a spot. The team has a core of LAN veterans and should come in as one of the favorites for the play-ins. With all that pressure on their backs, CPH Flames have a shot at an upset, but Fnatic should take the match.
GODSENT vs MOUZ
Head to Head – Never Played
World Ranking – #13 vs #33
Key Matchup – Taco vs NBK
MOUZ's much-awaited debut is finally here. The squad lost their superstar Ropz to Faze Clan, and instead of replacing him with another star like JKS, they have put their trust in the Kingmaker of CS. NBK's experience and secondary calling can only take you so far. GODSENT has looked like a great tier 1.5 team under the leadership of Taco. Their last big event, IEM Winter was a particularly strong playoffs run from the Brazillian squad.
They did seem to choke under pressure at the Major and with the prestige of IEM Katowice they are prone to another choke, but they should be the clear favorites here.
Sprout vs Faze Clan
Head to Head – 2-1
World Ranking – #20 vs #9
Key Matchup – Marix vs ropz
Faze Clan, with ropz on LAN. Coming in as not just the favorites for this series but also the whole tournament, Faze Clan should be counting how many rounds they drop to Sprout in this game. With the superstar fragging of ropz and the immense LAN experience in the whole squad, they should smash Sprout out of the server.
OG vs Renegades
Head to Head – 2-2
World Ranking – #12 vs #66
Key Matchup – mantuu vs aliStair
OG's flawless showing at Blast Premier Spring Groups was fools gold. Considering how they won 2 best of ones and a single bo3 over a weak field, they are overhyped. AleksiB's OG got 2-0d by Renegades back at IEM Cologne Play-Ins. Nexa's style seems to fit this squad better, so a 2-0 should be out of the question but with Renegade's unofficial upgrade in Liazz, they are a much better squad than they were before. I predict Renegades will beat OG unless Nexa goes nuclear.
ENCE vs Entropiq
Head to Head – 3-2
World Ranking – #22 vs #10
Key Matchup – Maden vs Forrester
Ence and IEM Katowice, oh the memories. But the last remainders of their Finnish past are gone, as Maden replaced Doto on the roster recently. The move should be a huge upgrade, giving Snappi access to even more tools. Their rivals, Entropiq have kept up a strong form from their stellar Major performance, including a finals appearance at Funspark ULTI 2021 Finals. This should be a competitive match but Entropiq needs to win it to finally enter the top team's status they have been on the verge of for months.
Complexity vs BIG Clan
Head to Head – 5-4
World Ranking – #11 vs #29
Key Matchup – floppy vs faveN
The rematch from BLAST Premier Spring Groups is an interesting one. Complexity initially looked promising but the loss to MIBR was brutal. And the clear culprit in all the losses was the same. Junior is underperforming and one of the rifle stars joining him down there. So with their current form, BIG Clan should send NA back home.
The one factor against BIG Clan is the LAN nature of the event. BIG has traditionally not been a LAN dominant team, but against this level of opponents, they should be the clear winners.
Astralis vs MIBR
Head to Head – 1-0
World Ranking – #7 vs #35
Key Matchup – k0nfig vs brnz4n
Astralis played MIBR in the Blast groups and dominated the Brazilians 16-9. They may be a bad team with little to no firepower, but against MIBR, especially on LAN, they should be able to repeat their performance. K0nfig however really needs to step up for the Danes to make it through the play-ins.
IEM Katowice 2022 Groups Drawn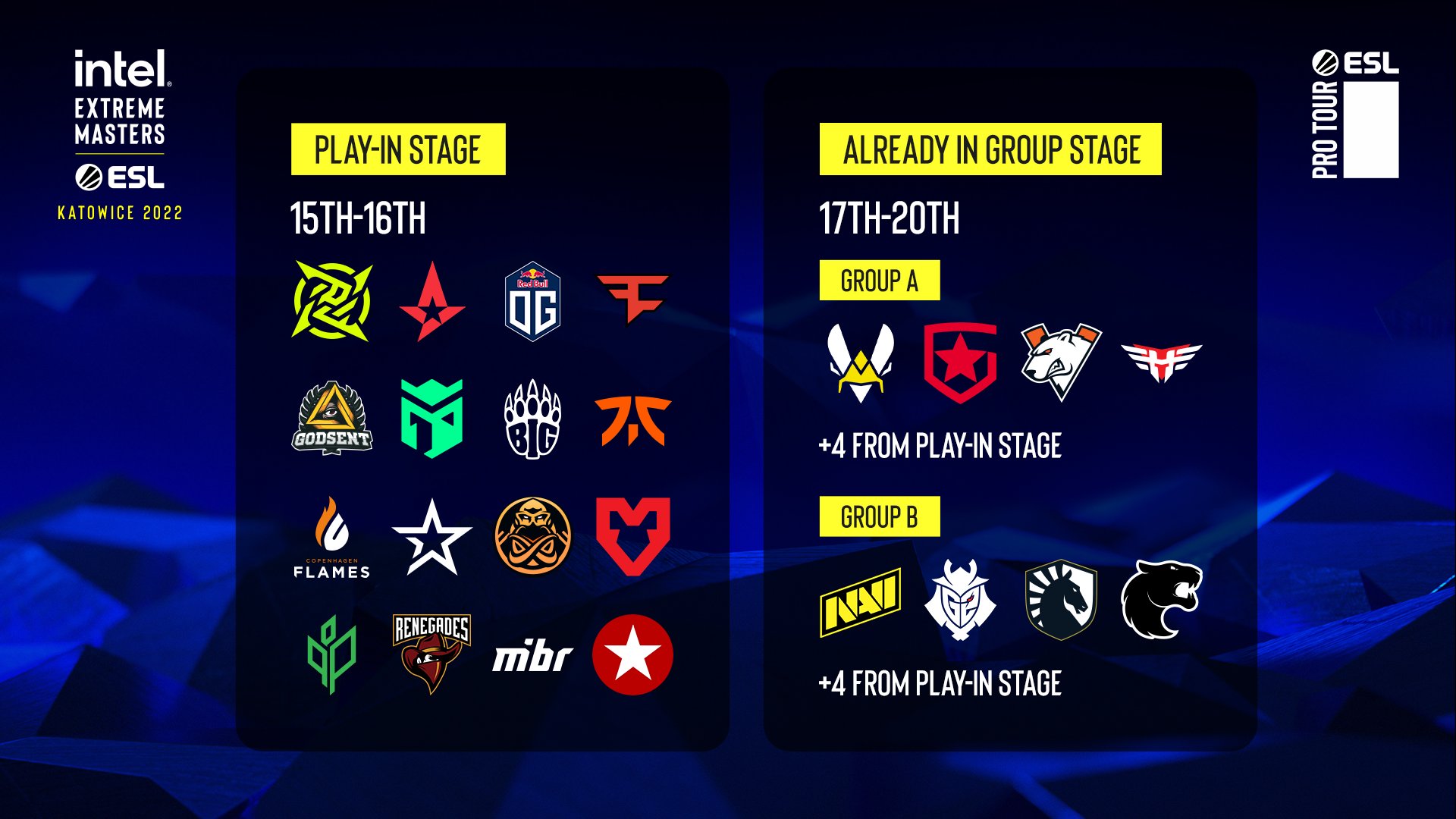 Group A: New Vitality vs the CIS
Group A has the new Vitality facing off against CIS Teams Gambit and Virtus.Pro. Vitality looked dominant at the Blast Premier Spring Groups, but we haven't seen the other 3 teams at the big events so far. If the form from previous years continues this team will be extremely tough. Vitality Gambit VP are all very strong and there will be 4 more teams coming in through the Play-Ins, the scariest one being Faze Clan.
Group B: S1mple, NiKo vs NA
The two North American invites have been put into a group with Major finalists NaVi and G2. The two EU squads should dominate this group. S1mple vs m0NESY will be an exciting matchup that everyone is holding their breath for. For the NA squads, they really need to hope a Faze doesn't emerge from the Play-In, otherwise, they can kiss their Playoffs spot goodbye.
Will NaVi continue their LAN win streak or will Gambit be successful in their title defense? Stay tuned to Esports.gg to find out.