The group stage competition remains dangerously close. Three teams now vie for two playoff spots in Group A. Who will come out on top?
ESL Pro League Season 14 stays neck and neck in Group A as three teams stay locked in for two prized spots in the playoffs. In a shocking turn of events, world-beaters shrink away from contention and underdogs rise to become contenders. Only two days remain in EPL Group A's tight schedule and heartbreak remains on the horizon.
Astralis Sweep BnB In Two Maps
From the veto itself, the North American squad of Bad News Bears had their work cut out for them against Counter-Strike's best. Philip "Lucky" Ewald had quite the start to the series on Inferno and ended with a 21-7 KD to stomp out the Bears 16-4. Continuously locked out of the Danish bombsites, Alan "Shakezullah" Hardeman's squad could not get the T-half rolling and were flustered out of their map pick.
Heading into Nuke, it seemed that Astralis would mop up the North Americans but resistant was met swiftly by the entire crew of Bad News Bears. Outstanding AWPing from Paytyn "junior" Johnson and stoic rifling from Gabe "Spongey" Greiner led the squad to a level score heading into the more difficult T-side. The team continued to compound on their successes by clutching out some key rounds in the tail end of the half but failed to convert some crucial man advantage scenarios. Dropping at the last hurdle, BnB remains winless against the best in the world albeit with some significant improvements. Astralis now remain toe-to-toe with ENCE and Vitality heading into Day 4 of their turbulent EPL Group A.
Spirit Remain Winless at EPL
Team Spirit continues to flounder at EPL after yet another loss in their group against ENCE. Although the squad showed some promise against Astralis, the CIS roster continues to depreciate across their three series played. On their surprising map pick of Nuke, ENCE stole away some crucial rounds thanks to the heroics of the Finn, Joonas "doto" Forss. Capitalizing on this, the international squad snowballed their T-half to an 8-7 victory. But it didn't stop there. The CT-side remained firmly in Lotan "Spinx" Giladi and Olek "hades" Miskiewecz's grasp and stopped any hopes of a competitive game from Spirit.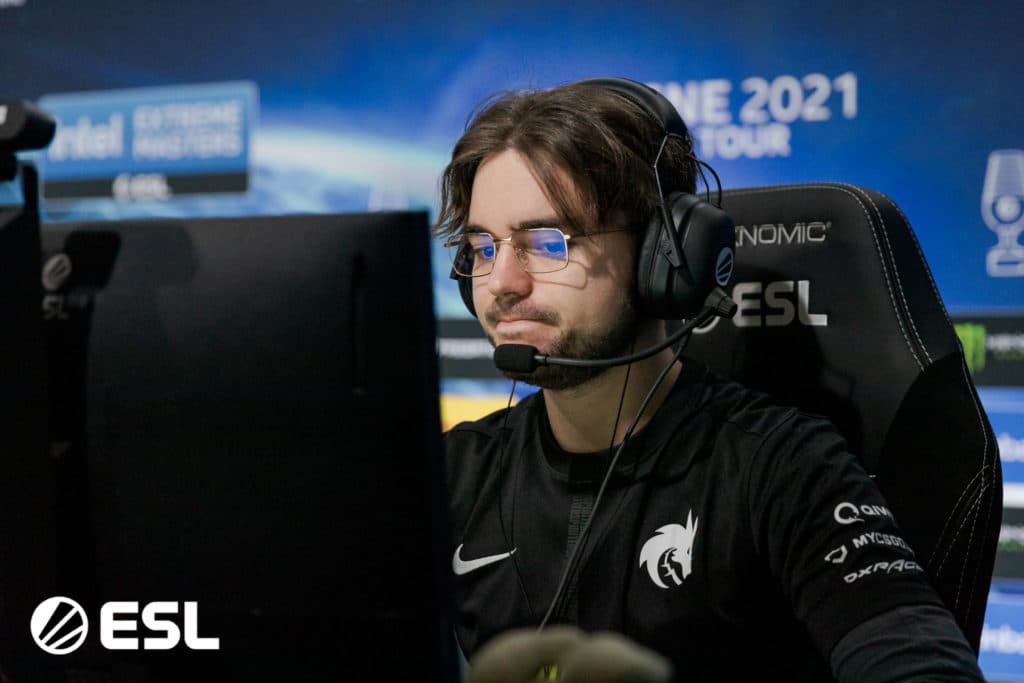 Disappointment continues for sdy and Team Spirit (Photo courtesy of ESL)
Regardless of the result on Nuke, the expectation that Team Spirit would reorient themselves on Dust 2, their home map, was sky-high. However, in a true team effort, ENCE managed a whopping eleven rounds on their CT-side campaign. Even with the shaky B-bombsite holds, everything had fallen into place for Marco "Snappi" Pfeiffer's squad. Both Boris "magixx" Vorobiev and Abdul "degster" Gasanov could simply not find any ways back into the series and were key missing pieces that shattered the chances of Spirit to get their EPL campaign rolling.
The CIS lineup had been seen as one of the favorites in their group and now turn to become one of the biggest disappointments. Effectively eliminated from EPL Group A, a lot of work must be done to return to their competitive ways. Meanwhile, the international roster of ENCE remains in hot pursuit for the last playoff spots. Still yet to play BnB, ENCE looks to lock in a playoff spot by taking on the undefeated Heroic tomorrow.
Heroic Continue EPL Group A Hot Streak
The barnburner of a match between Heroic and Vitality started off in quite an anticlimactic fashion. Vitality seemingly had an edge in the map veto but could not convert on Heroic's permanent ban of Vertigo and were demolished 16-7. Consistent domination from all five Danes found the series to end quickly on Nuke. Could Heroic remain uncontested on their road to defend their EPL title?
The map pick of Heroic started out fashionably in their favor and suggested that they could in fact do it. Taking nine whole T-rounds on a map that the Danish lineup crowned themselves as the best on the CT-side looked in pole position to step over a defeated Vitality. But as usual, Mathieu "ZywOo" Herbaut stole the show against the well-oiled Danish machine. After the French squad had continuously disappointing offensive halves on Vertigo, ZywOo's clutches propelled Vitality to a third-map decider on Inferno.
                Delivering on every front, Inferno remained razor-close throughout. On one hand, Rene "TeSeS" Madsen remained fiery from Vertigo and continued to lay down the hurt on Vitality. But on the other hand, Dan "apEX" Madesclaire rolled back the years and spit the map down the middle 8-7 in their favor. ZywOo started off the French CT campaign with an unbelievable pistol clutch and placed Vitality truly in the driver's seat to grind back a series win. But once guns were in their favor, relentless aggression from Heroic rattled the French as Casper "cadiaN" Moller took it one step further with a 1v2 clutch to boot. Regardless of what the superstar ZywOo could do it was all aces for the Danes as they clutched up yet another series win.