The venue held 8,000 spectators for the Halo Championship Series in 2021.
The venue for Call of Duty League's first Major of the Modern Warfare 2 season has seemingly been confirmed by the venue's website.
The Raleigh Convention Center looks set to host the event with the site confirming the same dates as previously announced by the Call of Duty League.
Raleigh Convention Center has held multiple esports events in the past, with the city of Raleigh being touted as a possible location for a Call of Duty League event for a while.
The listing on the site for the Major 1 tournament lacks details for the way the tournament will be held. It just confirms the dates of it. Major 1 will be taking place from December 15th-18th. The final of the event will fall on the same day as the FIFA football World Cup.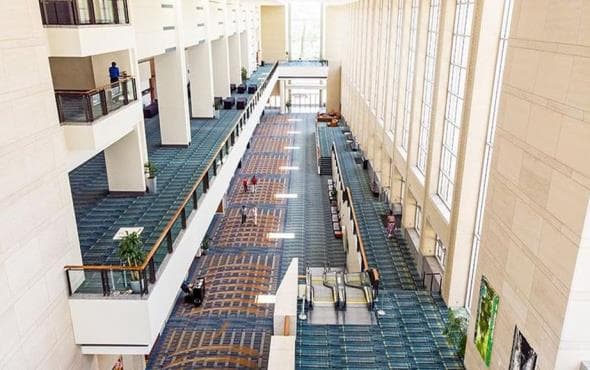 The lobby area of the Raleigh Convention Center.
Raleigh is not a city affiliated with one of the CDL's 12 franchises. The League is hosting the Major 1 tournament. This means that the CDL circus can visit other cities, with Raleigh being first on that list.
The Convention Center's main room when decked out for speaking events.
The Convention Center will also have more than enough room in the venue for the Challengers competition that will run alongside the main CDL event.
Around 5,000 people will be able to attend the venue at any one day of the tournament in December. This is about the same as events from the last season. Toronto held Major 3 at the Mattamy Athletic Center, which has a capacity of 3,850.
The Raleigh venue is well-equipped to host events with multiple different esports holding events in the arena over the years.
Other events held in Raleigh
Raleigh, North Carolina, has ended up being one of the top tier cities in terms of esports support. They have consistently held some of the biggest events on the esports calendar.
Raleigh is also hosting the Fortnite FNCS Invitational on November 12th. It's the first in-person Fortnite tournament since 2019.
In 2021, the Convention Center hosted the first event in the Halo Championship Series after the release of Halo: Infinite. 8,000 people attended that event, meaning that Call of Duty could be in for a big crowd themselves.
Photo via ESTNN.
The Center also held the Six Major Raleigh in 2019, with ESL producing the event for Ubisoft. That shows that the venue has the backing from not one single organisation. Many different esports companies are happy to bring their events to Raleigh with Esports Engine bringing the CDL to NC in December.
There is also the PNC Arena in the city, which also hosts esports events. That venue hosted the Apex Legends Year 2 Championship in July.
The address of the Convention Center is: 500 S. Salisbury St., Raleigh, NC 27601.
---