Ian "Crimsix" Porter has announced his retirement from competing in Call of Duty after not finding a team to play with in Modern Warfare 2.
Ian "Crimsix" Porter will no longer be competing in the Call of Duty League after failing to find a team for the Modern Warfare 2 season. He announced his retirement on in an announcement video posted on YouTube on September 16th.
Crimsix was part of the very first season of competitive Call of Duty. From Black Ops 2 to Vanguard, he was one of the consistent pillars of the community. Even then, his roots go deeper, with the now former pro playing since the age of 13.
Now, 16 years after his first tournament win, he's taking a step back from competing. Still one of just three players to win three Championship rings, alongside former teammates Damon "Karma" Barlow and James "Clayster" Eubanks, Crim's legacy will go down in history.
"My time has come to an end. Competitive CoD, I'm done," Crimsix said in his retirement announcement. "It's been an incredible, great run. The lesson of the day is, and I heard this in a crappy movie from a side character: time always wins."
Things became tougher for Crimsix following the world-title winning Modern Warfare season in 2020. His then Dallas Empire team failed to win a single event in Cold War. Then, when OpTic and Envy merged, it left the three-time World Champion hung out to dry. Crim was left without a team and he needed to find a new challenge.
Crimsix announced his retirement in an heart-felt video on his YouTube channel
Struggling with the age gap
The New York Subliners provided Porter with a chance to not only try and compete at the top level but to also nurture some young talent. He finished up the Vanguard season alongside Paco "HyDra" Rusiewicz, Matt "KiSMET" Tinsley and Paul "PaulEhx" Avila. All three of these players are at least seven years younger than Crim, who is 29. KiSMET is the oldest of the trio at 22 years old. This age gap is something that contributed to Crim taking a step away from competing.
"In the middle of the season, I noticed that not only was I the oldest player, but I started looking at the coaches too and I realised that I was older than most coaches," Crimsix said.
"Then I looked at the casters and I realised that, other than Maven because he's 600 years old, I was older than most casters too."
It's hard for players in any sport to know when it is time to call time on their playing career. The struggle that Crim endured at the tail-end of his career really helped him to make the decision to retire. "For the last five years it's been an actual struggle of mine to be able to communicate simple things," Crimsix added.
"Ultimately that's somewhat my downfall. It's something I don't want to have to deal with anymore. During this roster period, I did not even try. If I got an offer, I might play but thank God. I didn't really reach out to anyone. I didn't go to anyone asking for a spot."
The pain of having to retire is inevitable for Porter, with the former OpTic superstar living and breathing competitive video gaming for over 16 years. It was always going to be a significant moment for him but the time, was right.
"I was like a wounded animal at the side of the road," Porter said. "It hurt me so much that just like put me out of my misery. I knew that not competing would be the better choice. I knew it was going to be the way harder one.
"For the last 16 years of my life, this is all that I have ever known. This was my childhood dream. Now it's time to move on."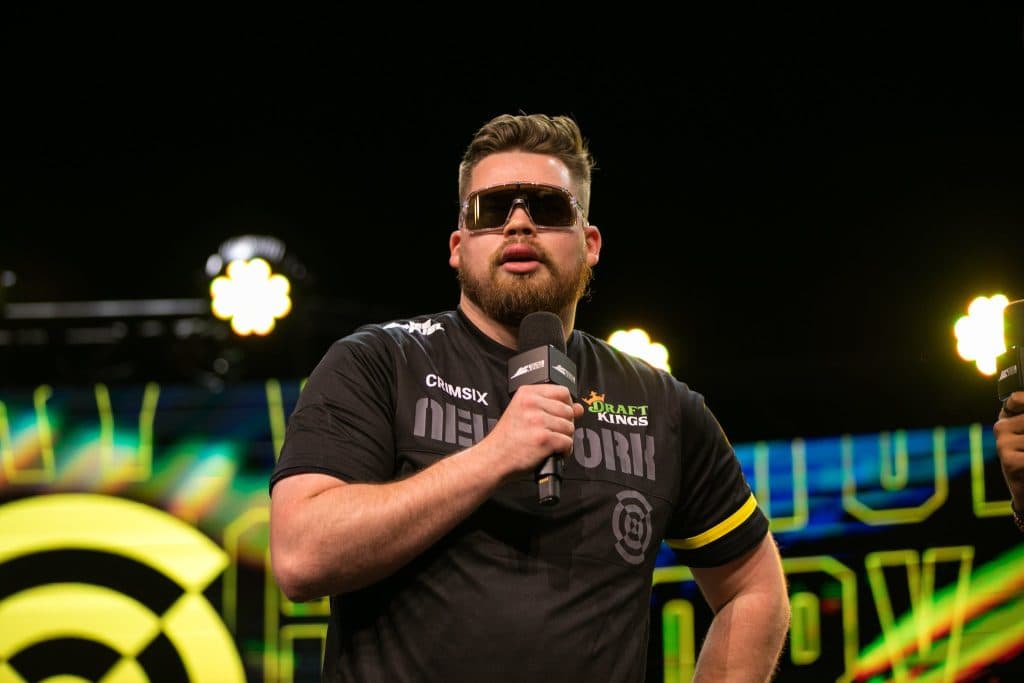 (Image via Call of Duty League)
What's next for Crimsix after retirement?
Just because Crimsix is stepping away from competing, it does not mean the end of his presence in the esports world. Porter will be making the move into content creation. His streams during the offseason have gained a lot of traction. There is definitely a sizable fanbase that he will carry on over with him.
"The next step is content," Crimsix confirmed. "I'm going to be competing in Warzone 2. I'll be streaming everything that I can, I'll be doing YouTube every day.
"I would say that this is one of the times in my life where I am most motivated because I am not working for someone else right now.
"I am not under the threat of a fine, or a 'come into work' all this stuff. I've put myself in a spot where I can fully commit to myself, to the exact things I want to do." Porter already has more than 600,000 subscribers on YouTube thanks to his incredible popularity during his time competing.
"I would say that this is one of the times in my life where I am most motivated because I am not working for someone else right now.
Crimsix on working for himself
This puts in him in a fantastic position to make a solid effort at going into content creation. Plus, it's not just Call of Duty and Warzone that he's looking at covering. "I'm not just talking Warzone," he added. "I'm talking car stuff, simulation and track racing, maybe throw in some F1 races in there. The final note is that I am scared. It's been the only thing I've truly known."
Crimsix's content can be found on Twitch and YouTube. It's a sad day for the competitive Call of Duty community, seeing one of their effective founding fathers say goodbye. But with the refreshed focus, and the fact that the move will undoubtedly help Crimsix's mental health, it's hard to not see this as a positive step.