CDL viewership grows following YouTube deal, best since Major 1
CDL viewership grew by more than 7% during Major 4 qualifiers.
The CDL has recorded a boost of viewership during the Major 4 qualifiers, the first stage of the season that has been broadcast on both YouTube and Twitch.
CDL viewership averaged 88,395 people watching during Major 4 qualifiers according to Esports Charts. This number is higher than both Major 2 and Major 3. It is the biggest number since Major 1 in December.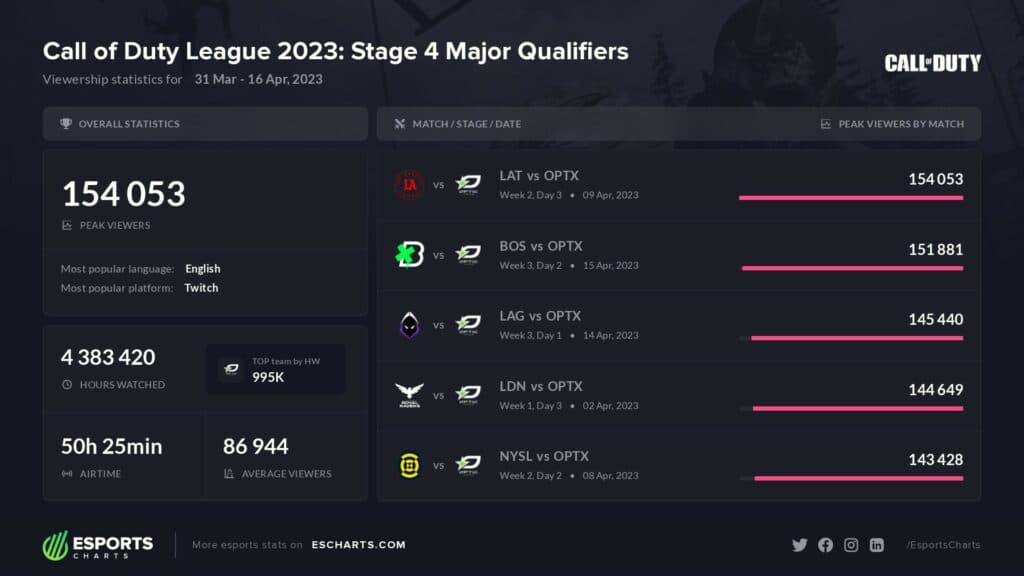 CDL Major 4 Qualifiers viewership stats. Photo and data via Esports Charts.
This increase in average viewership comes despite the peak viewing numbers being more than 50,000 people less than during Major 3.
Major 3's match between Atlanta FaZe and OpTic Texas peaked at 205,000 viewers, way more than Major 4's peak, which was during OpTic Texas vs LA Thieves. That one reached a high of 154,000 viewers.
The CDL YouTube deal
The increase in viewers seems to be pretty much exclusively down to the addition of the Call of Duty League to YouTube.
Esports Charts reported that 92.6 percent of the viewership during Major 4 qualifiers was retained on Twitch. That works out to 81,853 viewers on average. That's a very similar number to the previous two Majors, being within 2,000 average viewers of Major 2 and 3.
CDL Major 4 viewership compared to other Majors this season. Photo and data via Esports Charts.
That means that around 6,500 viewers chose to watch Major 4 qualifiers on YouTube. The CDL YouTube viewership is nothing but a good thing. It's actually a relatively impressive number for the league to hit on the platform after having no presence there yet this season.
The fact that it just seems like additional viewership is incredibly promising for the CDL but it also shows that fans have their heart set on remaining on Twitch for the most part. When the CDL returned to Twitch at the start of the season, the move was met with widespread happiness.
Having the CDL being broadcast on all platforms is definitely the better of both options for them. It's just a question of whether or not they can make money from either platform for hosting their events.
OpTic buff
Viewership numbers have also been increased by the extra interest in the OpTic Texas team this split. The team became the first team this season to fill out a perfect 5-0 record in a set of qualifiers.
That record includes a win over rivals LA Thieves. The 100Thieves-backed franchise are current World Champions and playing against OpTic always serves to bring eyes to the game.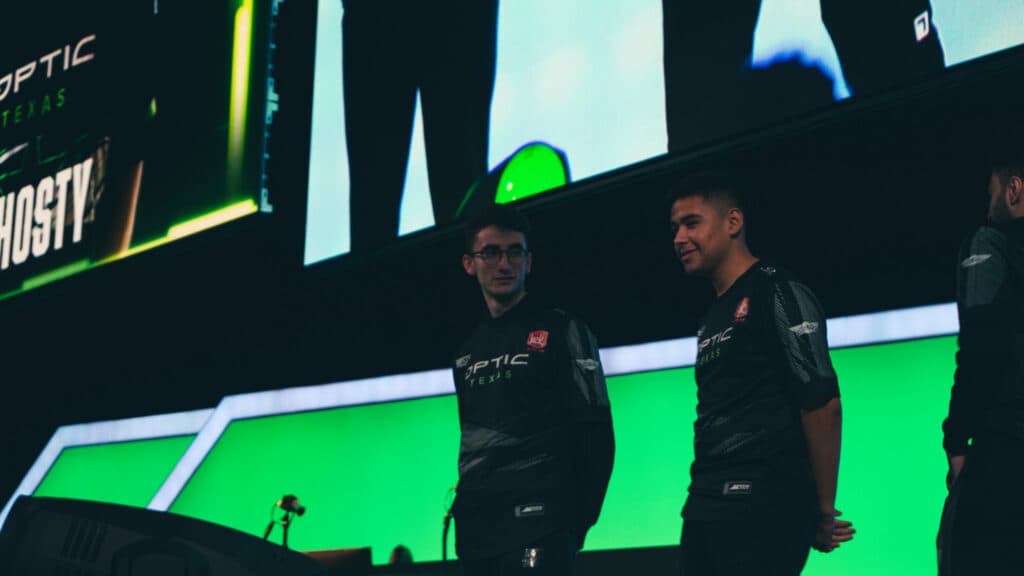 Ghosty and Shotzzy from the OpTic Texas team on stage at Major 3.
OpTic are fan-favourites and interest always peaks when they are performing well. On the back of finishing runner-up in their home Major at Major 3, fans could sense that they were in for a treat.
The team are now favourites to take the Major 4 crown, which will probably see another increase in viewership if they do so.
Crunch time
It's also the most important time of season. With just two Majors before Champs, this is the time where the storylines are at their best. This split saw Eli "Standy" Bentz and Thomas "Scrappy" Ernst play out their beef in one of the best series of the season.
Minnesota ROKKR's homestand LAN also caused intrigue. The team was unable to win any of their online matches after winning both on local.
Major 4 begins on Thursday, April 20. The event is in Colombus, OH. It is the first since last season's Pro-Am event that does not have a live crowd in attendance. It will be the first event since the CDL came into existence that will have viewership on both Twitch and YouTube.
Stay tuned to esports.gg for all the latest Call of Duty League news and coverage of Major 4.