The Call of Duty League returns this week with another set of action packed group stage matches. The Toronto Ultra will be looking to claim back-to-back major titles while the Call of Duty El Classico headlines Group B.
Earlier this week it was announced the groups have been drawn for stage 3 in the Call of Duty League. Toronto Ultra shocked the community in stage 2, and went all the way taking down Atlanta FaZe in the final to lift the trophy. Another team to look out for in this tournament is OpTic Chicago. The Call of Duty giants were stunned by the Minnesota Rokkr in round 11 at 2-2 in their best-of-five.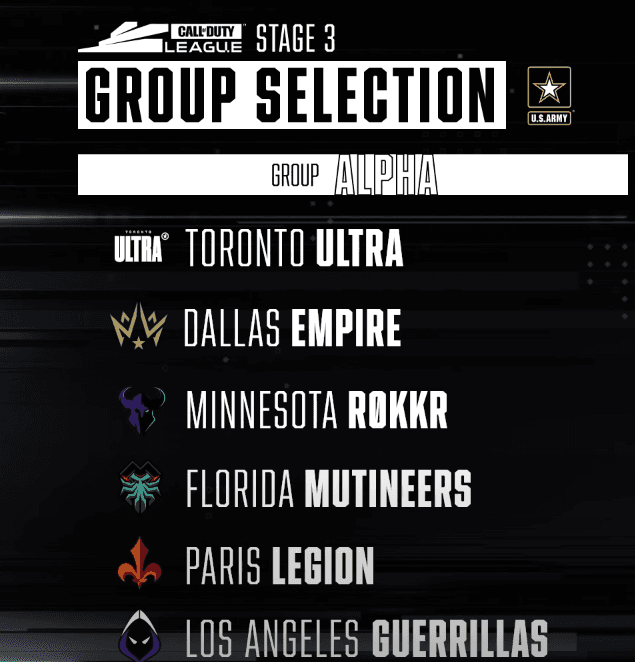 Image courtesy of Call of Duty League via YouTube
Group A proceeds to be the most stacked out of the two groups. Three out of the top four teams from the stage 2 major were drawn into Group A. Toronto Ultra and Dallas Empire will headline this group as the two favorites based on how the stage 2 major went. Dallas Empire finished in third place, earning a further 50 CDL points to cement their second place in the standings.
Toronto, on the other hand, have exceeded expectations as the CDL side won the Stage 2 Major, taking down Atlanta FaZe 5-3 in the final. While they have not done as well in the group stages, they have performed better when it comes to the Majors. Minnesota is the other side that finished in the top four, as stated earlier Minnesota stunned OpTic to make it to the top four.
Esportsgg's Group A prediction: Dallas Empire
The jury is not out yet on the Toronto Ultra as far as their performances go. They have accumulated 30 points across both group stages while 95 points across both majors. This is the tournament for Ultra to change the narrative with strong teams in their group. Dallas has been solid in the group stages, picking up 70 points. I expect Dallas to finish first in this group with Ultra fighting it out with Minnesota for second place.
Esportsgg's Marn on who will win Group A
Image courtesy of the Call of Duty League via YouTube
The Call of Duty El Classico (OpTic vs FaZe) will headline Group B for stage 3. OpTic Chicago will be jumping at the bit to be back in action after what was a heart-breaking loss for them in the stage 2 major lower bracket. Atlanta FaZe will also be chomping at the bit to get back in action this week after losing to Toronto in the grand-final 5-3.
This will be the second time OpTic and FaZe have gone head to head this season. The first was a five-game thriller with FaZe picking up the win. OpTic and FaZe have a long-standing rivalry in Call of Duty, a matchup bursting with esports history.
This group can go either way with all capable of causing major upsets in Group B. Los Angeles Thieves had a much better showing in stage 2 major. Seattle Surge is also starting to come together nicely and are competitive with most teams. While London is the lowest-rated team in the league, they have had impressive performances throughout the season and are not a team to sleep on.
Esportsgg's Group B prediction: Atlanta FaZe
Atlanta are just so powerful and have shown time and time again they can get back up after being knocked down. It will be interesting to see how OpTic perform, they were not happy with the outcome of the Rokkr series and the events that followed. OpTic played FaZe close last time but FaZe are too consistent to be toppled in this group. Every team is capable of beating each other and fans should expect upsets. That being said, FaZe should come out on top.