Streamcharts have revealed the Week 1 statistics for Vanguard in relation to Viewership on Twitch, and it isn't looking too good.
Streamcharts have released the viewership figures for Call of Duty; Vanguard one week after its' release. Unfortunately, it seems that things aren't looking too good for the latest entry in the CoD franchise. Here is a rundown on the latest statistics.
Vanguard viewership down after first day
It always appeared as though there was a lot of uncertainty regarding Vanguard's success. People had a lot of mixed feelings after the Beta in early September. Although many were enjoying the game on the day of the release, it would seem that is no longer the case; that is according to the viewership figures that were published by Streamcharts. The following images come directly from their article.
Streamcharts data reflection
According to their first chart, Vanguard peeked at around 5 million hours across all of Twitch on November 5, the day it was released, with the peak viewer count coming in at just under 330k. This then took a dramatic turn over the succeeding five days with the total hours struggling to get over 3 million. And while the peak viewers count for Vanguard also took a bit of a hit on the second day of release at just under 250k, it didn't see as big of a decline until Remembrance Day.
In the week since its release Vanguard accumulated a total of 18.71 million hours of view time. And, rather unsurprisingly, the majority of the viewership audience was primarily from an English-speaking area. What was a little bit surprising though was that the second-highest figure in that wheel chart was for the other category at 14.4%.
Vanguard viewership in regards to streamers
In terms of the individual streamers the statistics are just as interesting as the aforementioned information. OpTic Texas pro player Scump currently sits at the top of the hill in terms total hours watched at 1.54 million viewers. A number which is quite staggering when you see that his average airtime for the first week of Vanguard was around 62 hours.
With regard to the highest concurrent viewers, xQc sits well at the top of that pile; averaging a peak of around 84.4k viewers over a three-hour period. Scump also appeared on this list in the 4th place spot, wherein his viewership numbers peaked at 52.2k concurrent viewers. This however came within a 62 hour timeframe which is a staggering figure in-comparison to the other streamers shown alongside the popular CoD player.
Launch week viewership comparison by game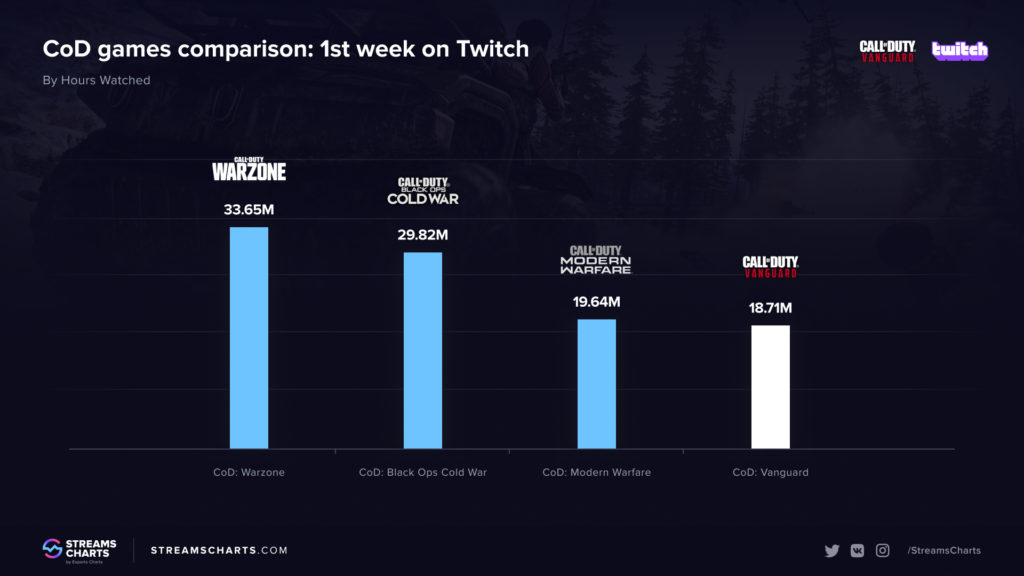 Lastly, Streamchart posted arguably the most damning statistic of them all as far as Vanguard is concerned. Through a second bar graph, we see that compared to the last two entries in the Call of Duty cycle, Vanguard has had a relatively mute launch week; at least as far as stream viewership is concerned that is. Its' total Hours Watched stat sits at 18.71 million; almost a million shy of Infinity Ward's Modern Warfare total back when it launched in 2019. This is compounded even further by the fact that Vanguard's predecessor, Treyarch's Black Ops Cold War, had almost 30 million Hours Watched across all of Twitch during its' launch week.
Now it is worth keeping in mind that these are merely the figures in relation to the game's viewership within the first week. These stats are also limited solely to Twitch, so whether these stats are reflected differently on YouTube and other streaming platforms remains to be seen. But if there is any supposition to be made from this, it is that Vanguard could be in for a rough ride.
Be sure to keep an eye on our page for all the latest Call of Duty news. Follow us on Twitter and Instagram to stay up to date on all things happening within Esports.