100 Thieves have apparently lost $2.5million on their Call of Duty League team in the last year
100 Thieves lost an eye-watering amount of money after winning the Call of Duty World title.
100 Thieves lost a mammoth amount of money in the year following their Call of Duty World Championship win according to President and COO John Robinson.
Speaking on the Nadeshot Knows podcast, Robinson detailed the financial aspects of running 100 Thieves and more specifically their Call of Duty franchise. His message was an unprecedented level of transparency for fans. Some have questioned the organization this offseason after saying goodbye to its entire World Championship roster.
Sam "Octane" Larew retired; Kenny "Kenny" Williams, Zack "Drazah" Jordan and Dylan "Envoy" Hannon are all headed to new teams. This leaves 100 Thieves' LA franchise with a clean slate heading into CDL 2024.
Robinson and the rest of 100T management will take on expectations of winning now that these World Championship-caliber players have left the organization.
"One of the hardest parts of 100 Thieves is that our fans have huge expectations for us and they love our brand and our teams," he said. "That's a responsibility that we all own."
Overall financial transition for CDL franchises
"I think there is a natural transition," Robinson claimed. "A year or two ago I think all 12 teams were losing money. This year I think maybe half the teams are losing money. Next year, based on our understanding, it'll be two or three teams losing money."
Organizations are looking for mergers more often now, with Version1, Misfits, Heretics and G2 all in conversations regarding them right now, it can seem to a fan that the CDL in particular is light years away from being able to be self-sufficient. Robinson has a far more optimistic viewpoint on the situation.
Robinson (right) joined 100T in 2018.
"Call it 2025 I think all the teams will be in a healthy position," he added. "That's a good thing for the league. Every business has its own timeline and decisions for getting there.
"Everyone got a little over-excited and thought these franchises were worth $20 million to $50 million. Now from our perspective that pendulum has swung to far where people are like: these things are worth zero."
100T still have franchises in other esports too. They made it all the way to Match Point Finals at Apex Legends' Global Series Split 2 Playoffs this week. Thieves have teams also competing in Valorant and League of Legends.
"The reason why were are still in LCS and still in the CDL and all these other leagues is because we actually think that these things are worth much more than zero," Robinson added. "If other people are going to believe that and we are going to create a real ecosystem then we have to show that these businesses can be real."
"We lost $2,500,000 on our Call of Duty program last year"
With all of the positive thinking, 100 Thieves are still in a very unique position. They have saleable properties attached to their organization. They have Juvee, a fantastic new sugar-free energy option. 100T also have impeccable apparel stores with some of the most sought-after attire in the esports industry.
Even then, they still lost a crazy amount of money on their Call of Duty franchise in the year after winning the World Championship.
LA Thieves won the World title in 2022
"This was actually a simple and straightforward problem for us. We lost $2,500,000 on our Call of Duty program last year when we were the World Champions," Robinson said. "Would I do that again, knowing there was a World Championship on the other end? Absolutely yes but at the same time if we do that every year and continue to do that then we will run out of money and then there will be no more 100 Thieves."
It comes across as pure speculation but there are countless reasons why this could be the case. Call of Duty League teams are mandated to give players at least 50% of prize winnings, with some contracts getting more than that. The level of player that was on that team, along with natural salary progression would also mean that the players on the team were likely being paid handsomely.
Back to being the underdog
The biggest concern for 100 Thieves fans with the change of the roster is that they will likely not start CDL 2024 competing for Championships. A quick glance back to the Cold War season would give the average 100T fan whiplash with the thought of returning to a roster merry-go-round like that.
Matt Haag, better known as Nadeshot, is familiar with the concept of having to surmount doubt to produce victory.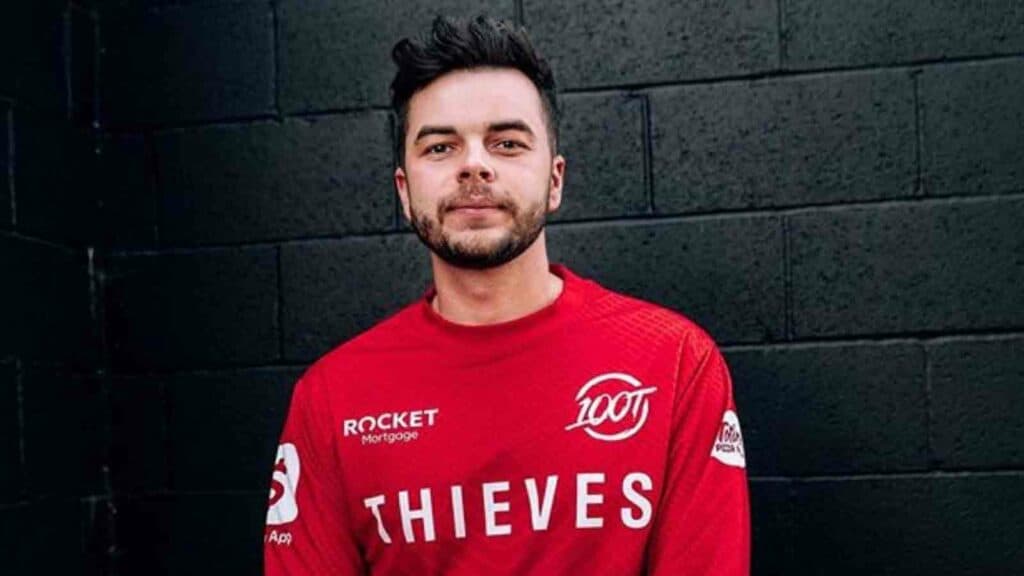 Nadeshot competed for OpTic during his playing career.
"I sort of miss being the underdog and having to scrap for every win," Nadeshot said. "With these teams that we have had, when we lose, it's like what the f***? Why aren't we winning? We should be winning."
"Now going into every match, and I'm not saying that it's going to be doom and gloom but it's going to be different from having an established world championship team. It's going to be good to have young players with hunger and drive to try and come away with a miracle run."
It may not be perfect in terms of action in-game but 100T clearly have the best interests for the organization at heart. They will continue to make the right decisions that will strike the balance between winning and business sense.