TSM, who have performed below-par on the opening day of the ALGS Playoffs, made the top 20 by the skin of their teeth. Elsewhere, Team Empire deployed Mad Maggie to end the marathon group stage strong.
TSM avoided the losers bracket, qualifying into the top 20 by the skin of their teeth. TSM had not performed at their best so far in Stockholm, but now have two opportunities to make the finals.
Day 1 of the playoffs has been a marathon, teams have played 18 games. The total points from all 18 of those games has settled into the overall standings. The top 20 teams are advancing to the winners bracket at 11am CEST, and the bottom 20 onto the losers bracket.
TSM will be hoping to put their difficulties behind them and advance into the finals at the first opportunity.
TSM start strong on Storm Point
The TSM roster got off to the best possible start, cleaning up a fight between Rignite and Unite. Crucially, ImperialHal made a big call. Reps and Verhulst thirsted kills before taking down the final member of Unite. This added crucial kill points to their total.
They then struggled to follow that up, and with teams like NRG, Unite and Elevate doing well – the pressure was really on TSM.
But TSM are no strangers to pressure. They won the split 1 North American playoffs when everyone had written them off. ImperialHal and Reps have the best LAN record in Apex of all 120 players, and Verhulst is quickly adapting to his surroundings.
However, on their preferred map Worlds Edge, they earned 22 points across game 4 and 5 – which ultimately secured them the top 20 finish. They were left sweating and refreshing Battlefy however, after they failed to earn any points in game 6.
TSM will know that 1st to 20th earns the exact same reward heading into tomorrow. Their job will be to reset, rest up and go again. If they can find an extra gear, they will be in with a strong chance of a top 20 finish.
Team Empire, using Maggie, finish in great form
Elsewhere, it was Team Empire who also finished strong. They took 2nd in A vs D, finishing behind Sutoraiku. The EMEA Pro League champions are the only team in Sweden to be using Mad Maggie, and their hyper-aggressive gameplan is working well so far on the international stage.
The question is, will their style, which balances high risk and high reward be viable in later rounds? Team Empire don't use Gibraltar on either map.
So far, the aggression of the group stage played right into Team Empires' hands, but as the pressure intensifies and teams play safer they could struggle.
What Team Empire do have is pure fighting chemistry and skill. Even if they had to reign in their aggression in later stages, they are a fantastic fighting team and will be forced to be reckoned with.
Overall standings; TSM just qualify in 18th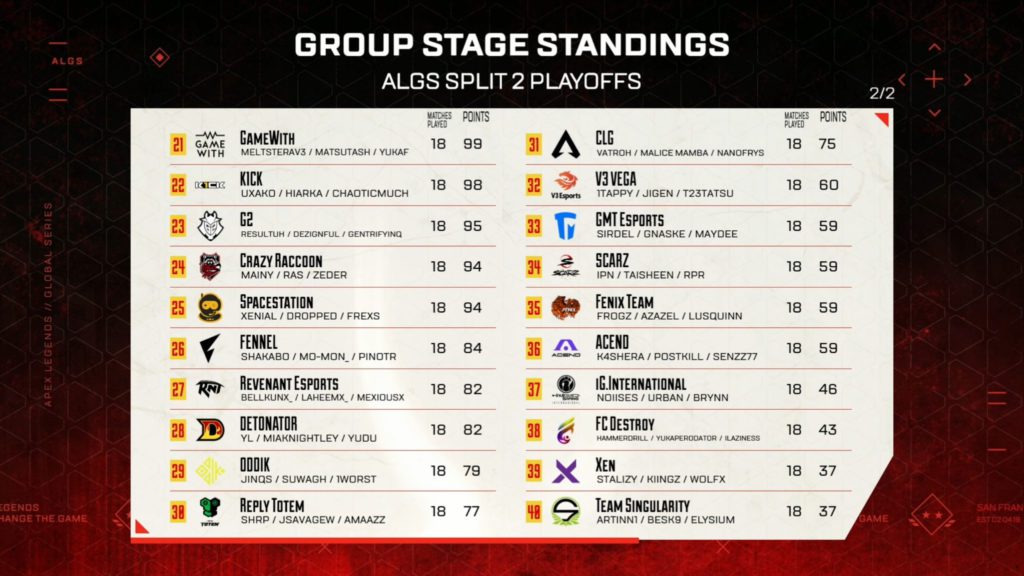 Detailed standings on Battlefy.
Notable teams in the ALGS LAN bottom 20
K1CK
G2
Spacestation Gaming
SCARZ
iG International
Teams will now head to the bracket stage tomorrow, with the top 20 teams battling out for direct entry into the ALGS LAN finals. The bottom 20 teams will fight to meet the losing teams from the winners bracket.
Follow our Apex Legends section for coverage of the ALGS LAN bracket stage and finals.