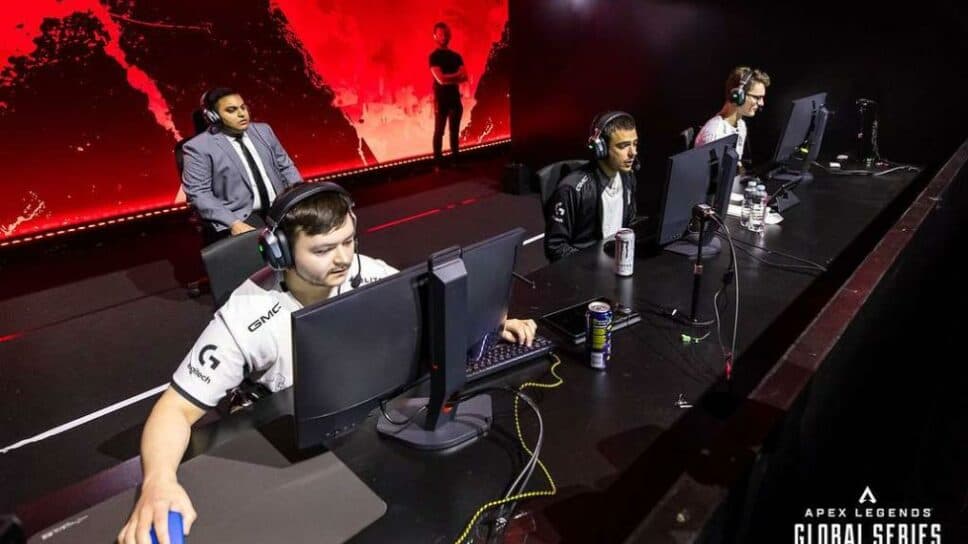 TSM crowned winners of ALGS Year 3 Champs
Team Solo Mid has won their third LAN and established an Apex esports empire.
The ALGS Year 3 Championship has just concluded in Birmingham, UK. After eight tense games with multiple teams on match point, Team SoloMid claimed the ALGS Champs trophy and won $600,000 in prize money. The team has now won three ALGS LANs and solidified themselves as a undisputed dynasty in Apex Legends esports.
TSM consists of Phillip "ImperialHal" Dosen, Jordan "Reps" Wolfe, and Evan "Verhulst" Verhulst, alongside their coach Raven. The win comes after a tense competition with other major Apex Legends pro teams, such as DarkZero, who had previously beaten TSM during the 2023 Split Two Playoffs.
Series Results and winnings
Following TSM as the champs, OpTic Gaming won second place with 89 points, the most points of any team in the finals. BLVKHVND took third place with 68 points, closely followed by The Dojo and LG Chivas with 65 points respectively. The rest of the series results can be seen below:
The final series results of the ALGS Year 3 Championship (via playapex on Twitch)
As for winnings, TSM now takes home a whopping $600,000. OpTic Gaming in second won $320,000 and BLVKHVND in third received $210,000.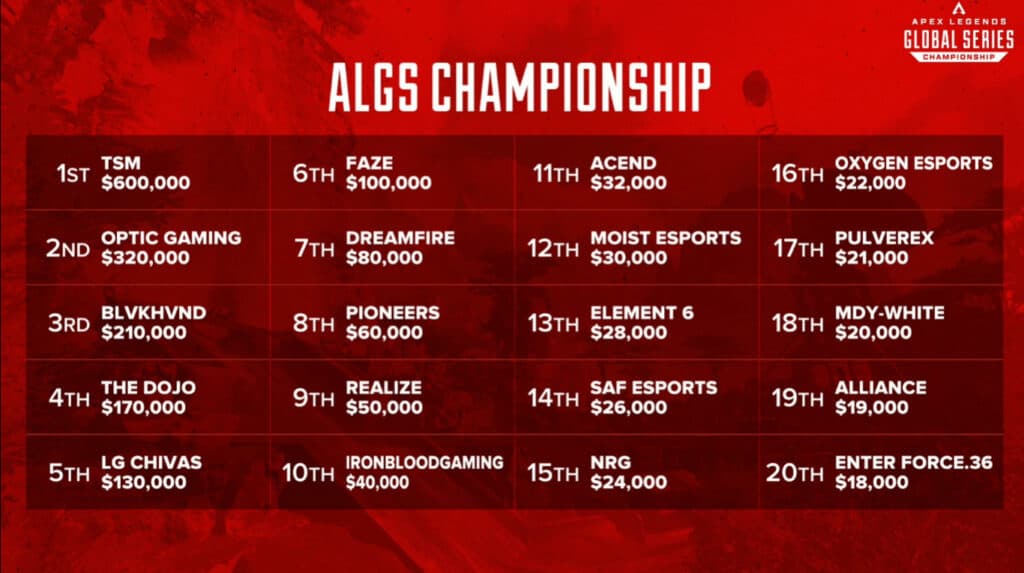 What each of the top twenty teams took home in winnings (via playapex on Twitch)
The final match of ALGS Champs
The eighth match of the ALGS Year 3 Champs finally ended with TSM and SAF Esports fighting a clean 3v3. The Brazilian team had just come out of a four way fight near Storm Catcher and quickly used a Catalyst wall lined by Wattson fences to give themselves room to fight.
The fight turned advantageous for TSM after ImperialHal used a Horizon lift to clear over the wall and down SAF Lusquinn. Verhulst simultaneously downed Jinqs with support from Reps. The final kill of Champs came from the CEO himself.
A dominate finish from a slow start
Out of the eight matches played on the Sunday finals of ALGS Year 3 Champs, TSM won three of them. However, the first few matches of the day were dominated by OpTic and DreamFire, with both teams reaching match point within the first three matches. During that time, TSM had only accumulated five points before finally hitting their stride later in the matches.
The games became increasingly tense as over six teams reached match point before or alongside TSM, including OpTic Gaming, The Dojo, BLVKHVND, LG Chivas, DreamFire, and FaZe.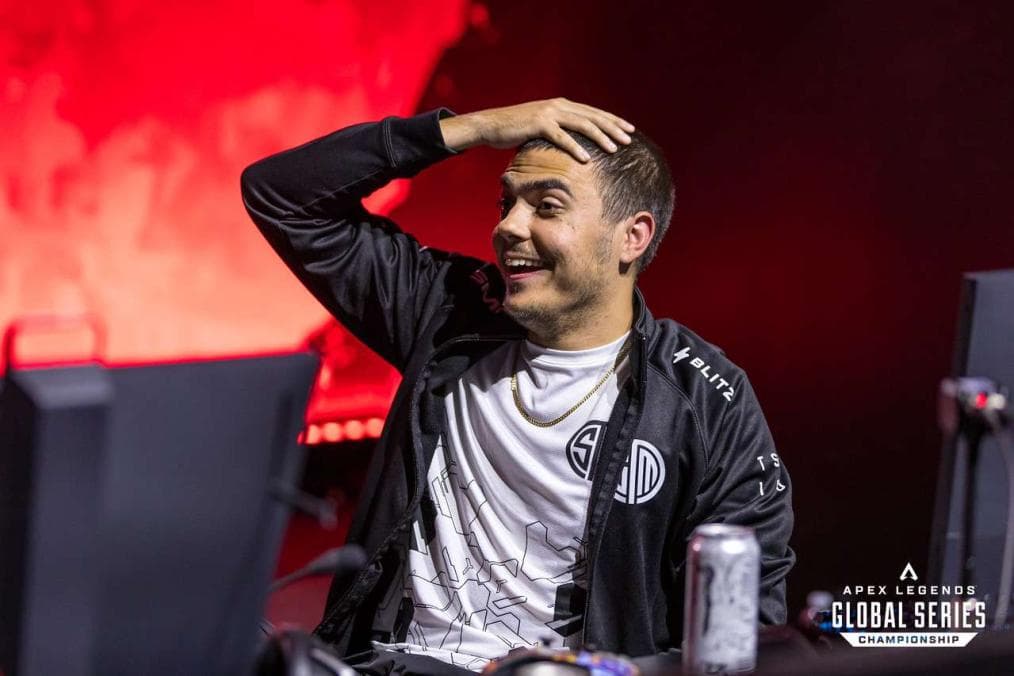 TSM ImperialHal at ALGS Year 3 Champs (via EA/Joe Brady)
The ultimate win was narrowly snatched away from OpTic by NRG during Match 4. From that point onward, OpTic was never able to close out another game. After LG Chivas won Match 5, TSM began their run to win their third LAN and get the ALGS script back on track.
By Match 6, TSM began to dominate the games with three wins in a row which culminated in their winning the ALGS Year 3 Championship.
Monster Energy MVP Award
After TSM lifted their trophy in celebration, ImperialHal was also awarded the Monster Energy MVP Award. In his interview, ImperialHal took the time to celebrate his teammates and the combined effort it took them to win the championship.
ImperialHal: "Personally, I don't care about the MVP award. You know, I just want to win. It doesn't really matter to me who has the most kills. As long as we win as a team, MVP is just like the icing."
This award was awarded alongside the EA Positive Player Award, which was awarded to Verhulst for positive sportsmanship in gaming.
Arguably the most popular team in all of Apex Legends esports, TSM has firmly established themselves as the best of the best. But will their reign continue into Year 4 of ALGS?