Forg Gang may be orgless but the direct invite emerged from the shadows on the last day to take the BLAST Titans Finals by storm!
Dark horse Forg Gang swoop in to claim title
Despite strong competition from New Esports, Fire Beavers and Kungarna, it was the orgless trio from Forg Gang that claimed the BLAST Titans Battle Royale title. After a fairly modest start of 12th, 8th and 6th in the first three games of the Finals, Forg Gang turned up the heat to win the 4th, 5th AND 6th round.
The play which ultimately secured Forg Gang the victory was a risky one. A decision to reposition with Valkyrie with only 4 squads left cost them Row on Caustic and Faenax on Wraith. Fortunately the only survivor British player Legitlolly came in clutch as Gibraltar to close out the game, making it 3 wins in a row.
Forg Gang didn't win the battle but they definitely won the war
Ahead of the Finals, Kungarna were heavy favourites to win given their rampage in groups and bracket stage. In comparsion, Forg Gang's run in BLAST Titans was fairly unremarkable ahead of the Finals. In the group stage they were 12th and in the upper bracket stage they finished last, securing just 2 kills in their four games.
Forg Gang only just qualified for the Finals through the lower bracket. However, as we saw in the ALGS Championships EU in May, it doesn't matter if you win the battle if you don't ultimately win the war. The orgless Forg squad performed when it mattered most. Back in June, the trio finished 7th in the ALGS EU Championships.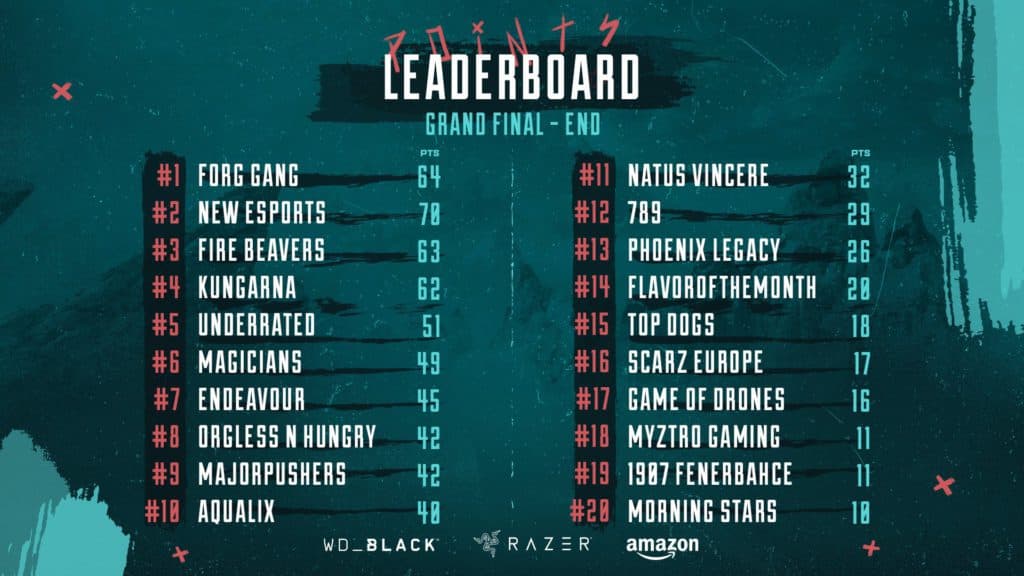 Forg Gang were the victors after winning the 6th round
Final placements:
1st. Forg Gang - $8,490
2nd. NEW Esports - $4,127
3rd. Fire Beavers - $2,358
4th. Kungarna - $2,063
5th. UNDERRATED - $1,769
6th. Magicians - $1,415
7th. Endeavour - $1,179
8th. Orgless and Hungry - $943
9th. Major Pushers - $707
10th. Aqualix - $472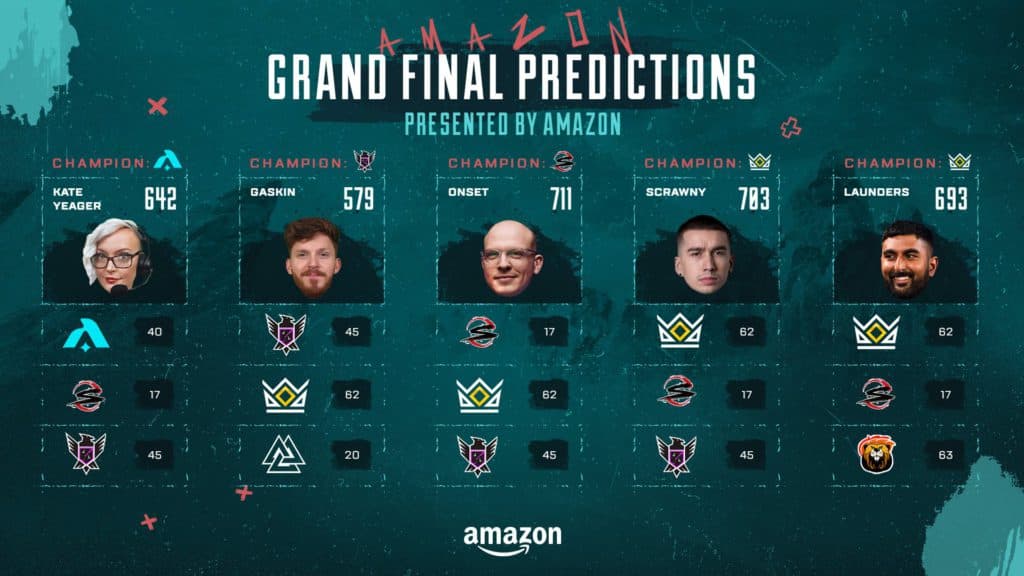 Unsurprisingly given their group and bracket performance, none of the talent had Forg Gang in their top 3
Who else impressed in the BLAST Titans Finals?
Outside of Forg Gang, other teams to really impress were Fire Beavers and Underrated, both of which took wins in the BLAST Titans Finals. Fire Beavers were winners of the 1st round with 14 kills. Meanwhile, Underrated dominated in round 3 to win with 13 kills.
Kungarna finished a respectable 4th place, and their Swedish player Graceful was crowned MVP of the tournament. Graceful dealt 20,739 damage across 16 rounds, equally an average of 1,296 damage per game. During the BLAST Titans Battle Royale event he secured 43 kills and was involved in 22 assists.
All the 20 teams who qualified for the BLAST Titans Battle Royale Finals earned their spot in the 3v3 Arenas event next week. It will be the first high profile Arenas event in competitive Apex Legends.