NRG and Spacestation Gaming were the big winners in the ALGS Pro Leagues 4th gameweek. NRG have now all but secured their place at the Stockholm LAN.
NRG dominated the third gameweek of the North American ALGS Pro League. The trio of Rocker, Nafen and Sweetdreams secured their third win in a row. They have now mathematically qualified for the Apex LAN in Stockholm, Sweden.
Esports Arena, tied with NRG for 1st overall, have also mathematically qualified for LAN. Both teams will be battling it out to secure 1st place overall, and the additional cash and seeding points that earns.
There are just two gamedays of NA ALGS left, with a matches on Saturday/Sunday and a double matchday on Monday.
Unstoppable NRG
NRG are in unstoppable form. They dropped 6.6 kills per game, and consistently made end game situations on both Worlds Edge and Storm Point. What has been incredible is their consistency not only in this 'gameweek' but, for the last 3.
Battle royales naturally are filled with RNG. Teams blow hot and cold, due to the variety in each match. Yet NRG have shown why they are one of the best teams in the region. They will be delighted that they have secured a place at LAN. Can Sweetdreams, arguably the best IGL in Apex, lead his team to a major victory in Stockholm?
NRG's perfect endgame
NRG saved their best game until last on Thursday, with an impeccable endgame. They played underneath the building in Antenna. Surprisingly, Sweet said he didn't even know that spot existed. He showed his raw ability and instincts, calling a perfect end game to deliver a victory.
This was an inch perfect execution from NRG. Where Sweetdreams excels is knowing when to play small, not drawing attention to the team. This allows them to spring out at the final moment, even if they did not have the best position.
Sweetdreams leads the kill leaderboard
What is even more impressive about Sweetdreams is his ability to do it all. Some IGL's struggle to output damage and kills at the same time as calling the shots. Not Sweet though, he simultaneously guided NRG to a third straight win at the same time as out fragging the rest of the lobby.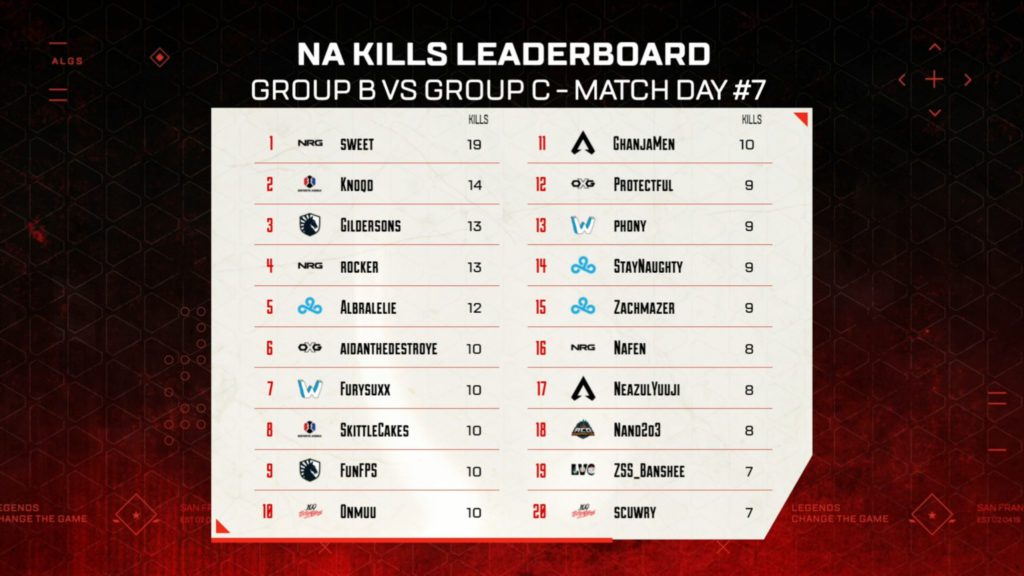 Spacestation Gaming play out of this world
It was also a very strong gameweek for Spacestation Gaming, wno won Friday's lobby. Dropped, Xenial and Frexs had been putting down consistent performances over the last 3 gameweeks. However, today they reached a whole new level.
They surpassed NRG's impressive kill total, dropping an impressive 6.8 kills per game. What is incredibly unique about SSGs approach is their in game leadership structure. Unlike teams such as NRG, who have a dedicated IGL, SSG use a varied approach.
On Storm Point, where SSG tend to play on the edge of zone and fight their way in, Dropped takes the lead. However, on Worlds Edge where SSG rotate early and play for zone Frexs takes the lead.
This is paying dividends for SSG, they won games on both maps. They also made a 2nd place on both maps too. Their consistency is the reason they were able to stay clear of G2 and secure victory.
The extra consistency that SSG found was really thanks to some very impressive team fighting. This was seen in Game 3; as SSG clutched out an intense bubble fight.
On Worlds Edge, SSG are one of a number of North American teams that have readopted Caustic. Like Cloud9, SSG use Caustic to control end games. However, Caustic is incredibly weak on Storm Point, and this shows the needs for teams to adapt and find the best strategy across each map.
The overall top 10
NRG tied with ESA for 1st
Esports Arena – 87
NRG – 87
G2 – 79
100 Thieves – 76
Cloud9 – 76
TSM – 71
Spacestation Gaming – 67
Sentinels – 58
Team Liquid – 54
CLG – 53
Renegades ImMadness "Making LAN is practically impossible"
Renegades, who had made a very poor continued their bounceback. However, they sit 19th overall. ImMadness has conceded on twitter that the 21 point gap could be insurmountable with just 2 matches left to play.
However, Renegades will be focusing on the LCQ's instead. The LCQ's, short for Last Chance Qualifiers, give teams who do not reach the Stockholm LAN a route into the ALGS Championship in the Summer.
What is key to note is that teams that finish between 11th and 30th skip a stage in the LCQ, and head straight to LCQ2. This means that teams like Renegades, Furia and Ghost Gaming still have something to play for in the final weeks. There is also the added incentive that Pro League only rewards the top 20 teams with Prize Money. So while Renegades will have to watch on as teams like NRG head to Sweden, their Pro League battle is far from over.
Just two Pro League gameweeks left
There are just two lobbies for each team to play, with competition heating up to qualify for the recently announced LAN. All eyes will be especially focused on 8th to 12th place, with just 7 points separating those 4 teams.
Stay tuned to esports.gg for the latest Apex Legends news and updates.