Apex Legends giving some fan service in Sun Squad event
Apex Legends' Sun Squad event is here, bringing you Loba in a swimsuit. Oh, and a limited time game mode I guess.
Fans of those random beach-themed filler episodes in anime series will be excited to hear that the Sun Squad event is coming to Apex Legends, bringing a new game mode and — more importantly — swimsuits.
Sun Squad is coming to Apex Legends on Mach 28 and ends April 11, giving players two weeks to experience an early sunny extravaganza in case they want to touch grass come the summer season IRL.
Sun Squad brings Heatwave game mode
Heatwave is a limited time game mode that damages players who are outside of buildings or aren't using heat shields. It's sort of like a pale-person-at-a-water-park simulator.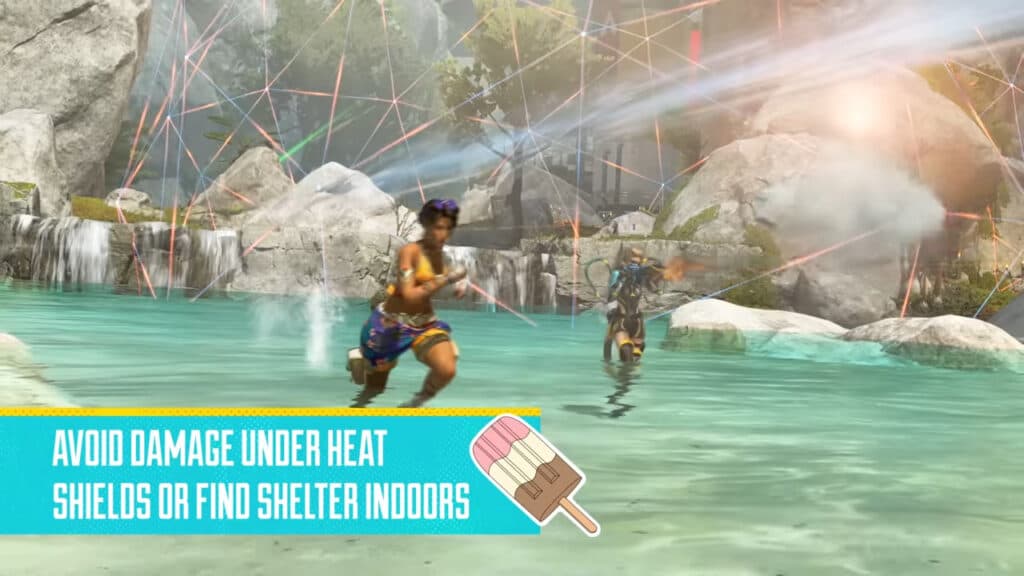 There are also sunglasses inside of care packages that legends can wear to reduce the temperature, lowering their damage taken.
This will create a pretty intense spin on the battle royale that forces close quarter combat in tight locations as players scramble to stay out of the sun.
Sun Squad cosmetics include swimsuits and an Heirloom
There are a total of 24 cosmetics coming out in Sun Squad. These exclusive items can be purchased with Crafting Metals or Apex Coins. Some items will be unlocked for free just by playing the game. If you unlock all of the cosmetics you'll also get an Heirloom weapon for Ashe, a nunchuck with retractable daggers on both ends.
For more visual players, there's also some beach-friendly new cosmetics, including the highly anticipated Loba swimsuit skin. Yes, this was a much-discussed rumor on Twitter before the event confirmed its existence — a normal thing in the gaming community apparently. So yeah, here it is!
A bit of a letdown for some fans, I'm sure.
And if Loba isn't your type, you can also get revealing cosmetics for other legends as well, including Seer and Fuse. If Fuse wearing a belt buckle that says "BOOM" is your thing, you're going to love Sun Squad. Mirage also has a very, very low V-neck. And those shorts are, well, short.
Meanwhile, Pathfinder is looking extra adorable with his ice cream-themed skin. I can't wait to get eliminated by this wholesome robot while he sports a smiling sundae on his chest. Just Sun Squad Things (TM).
So get ready for some wild and wet fun with Sun Squad in just a few days!
Olivia Richman
Administrator, Editor, Author, Contributor, Subscriber, SEO Manager, SEO Editor | Twitter
@y05h1eggz
Olivia Richman is a seasoned esports writer and editor who enjoys creating unique content about Smash, Apex Legends, Halo, Rainbow Six Extraction, Call of Duty, and basically every other game! Olivia enjoys the Pokemon TCG, Kirby, and being a persuasive thief in Fallout and Outer Worlds.