In the closest vote of the Esports.gg Apex Legends Awards, Alliance's John "Hakis" Håkansson has been crowned Best IGL in EMEA. Hakis finished joint 1st for ALGS Points and is one of the scenes most prominent figures.
In the most contested award category, Alliance's Hakis came out the winner for Best IGL EMEA. His fellow finalists were Martin "Graceful" Wongphrom of Team Kungarna and Francisco "k4shera" Miguel Nogueira Alves of New Esports. The winner was decided by a private vote, with the esteemed panel of judges a mix of players, broadcast talent and community figures.
John "Hakis" Håkansson
Hakis is one of Europe's most prominent Apex figures and for good reason. Alongside team-mate Vaifs, Hakis earned the highest ALGS Points out of any EMEA player, and led his team to 3rd place at the ALGS Autumn Circuit Playoffs and consistent success in the ALG Online events. Hakis is also one of the spearheads of the Apex EMEA community and quite the slayer himself – so much so that he was also a finalist for the Best Slayer EMEA Award.
"One team that has nearly always committed to an edge style (though has been flexible in the past) is Alliance, leaning into their drop spot's strengths, as Thermal Station is known as one of, if not the most successful edge-style drop spots in ALGS history, which they have ruled with an iron fist for so long. Having access to the loot that they have gives them a much easier time going into the mid-game, but Hakis as an IGL wields his teams offensive and medical economy extremely efficiently, allowing their team to thrive in what is typically the hardest period of the game for an edge team to survive in.

On the topic of offensive utility, Hakis has some of the most flexibility Legend-wise for a player of his role, the frontlining IGL, and this experience allows them to make use of some of the more creative compositions that Alliance as a team are known for. Horizon, Pathfinder, Valkyrie, (Fuse at times, for some reason), as well as the classical Octane and Wraith have been used by Hakis to a degree of success that has made Alliance as a team synonymous with innovation and creativity."
Hakis IGL style according to iG's coach EMEF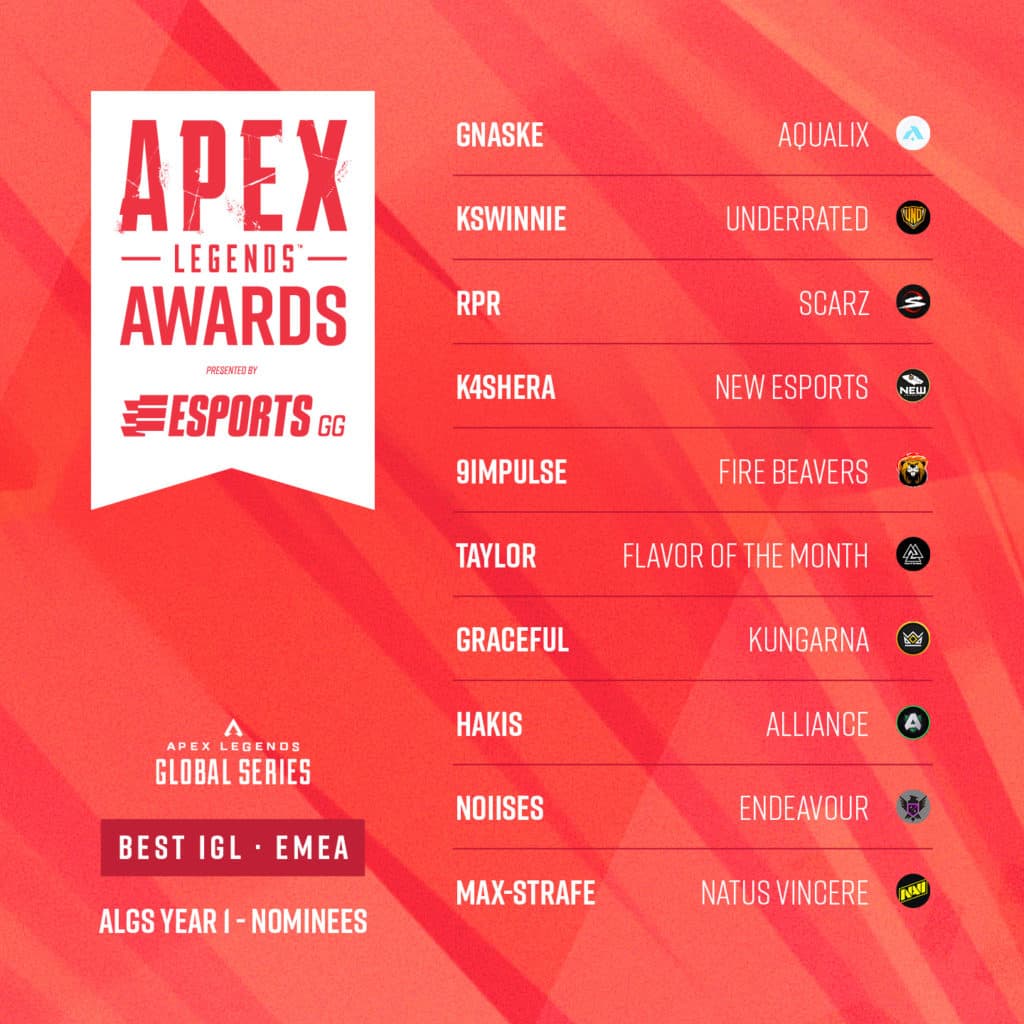 The 10 Nominees for Best IGL EMEA for ALGS Year 1 in our Apex Legends Award
We would like to congratulate Hakis on his victory and also commend all the nominees who were included in our top 10 IGL's based on our judge's votes.
Be sure to check out the winners of our other Award categories that we will be announcing throughout the day. There are a total of six Awards across three main categories: Best Team, Best IGL, and Best Slayer. Also, keep an eye on our Apex Legends news section as we head into the new season.