The ALGS Championship winners SCARZ EU have been voted the Best Team in EMEA by our esteemed panel of judges. It was a long season, but SCARZ came out on top when it mattered most.
The votes are in for our first ever Apex Awards and we have our winners for the best Team in EMEA! Our panel of expert judges have cast their votes and now we can unveil the winner. For EMEA we had a panel of over 20 judges, and a good mix of broadcast talent, players and community figures.
Our winner for Best Team in EMEA is SCARZ EU!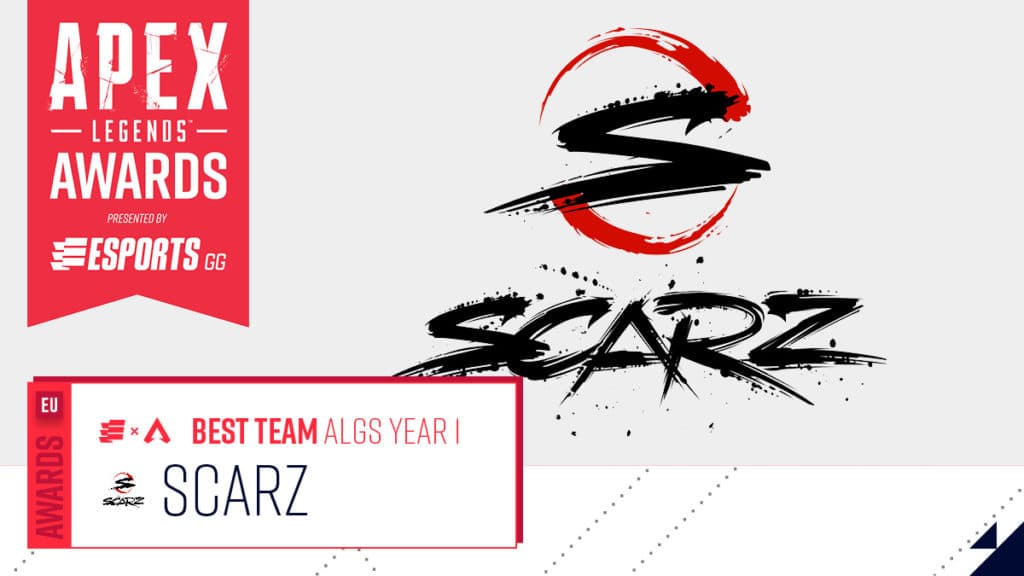 SCARZ EU are winners of the Best Team in EMEA Award
The ALGS Championship winners SCARZ EU were voted the Best Team in EMEA by our panel of esteemed judges. The trio, who have stuck together ever since joining forces at North in January 2020, had strong results throughout the season. After the trio moved on from North, together they formed Mikkel, Can & Dan, and were soon picked up by SCARZ EU after winning the ALGS Winter Circuit #1.
Under the new banner they managed to qualify for the ALGS EMEA Championships and clutch a beautiful win from the grasps of some of EMEA's best teams. The loyalty these three players have shown to each other is highly commendable and part of what makes them a fan favourite.

SCARZ EU were late bloomers in the ALGS but ultimately performed when it mattered most. The team bounced back from 20th at the ALGS Winter Circuit Playoffs In March 2021 to secure 1st place at $265,591 ALGS Championship victory three months later.
Mikkel Halle "Mande" Hestbek
Can "Taisheen" Öztürk
Dan "rpr" Ušić
1st ALGS Summer Circuit #3
2nd ALGS Summer Circuit Playoffs
2nd ALGS Autumn Circuit #2
8th ALGS Autumn Circuit Playoffs
1st ALGS Autumn Circuit #3
1st ALGS Winter Circuit #1
The 10 nominations for Best Team EMEA in the Esports.gg Apex Legends Awards
Congratulations to SCARZ EU for their win! The SCARZ EU team will be part of the ALGS Pro League Year 2 so you'll be able to see them in action next month. A special thank you to all our judges who cast their votes!

Our Judges for the EMEA Apex Legends Awards
Be sure to check out the winners of our other Award categories that we will be announcing throughout the day. There are a total of six Awards across three main categories: Best Team, Best IGL and Best Slayer. Also, keep an eye on our Apex Legends news section as we head into the new season.