Announcing ALGS Year 4 with Pro League and Challenger Circuit competition, three LAN events, and more than $5,000,000 USD in prizing!
ALGS have announced details of the upcoming ALGS Year 4. This follows on from a successful ALGS Championship in September that concluded the third year of competition.
Included in today's announcement is:
3 LAN events, 2x Playoffs and the ALGS Championship
Clarity on the future of South America
A new requirement to be ALGS eligible
Dates for Pre Season Qualifiers and when the Pro League will return
ALGS Year 4 will feature $5 million in prizing and 3 LAN events
ALGS Year 4 broadly follows the same format that we saw in ALGS Year 3. The total prizing has stayed the same, with $5 million to be awarded across the years competition.
Pre Season Qualifiers, Pro League and the Challenger Circuit all keep the same format too. Regional Finals, that were new for Year 3, are also staying in Year 4.
Additionally, ALGS will once again have three in person LAN events. Two $1 million playoff events and an end of season $2 million ALGS Championship. There are no details yet on the dates or locations for any of these events - although none of them will happen for quite some time.
Photo EA/Joe Brady
ALGS Year 4 Schedule
Dates for some of the initial ALGS events have been released today. Here is what we know so far.
ALGS Pre Season Qualifiers will be held in late November and throughout December. November 25-27, December 2-4, December 9-11, and December 16-18, 2023.
The ALGS Pro League will return in January, across the weekend of January 20/21 2024.
Challenger Circuit Split 1 starts on Saturday, February 3rd 2024.
The ALGS Split 2 Pro League Qualifier takes place in April prior to the Split 1 Playoffs.
That means that we know the first Playoff LAN won't take place until mid-April, as things stand.
Clarity on South America's place in ALGS Year 4
With todays announcement, there is finally clarity on the future of South America. There will not be a Pro League in South America moving forward. However, the region will still have guaranteed LAN representation.
Now, all teams will compete in the Challenger Circuit. The circuit will work in the usual way, but instead of teams competing for a place in a Pro League qualifier they will compete for a spot in the Regional Final.
The top 20 teams will qualify for the South America Regional Final, which will award $31,500 in prize money each split. From there, two teams will qualify for the Split 1 Playoffs.
On the change, ALGS say, "While this was a difficult decision, we believe that this change will enhance the competitive ecosystem in South America."
Photo EA/Joe Brady
China also joining the ALGS
ALGS have also announced today that teams from the People's Republic of China will be joining the competition. There will not be a China-only Pro League or Challenger Circuit.
However, two teams from the region will now be invited to participate in the Split 1 Playoffs. There will be invites for teams for future events, but the amount depends on performance.
Both South America and China will have 1 guaranteed spot at the ALGS Championship, but they won't have an LCQ.
Reshuffle of LAN qualification spots
ALGS Year 4 is readjusting the base number of slots that each region gets for the LAN events. Spots will change between events just like in Year 3, based on how each region performs. That will also impact China and South America.
The Split 1 Playoffs regional distribution will be:
North America - 12
EMEA - 8
APAC North - 8
APAC South - 8
South America - 2
China - 2 (invited)
It's worth noting that the maximum number of teams representing a region in the Split 2 Playoffs is capped at 12. This means that as it stands, North America would not be capable of gaining additional spots for Split 2.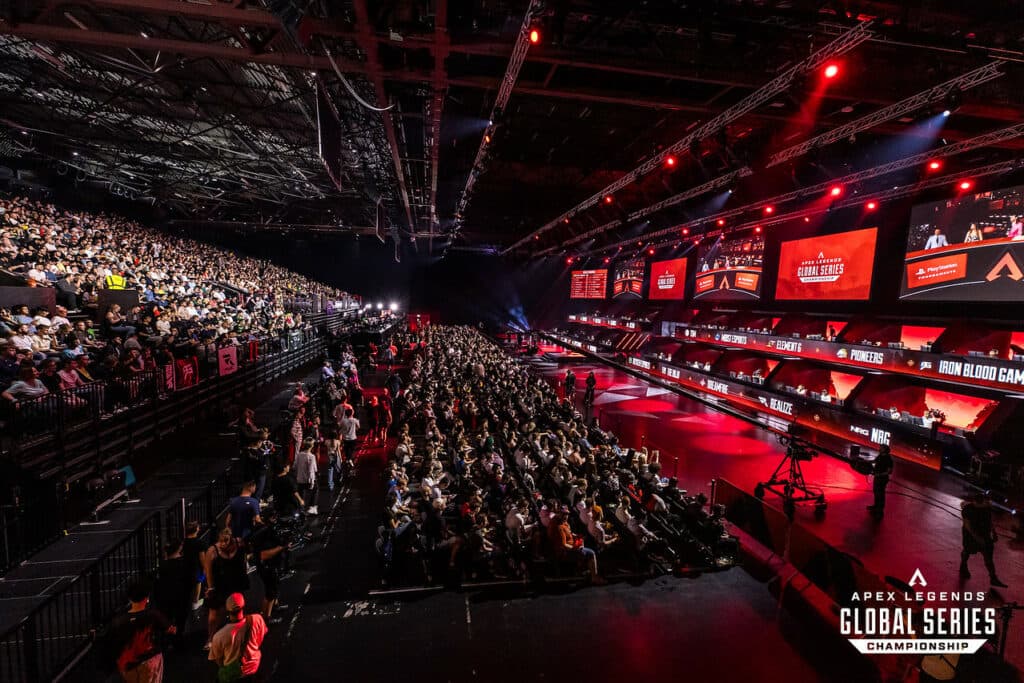 Photo EA/Joe Brady
New requirement to compete in the ALGS
One of the most exciting things about the ALGS is the fact that anyone can compete. Any player can go from the Pre Season qualifiers, into the Pro League, and then onto LAN.
Previously, any player ranked Silver 4 or above could enter the open ALGS events. That is the Pre Season qualifiers and the Challenger Circuit.
In ALGS Year 4 that requirement is being removed. Instead, any account that is level 50 or above will be able to enter ALGS events. In theory, you could play an ALGS event before you play a ranked game. Level 50 is also the level that unlocks the ranked mode.
New substitute rule for Pro League and Challenger Circuit
One of the most significant rule changes in ALGS Year 4 regards substitute players. Previously, players who were substitutes in Pro League could not compete in the Challenger Circuit.
That made being a substitute very unappealing - you are very unlikely to play but cannot compete for anyone else. Any player good enough to be a substitute for a top team was good enough to perform well in the Challenger Circuit.
Photo EA/Joe Brady
As a result, ALGS awarded Challenger Circuit points as compensation. This allowed teams to pick up players at the end of the circuit who came loaded with points.
Now, in ALGS Year 4, there will be a new approach.
Pro League Players will now be permitted to participate in the Challenger Circuit provided they did not participate in their Pro League team's most recent series. This has a double benefit of allowing Pro League substitutes to keep their skills sharp in the Challenger Circuit while also allowing Pro League teams to carry substitutes who are among the best amateur players.
ALGS Year 4 Registration opens soon
If you want to play in the ALGS Pre Season qualifiers now is the time to make sure your account is Level 50 ready to play.