The last day of the ALGS EMEA Pro League took place today and we now have our 20 squads that will duke it out in the playoffs!
Today marked the final day of the ALGS EMEA Pro league split 1 qualifiers. We now have our top 20 squads that will duke it out in ALGS EMEA regional playoffs. Unfortunately, we had to say goodbye to the other 20 teams, as they did not make it to the next round. However, we got to see some beautiful Apex today and yesterday from all the teams, as it was the last chance for some of these teams.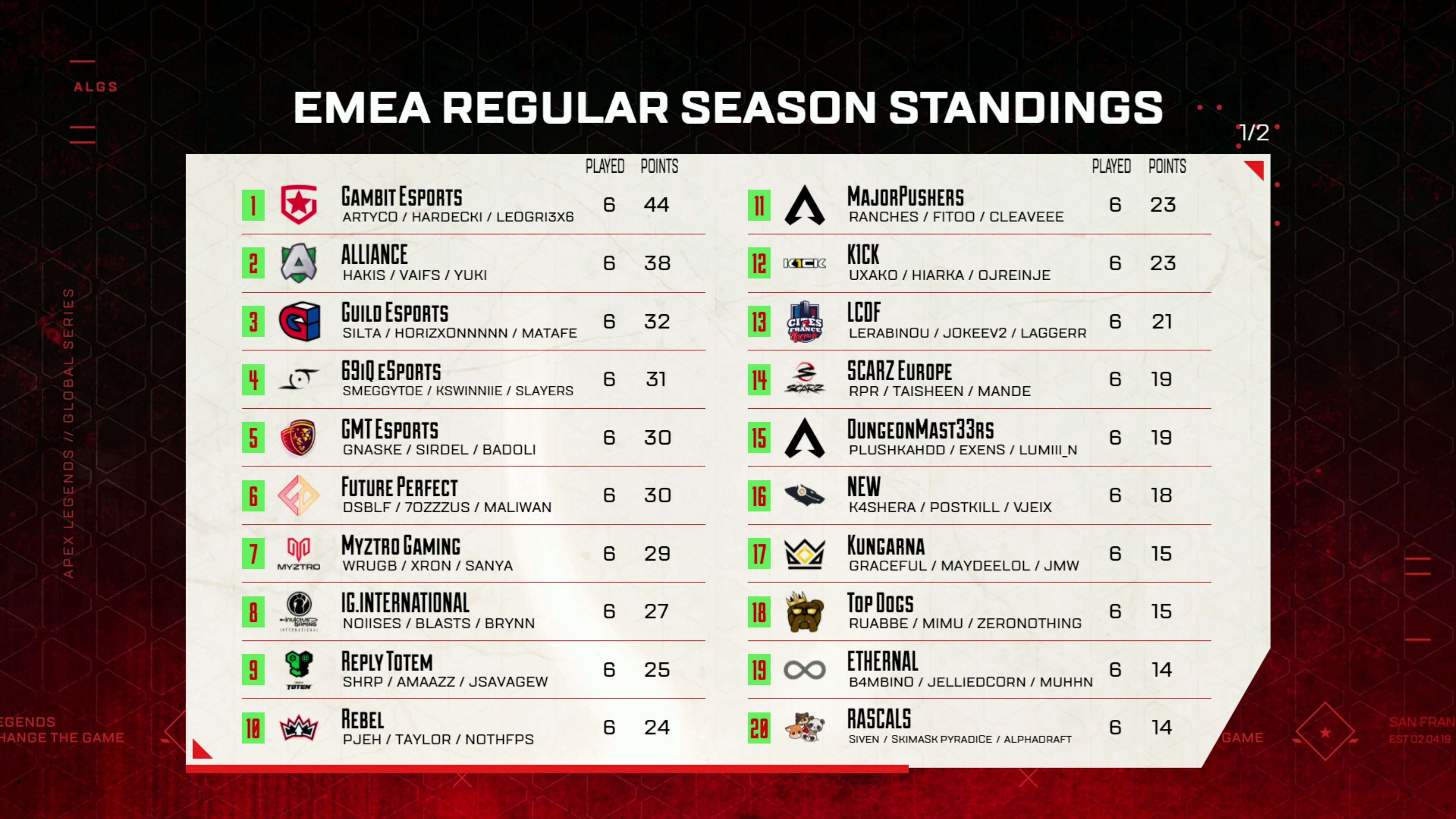 Alliance are back and a force to be reckoned with
After yesterday's ALGS EMEA matches, it seemed like Alliance might of gotten back to their fighting shape. Now we know for sure, that the Alliance boys of Vaifs, Hakis and Yuki are one of the top EMEA contenders. In today's matches we saw that yesterday was not just a fluke, that the bootcamp really payed off.
The biggest issue with Apex teams is consistency or the lack thereof. Alliance proved today that they are a consistent team that should not be underestimated. Finally getting a win under their belt, but then following it up with another win. On top of the back to back wins, they weren't slacking. Both games were high kill games with great plays throughout. It is more than fair to say that Alliance are officially back and better than ever.
Hardecki and his endless onslaught
By now its no surprise that Gambit one of the best teams in EMEA. The star studded squad makes play after play and is currently at the top of the ALGS EMEA leaderboards. Today was no different as Hardecki worked his magic again today with an amazing clutch win in game 3. With both his teammates down and out, Hardecki came out on top against the final 2 other full squads all by himself.
Clean Gaming's clean sweep in game 6
In the last ALGS EMEA game of group A v C was a true underdog moment that had the whole Apex community in awe. The squad Clean which comprised of Gdolphn, Naghz and Unlucky found themselves stacked up against arguably the top squads in their group: Alliance, Gambit and IG. With Clean being far behind in terms of overall standings, there was seemingly only one chance to make it into playoffs: wining against the titans of IG, Alliance and Gambit.
In a chaotic finale, Alliance took out IG while Clean took out Gambit as they were pushing to third party the other two. Sweeping in like a hawk on a wounded prey, Clean finished off the 2 remaining members of Alliance in a 3v2. And like a early Christmas miracle, it seemed like Clean defied the odds and managed to sneak a spot into the playoffs. However, unfortunately after the calculations although the victory was phenomenal, it wasn't enough for Clean to make it into the playoffs.
The story doesn't end here
As much as we love all the teams participating, only 20 could move on. However, their story doesn't end here, as the ALGS EMEA split 2 is right around the corner. Great stories of teams like FiGVam or dead inside to fan favorites like Zeta Division or SoloQgoats will have moments to shine in due time.
At the end of the day however, we all know that only 20 teams can make it to the regional playoffs. Although we have to say goodbye to some teams, hopefully it only makes them stronger for split 2. For more Apex content follow us here on Esports.gg!