SpicyAppies
Esports.gg Judge | Twitter @SpicyAppies
Sully "SpicyAppies" started playing TFT Set 4 onwards. He recently won the First CovertOpsGG TFT Tournament and is one of the players to look out for in 2023.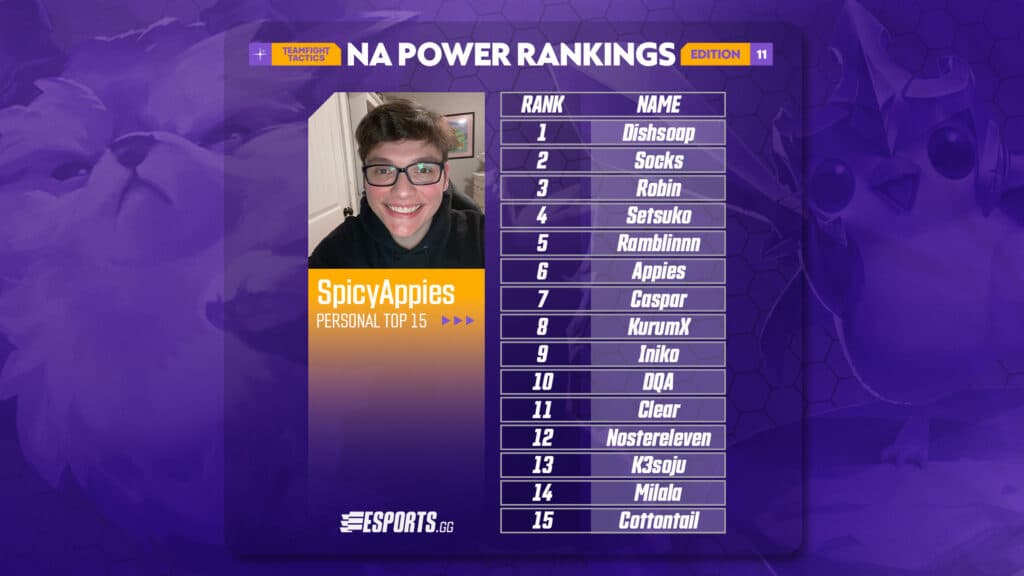 Spicyappies' ballot for Edition #11 of the NA Power Rankings
Returning as a judge for the fourth time in a row, Spicyappies agreed with his fellow judges that Dishsoap and Socks were the 2 best players in NA. However, Spicyappies was the only judge to place Robin in the his top 3, with many favoring Ramblinnn (7 judges).
Spicyappies has appeared in six editions of the NA Power Rankings as a player, finishing 4th in Edition #3, #4 and #5.
Spicyappies recently attended the TFT Summit: Monsters Attack as part of "The Weeb Team" alongside Rainsplosion. The duo placed 8th-9th out of 12 teams.