How to beat Kafka World 5 in Herta's Simulated Universe
Wondering how to Beat Kafka World 5? We feel your pain. Here's the solution to make beating Kafka incredibly easy.
How to Beat Kafka in World 5 - The Level 60 Stellaron Hunter is the final boss in Herta's Simulated Universe World 5 and can be tricky to beat if you're not careful.
The key to beating Kafka is choosing the right Path, Blessings and keeping Kafka's Impair ability from turning your characters again each other. After reading this guide Kafka will be a piece of cake to beat and you'll wonder why you ever found her difficult to begin with.
Step 1: How to beat Kafka in World 5: Path and Blessings
Choose Path of Abundance
Choose and Enhance Abundance Blessings at every opportunity
If no Abundance Blessings offered use 30 Cosmic Fragments to Reset Blessings (once per battle)
Obtain 3/10 Abundance Blessings to unlock Path Resonance
*IMPORTANT* - Obtain 6/10 Abundance Blessings to unlock Resonance Formation: Anicca
You'll want to choose the Path of Abundance when you enter World 5. This will provide blessings that focus on increase HP or boosting stats. More importantly, Path of Abundance offers a Resonance Formation you can obtain called Anicca, which casts a full party dispel. This is critical to stop one of Kafka's multi-target debuff in Phase 2 and 3.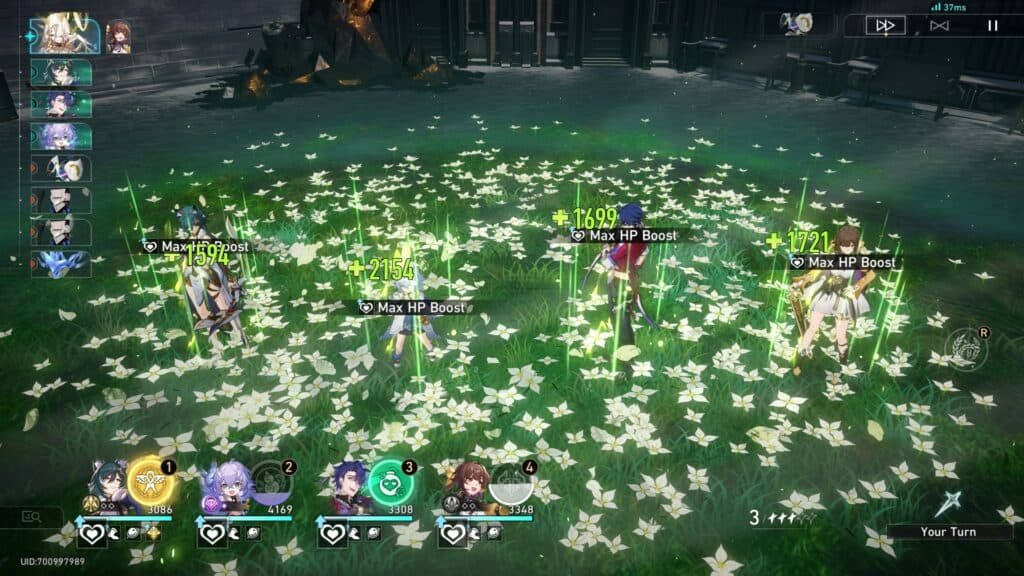 Choose 3 Abundance Blessings to unlock the Path Resonance which grants a full heal and increases max HP
Choose Abundance Blessings after each battle completed. If you're not given one as an option then use 30 Cosmic Fragments to Reset your choices. You may only do this once per battle, so sometimes you'll need a bit of luck. Focus on Blessings that boost your HP or increase DEF or healing. Whenever are given the option to Enhance Blessings, choose it 100% of the time.
Once you have 3 Abundance Blessings you'll unlock Path Resonance: Abundance which restores your party's HP and increase their Max HP. This will basically make most of World 5 pretty easy, helping you reach Kafka as quickly as possible. Obtain three more Abundance Blessings to be offered a choice of three Resonance Formations.
Step 2: Obtain the Anicca Resonance Formation
The answer to How to Beat Kafka in World 5 is Annica. Once you obtain 6 Blessings of Abundance you will be given three choices of Resonance Formation. PICK ANICCA!
The Annica Resonance Formation applies a party dispel after you cast your Path Resonance. This will dispel Kafka's annoying Dominating debuff. It also applies 1 stack of Subduing Evil, which essentially makes your party immune to Kafka's Domination ability for 1 turn. You're starting to see how this is a brilliant plan right?
Step 3: How to Beat Kafka in World 5 in Phase 1 - 3
Phase 1: Kill the two soldiers first and cast a single-target dispel / Path of Resonance if an ally is Dominated
Phase 2: Whenever Kafka casts "Psychological Suggestion" immediately cast Path of Resonance to dispel
Phase 3: Kafka's AoE Lightning DMG is increased in the final phase, keep your characters above 2000 HP at all times.
Phase 1
| | | |
| --- | --- | --- |
| Spirit Whisper | Impair | Has a high chance of Dominating a single target and Advancing their action forward to immediately attack a random ally of theirs. |
| Midnight Tumult | Single Target | Deals minor Lightning DMG to a single target, with a high chance to Shock the target. |
| Caressing Moonlight | Blast | Deals Lighting DMG to a single target and units adjacent to the target. If the target is Shocked, inflicts Shock on the adjacent unit. |
| Silent and Sharp Mockery | AoE ATK | Deals minor Lightning DMG to all targets |
| Tremble | Talent | If the target is currently Shocked, directly cause Shock DMG 1 time |
| Cruelty | Talent | When friendly units (apart from Kafka) or Dominated targets deal DMG to Shocked targets, unleash an extra Lightning ATK. |
| Griever | Talent | Every time a target triggers the Shock State, DMG dealt by Kafka slightly increases. |
Kafka World 5 Phase 1 abilities
In Phase 1 of World 5 Kafka, she is joined by two soldiers. While they may seem puny, Kafka's talent Cruelty means the two soldiers can trigger additional damage if they attack your party while they have the Shock status effect. Kill the two soldiers first, and then focus on Kafka.
Kafka's ability Spirit Whisper will be your main source of pain. Spirit Whisper has a high chance to Dominate a character of yours and action forward them to immediately attack an ally.
Dominating lasts 3 turns, so apply a single-target dispel (March 7th, Natasha, Bronya) on the affected character if you can, or cast your Annica Path of Resonance for the party dispel.
If you followed our instructions above about Path of Abundance and Blessings and still fail in Phase 1 of Kafka World 5 there are likely three possible reason:
Max HP of your party (or your healer) is too low
You didn't pick characters matching Kafka's Elemental Weakness (Wind, Physical, Imaginary)
Your healer's Traces & Light Cones are too under levelled
How to Beat Kafka World 5: If you see Kafka cast Psychological Suggestion then counter with Path of Resonance Abundance asap
Phase 2
| | |
| --- | --- |
| Psychological Suggestion | Applies Psychological Suggestion to multiple targets, and adds Revelation onto their action bar. The next time Revelation takes action, any targets with Psychological Suggestion will become Dominated. |
Kafka World 5 Phase 2 new ability
Kafka in Phase 2 is identical to Phase 1 except her Impair ability Spirit Whisper is now upgraded to become Psychological Suggestion. This is a multi-target ability that adds "Revelation" to the action bar. The next time Revelation triggers any target with Psychological Suggestion will become Dominated. Revelation appears as a Spider's Web symbol in the action bar.
This gives you one turn to prepare for what's coming. Understanding this ability is a key part of how to beat Kafka in World 5.
To stop Kafka forcing your characters to kill each other, make sure you dispel the debuff with your Path Resonance straight after she casts Psychological Suggestion. Do not wait until the extra turn. If your Path Resonance is not charged then ensure your party is healed up and cast it the following turn if you can.
Phase 3
| | | |
| --- | --- | --- |
| Seething Whisper of the Fallen | AoE Attack | Deals Lighting DMG to a single target, with a high chance to Shock the target. At the same time, deals Lightning DMG to all other Shocked targets. |
Kafka in Phase 3 gains one additional ability Seething Whisper of the Fallen. It's not a game changer but it does mean even more additional damage AoE to characters affected by Shock. Try to keep all of your party above 2,000 HP and you should be fine. Kafka will fall in no time!
Rewards for beating Simulated Universe World 5
The first time you complete World 5 you will receive the following rewards:
400 x Trailblaze EXP
120 x Stellar Jade
2 x Star Rail Passes
2 x Herta Bond
Why is Kafka in World 5 so difficult?
Kafka in World 5 has three Phases, and in each Phase she has an Impair Ability. This gives her a chance of Dominating one of your characters, forcing them to do a Basic Attack to one of your own party.
In Phase 1 of the boss fight, Kafka can Dominate a single target (Spirit Whisper), whereas in Phase 2 and 3, Kafka can do so to multiple targets (Psychological Suggestion). However, Psychological Suggestion has a one turn delay which catches many players off guard in Phase 2. This can be incredibly painful if she dominates a DPS character or healer. Domination lasts 3 rounds unless dispelled.
Kafka also has two actions every turn, and a chance to Shock her targets through various abilities, dealing small to medium AoE Lightning DMG which can quickly stack up. However, once you realise the trick to dispelling Kafka's debuff, she's quite a straight forward boss, much like the Malefic Ape.
Which characters can dispel a debuff?
The Anicca Resonance Path is not the only dispel available in Honkai Star Rail, but it is the most effective. Both March 7th and Natasha unlock a Trace single target dispel at Ascension Level 2. Additionally Bronya's Combat Redeployment can also dispel a single target's debuff.
However, this is not as effective as they can all only dispel one target, and if they are dead or dominated then Kafka will destroy you. If one of these characters is a main of yours however, put them in your party for extra protection. Yes, for once Natasha is a better choice than Bailu.