Fortnite Exotic and Mythic items have returned in Chapter 3 Season 3. Here are the locations and how you can acquire all of them.
Exotic and Mythic items have returned in Fortnite Chapter 3 Season 3 — the game's latest significant installment. The Exotic and Mythic rarities first appeared many seasons ago and survived Fortnite's consistent changes. Thus, Exotic weapons such as The Dub, Shadow Tracker and Boom Sniper Rifle have become staples since Chapter 2 Season 5.
From a Mythic weapons perspective, Chapter 3 Season 3, is slightly different. Unlike last season, this rarity's weapons are not bound to non-player characters (NPCs). Instead, you can obtain a Mythic version of every weapon via the new Reality Sapling mechanic.
In any case, understanding where to locate Exotic weapons is valuable information. Today, we'll explain where you can find these Exotic items and how to acquire them.
Fortnite Season 3: Exotic weapon locations
Fortnite Exotic weapon locations per Fortnite.GG
There are five Fortnite Exotic items and multiple Mythic weapons available this season. Additionally, you can obtain the Exotics by visiting various NPCs around the map and exchanging gold bars. The map from Fortnite.GG shows all Exotic item locations in Fortnite Season 3.
Furthermore, here is a list of the Exotics you will find in Chapter 3 Season 3, their location and cost:
The Dub — Jonesy the First in The Joneses for 600 gold
The Dub location
Shadow Tracker — Sunbird in Sunny Steps for 400 gold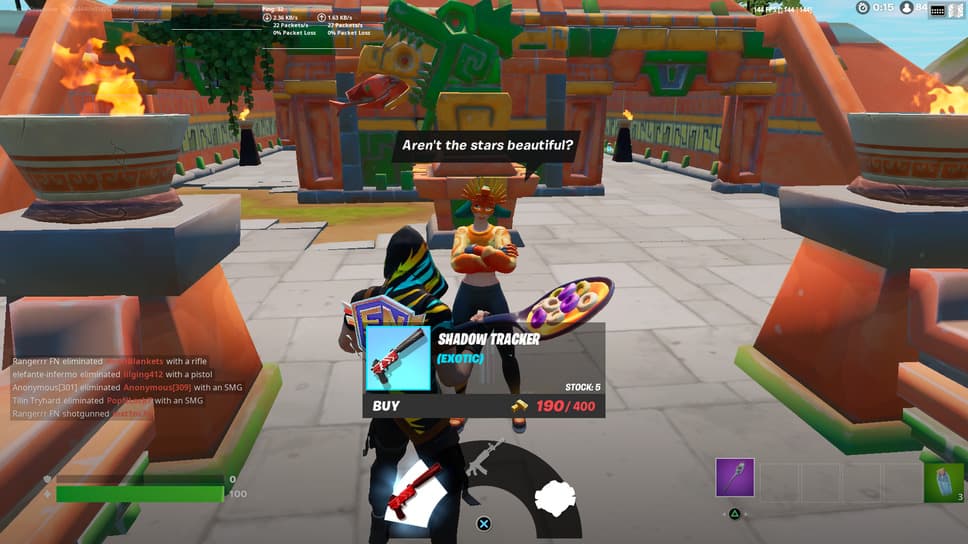 Shadow Tracker location
Chug Cannon — Kyle in Logjam Lumberyard for 600 gold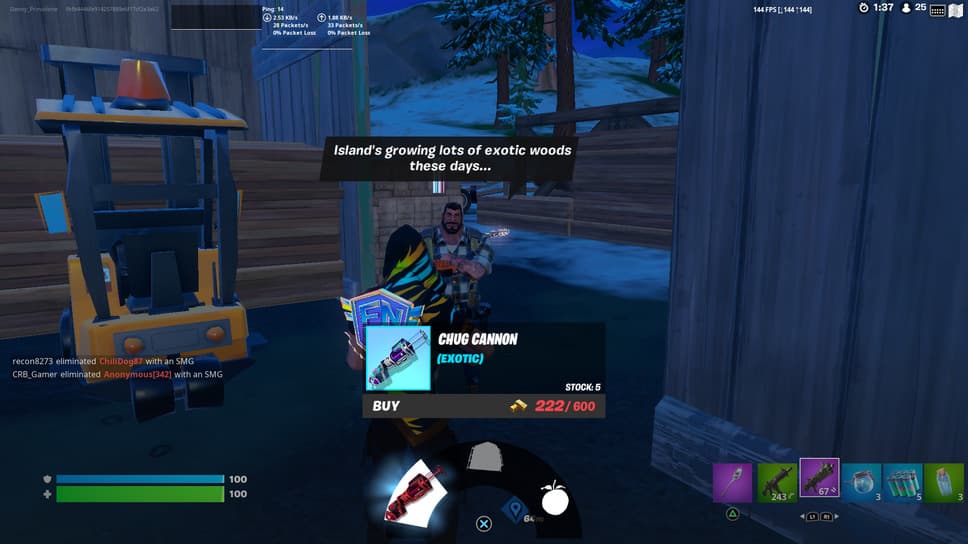 Chug Cannon location
Marksman Six Shooter — Cuddle Team Leader in Rave Cave for 400 gold
Marksman Six Shooter location
Boom Sniper Rifle — The Visitor in Launchpad for 600 gold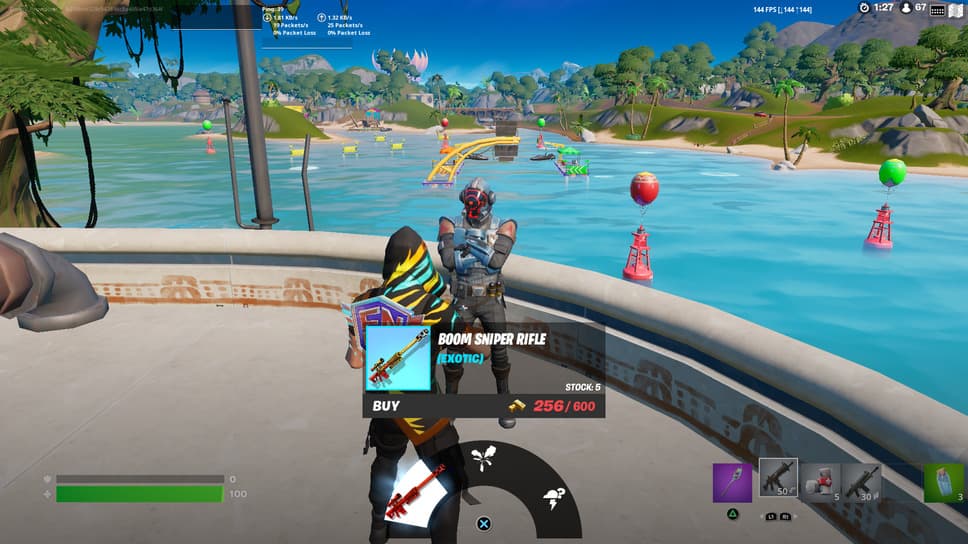 Boom Sniper Rifle location
These five items listed above are unlike any others this season. However, it's worth highlighting the Chug Cannon, which you can also acquire from a Loot Llama. This Exotic healing item in Fortnite Season 3 comes in handy when you or your team is low on health and shield. Upon firing the Chug Cannon splash, it heals everyone in the immediate area. As a result, the Chug Cannon is an item worth seeking out.
How to get Mythic weapons
Reality Sapling in Fortnite
We briefly mentioned above that there are no NPC-specific Mythic weapons this season. In that case, Slone's Burst Assault Rifle and Gunnar's Stinger SMG are not in play. However, you can still grab yourself a Mythic version of the following weapons:
DMR
Hammer Assault Rifle
Two-Shot Shotgun
Stinger SMG
Combat SMG
Ranger Assault Rifle
Striker Burst Rifle
Auto Shotgun
Striker Pump Shotgun
Heavy Sniper Rifle
To acquire these weapons, you need to plant a Reality Seed, which turns into a Reality Sapling. Then, you can pick the weeds around your plant until it progresses from Uncommon to Mythic loot.
Remember that only one Mythic item will drop once you reach the final stage in its growth. In any case, the tree will release one of the ten weapons listed above. 
This guide should help you in your Fortnite Chapter 3 Season 3 journey to spice things up a little. The Fortnite Exotic items are gimmicky but undoubtedly valuable for specific situations. Furthermore, Mythic weapons are the most potent rarities in the game.