These are the the best creative maps to help you improve at Fortnite. All map codes are included and a brief description of the map.
Fortnite Creative maps continue to grow every Season. Map creators expand on the current maps and innovate new ideas. These maps allow players to improve quickly with focused techniques and challenges. Creative maps increase the average skill of the player base rose due to the targeted practice. Here is a list of the best creative map codes in Season 7. Do remember we have a Fortnite news section as well!
Raider464's Piece Control Practice Map v2 - 3705-0960-8290
Raider is known for his incredible mechanical ability and his map-making skills. In this map, Raider created 14 drills to help players improve their piece control. The course moves players through different building situations to practice their building and editing skills. Each specific drill is meant to represent a scenario during a fight.
This map can be used as both a warm up map and for practice. Raider's video shows players how to run through the map as he intended. Although, there are a multitude of ways that one could use each mechanic drill. Player's piece control ability improves greatly when using this map.
Pandvil Box Fights - 2229-0077-4833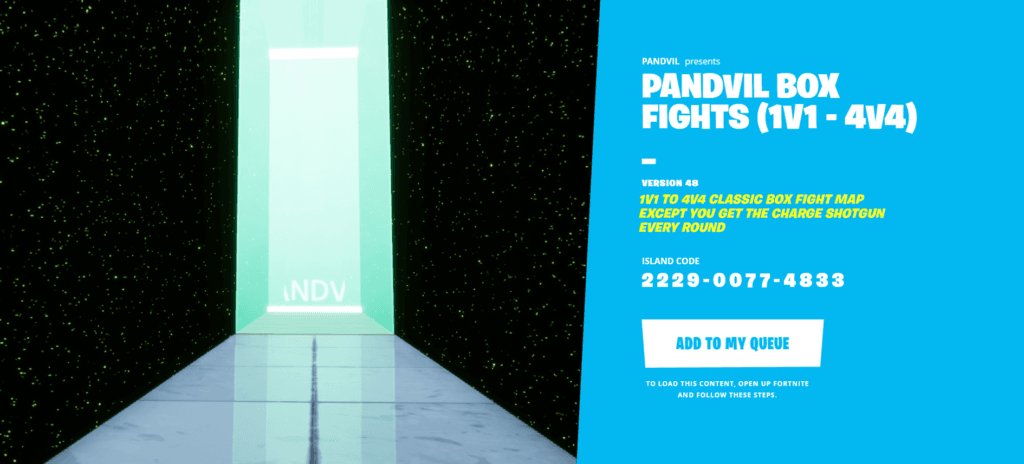 Pandvil created the premiere box fight map in Fortnite. Originally, titled "Clix Box Fights," the map is set in a small two layer area. Box fights were one of the first popular creative maps. Today, they remain a popular staple in Creative Fortnite. Additionally, the map is so popular that it is constantly filled in creative queues.
In this map, players can choose the size of the team from 1 to 4 players. Then the rounds start with the teams separated. Players can reorganize their inventory and build within a small space. The barrier drops and the fighting begins.
32 Players Zone Wars by Droia - 5295-5891-6929
This map simulates an end game scenario as a solo. Droia created a great map to practice end games and work on several different aspects of the game. The map is constantly updated to represent the current loot pool. Players spawn in a vertical wall with multiple different layers. Each player receives a randomized loadout based on the current competitive lootpool. Then everyone is forced forward as the storm begins to move.
The game starts with 32 total players. Then the chaos begins. The lobby must move forward by tunneling, running, or other movement. As the game progresses, the zone decreases in size. Ultimately, one player remains and comes out victorious. Then the game restarts for a total of five rounds.
Headshot Only Box Fight by Pandvil - 3329-5130-6548
Another Pandvil map tops this list. He created a headshot only shotgun map. There are several different modes in this map. It can be played as a regular 16 player FFA or headshot only. Within both modes, player may choose the types of shotguns that they would like to use.
This map helps players consistently hit headshot. It is the first of its kind and more 'headshot only' maps are following. Body shots still damage players, but the health regeneration is extremely fast. Therefore, only headshots eliminate players.
Skaavok Aim Trainer by Donwozi - 8022-6842-4965
Donwozi created multiple variations of his Skaavok Aim Trainer. He consistently updates his aim map and comes out with new versions every few seasons. The latest version came out in Season 6, but Donwozi updated the map in Season 7.
Skaavok Aim Trainer provides a ton of aim scenarios to improve in game aim. There are aim routines for shotguns, assault rifles, smgs, and more. Additionally, Donwozi created a couple of building scenarios included in his aim trainer. This map is an in game solution to the other aim trainers such as Aim Lab, Kovaaks, or Aim Beast.
A Fortnite creative map for everyone
Every season, more and more maps are created. These Fortnite creative map makers continually push what is possible. From simple 1v1 map, all the way to advanced drills that are now available. These are just five maps, check out the in game features to discover more maps and find any map you are looking for!