Looking to make your trickshots even more impressive? Try a Hoverboard!
Hoverboards have returned to Fortnite in the latest OG Season 6 update. This beloved vehicle first debuted in Chapter 1 Season 7, but Epic Games decided they could not leave it out of this season. Many memories were made using the Hoverboard, and players are eager to find and use them before it's too late. Today, Esports.gg provides you with a list of all Hoverboard locations in Fortnite OG.
All Hoverboard locations in Fortnite OG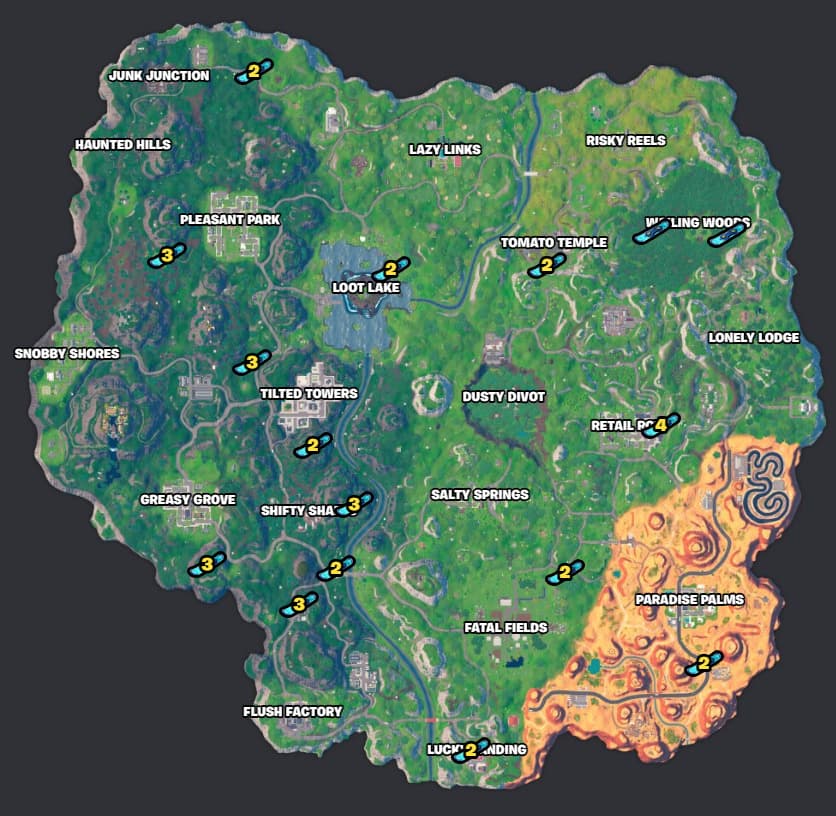 Image Credit: Fortnite.GG
The map above is from Fortnite.GG and gives you a visual guide of where to find all Hoverboard locations in the current update. While there aren't many, we did not have much trouble finding and using one. We were able to locate the Hoverboard spawn near Fatal Fields and jumped on one to rotate across the map.
Here is a complete list of all Fortnite Hoverboard locations:
East of Junk Junction

West of Pleasant Park

North of Loot Lake

South of Tomato Temple

East and West of Wailing Woods

Retail Row

Northwest and South of Tilted Towers

East and South of Shifty Shafts

Lucky Landing

Northeast of Fatal Fields

South of Paradise Palms
What is so great about Driftboards in Fortnite?
Much like the Fortnite OG Season, Driftboards, commonly called Hoverboards, provide players with nostalgia. This mobility item allowed players to rotate around the map quickly and in style. Furthermore, the Hoverboards were perfect for trickshots with Sniper or Hunting Rifle.
Hoverboards should stick around for the next patch, but we will confirm that closer to the update. For now, drop into Fortnite OG and visit the locations above to try the Hoverboards, just in case Epic vaults them. You can check out a complete list of patch notes here to see what else is in the latest update.