Here's everything you need to know about Passive Abilities in Apex Legends.
Apex Legends is one of the most popular FPS games in the industry today. Since its release on February 4, 2019, it has been among the most played and watched video games on Steam and Twitch. What makes Apex Legends unique is that it is a Battle Royale set in the Titanfall universe with characters that have unique abilities.
Image Source: Xbox.com | Every Legend in Apex Legends has unique passive abilities which give them an edge in combat
It combines the best of ability shooters like Overwatch, Quake Champions and Battle Royale games like Fortnite. Every Apex Legends character has unique abilities, which include passive abilities.
But what does that mean? Let's look into what passive abilities have to offer in Apex Legends.
Types of Passive Abilities in Apex Legends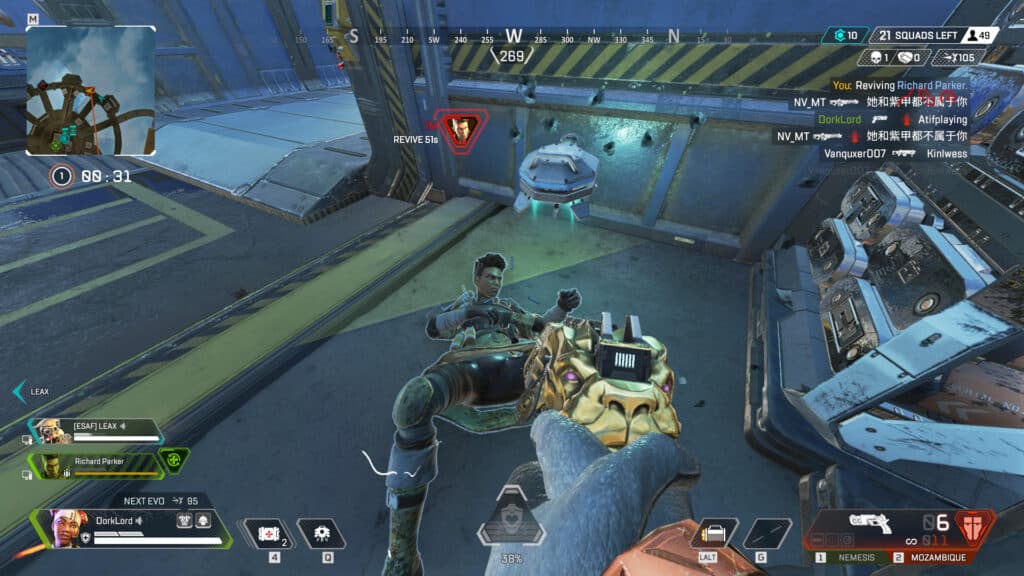 Lifeline's passive allows her to revive teammates with her D.O.C. without getting caught up in a revive animation.
There are mainly two types of passive abilities in Apex Legends. Character passives and Class passives. Character passives are passive abilities that are unique to each Legend. Class passives are passive abilities that every legend belonging to a specific class has, and there are five classes of Legends.
Character Passives in Apex Legends
Ash - Marked for Death allows Ash to scan death boxes and locate their killers on the map.
Ballistic - Sling allows Ballistic to carry a third weapon in his sling. He cannot use attachments on this weapon, and when his ultimate is active, this weapon becomes fully kitted with the highest tier of attachments.
Bangalore - Double Time makes Bangalore run faster for a short time whenever anyone shoots at her.
Bloodhound - Tracker allows Bloodhound to track enemies based on clues like footsteps and actions like opening supply bins, taking damage, firing a weapon, etc. Each of these clues indicates a timer, letting Bloodhound know how close they are to the incident that led to the clue. Additionally, Bloodhound can use White Ravens which are spread around the map. These Ravens help Bloodhound track enemies by pointing them in the direction of the nearest enemy squad.
Catalyst - Barricade allows Catalyst to barricade doors so that enemies struggle to open them. If the door to a building is destroyed, Catalyst can still use barricade to block the entrance with a reinforcement that is as strong as regular doors to kick down or destroy.
Catalyst can barricade doors using her passive to make them more resilient against melee attacks and ordnance.
Caustic - Caustic can use Nox Vision to see through his gas. Essentially, this directly ties his passive ability to his active abilities. Caustic is also one of three legends with the Fortified perk which makes him immune to the effects of bullet-slow and reduces incoming damage to his body by 15%.
Conduit - Conduit uses her Saviours Speed to catch up with allies that are out of range of her tactical. She is speed boosted by 40% for a short time whenever she is too far away from her teammates.
Crypto - Crypto has multiple passive abilities tied to Neurolink passive. All of these require his drone to be active. In Drone Mode, Cryto's drone can scan and reveal the positions of enemies in a 30-meter radius. This is as long as these enemies are in unobstructed view of the drone. If they're behind cover, the drone can't spot them. Additionally, Crypto can ping Kill Leader banners on the map to reveal how many squads are in the area. Crypto can also remotely grab squad banners with his drone and respawn them instantly with it using a beacon. Finally, Crypto's passive also gives him the ability to scan Survey Beacons with his drone instantly.
Fuse - Fuse is a specialized Grenadier. In that, he can carry an extra Grenade in the Grenade slot. He can also use the sling on his arm to fire grenades farther and faster, and with better accuracy. Fuse has the option to toggle between a normal throw and a sling throw with his Ordnances.
Gibraltar - Gibraltar has a Gun Shield which activates when he's ADSing. This Gun Shield absorbs up to 50 damage. Gibraltar is also among the three legends in the game with the Fortified perk.
Horizon - Horizon wears a space suit which gives her the Spacewalk ability. Horizon is not affected by any movement speed slow or stun effects upon falling from heights that other abilities are. Additionally, she is also much easier to control through the air.
Lifeline - Before joining the Apex Games, Lifeline was a Combat Medic. She can use her D.O.C. to revive her teammates without getting involved in the revival process herself. This ability also makes her the only legend in the game that can revive both her squadmates if they're knocked.
Loba - Loba's passive ability is Eye for Quality. Using this ability lets her spot high tier loot (Purple and above) through supply bins, buildings, and care packages without opening or exploring them.
Even more passives
Mad Maggie's passive, Warlord's Ire allows her to sprint faster with Shotguns without holstering them
Mad Maggie - Mad Maggie has a thing for Shotguns. So much, that her passive, Warlord's Ire gives her the ability to sprint at maximum speed with Shotguns without holstering them. Additionally, any opponent she deals damage to is momentarily highlighted.
Mirage - Mirage's entire kit is based around being an illusionist. His passive Now You See Me cloaks him whenever he's reviving a squadmate or using a respawn beacon.
Newcastle - Newcastle's passive, Retrieve the Wounded is also an enhanced revive. It gives him the ability to revive his squadmates while moving and provides a shield in the direction he's facing. The health pool of this shield is based on Newcastle's Knockdown Shield. He's also one of the three legends with the Fortify perk.
Octane - Octane's passive, Swift Mend gives him the ability to passively restore health over time. This passive is only active outside of combat. If Octane has taken damage, the passive takes some time to reactivate.
Pathfinder - Pathfinder's passive, Insider Knowledge instantly charges his ultimate whenever he uses his Skirmisher passive. Whenever he scans an incoming Care Package, the cooldown on his Zipline Gun is reduced by 10s and instantly charged. Each game sees 4 care packages, which means Pathfinder can get up to a 40s Cooldown reduction on his ultimate if he scans all of them.
All the passives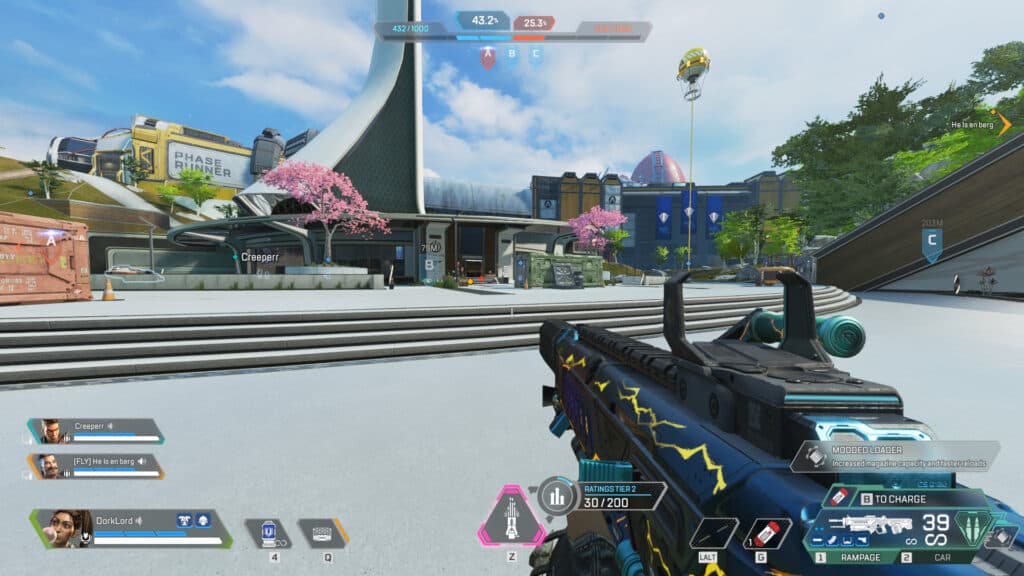 The Modded Loader passive gives Rampart the ability to carry more bullets in an LMG magazine and reload LMGs faster
Rampart - Rampart is an LMG Specialist thanks to her passive, Modded Loader. She can carry more bullets in the magazine when she's using LMGs. She can also reload LMGs faster than other legends can, and this extends to Sheila, her minigun when it's in placement mode.
Revenant - Like Crypto, Revenant's passive, Assassin's Instinct gives him multiple passive abilities. He can highlight enemies who are low on health. His crouch-walking speed is the same as a regular legend's regular walking speed. He can also climb walls much higher and with a lot more control.
Seer - Seer is a Heart Seeker. In that, his passive ability is a heartbeat sensor that activates when he aims down sights. This indicates the direction of the nearest enemy inside a small radius.
Valkyrie - Valkyrie uses the VTOL Jets that were a part of Northstar, her father's Titan. These allow her to propel herself using the jets. The Jets have limited fuel and take some time to refill once she's used it all up. She can also spot nearby enemies in the sky or on the ground when she's skydiving (Off the ship or using Jump Towers).
Vantage - Vantage's kit revolves around her ability to snipe targets. Her passive, Spotter's Lens gives her a bullet-drop indicator and an advanced reticle when she's ADSing. Whenever she spots an enemy, she also gets an indicator that tells her and her squadmates what level of shields the enemy has an how many squadmates they have left alive if she pings them through the reticle.
Wattson - Spark of Genius passive gives her two passive abilities. She passively regenerates her shields over time (At a slower pace than Octane's passive), and she can use Ultimate Accelerants to fully charge up her ultimate, unlike the usual 35% boost.
Wraith - Voices from the Void ability gives her an advanced warning whenever someone's aiming at her.
Class-based passives--'Perks'
Support Legends have the ability to open hidden compartments in Blue supply bins which contain healing and survival items
Assault Class - Assault Class legends can access hidden compartments in Red supply bins with improved weapon attachments and hop-ups. They can also carry more ammunition in a single ammo slot in their inventories.
Controller Class - Controller class legends can activate Ring Consoles to reveal the location of the next ring.
Recon Class - Recon Class Legends can activate Survey Beacons which reveal enemy positions on the map for a short time.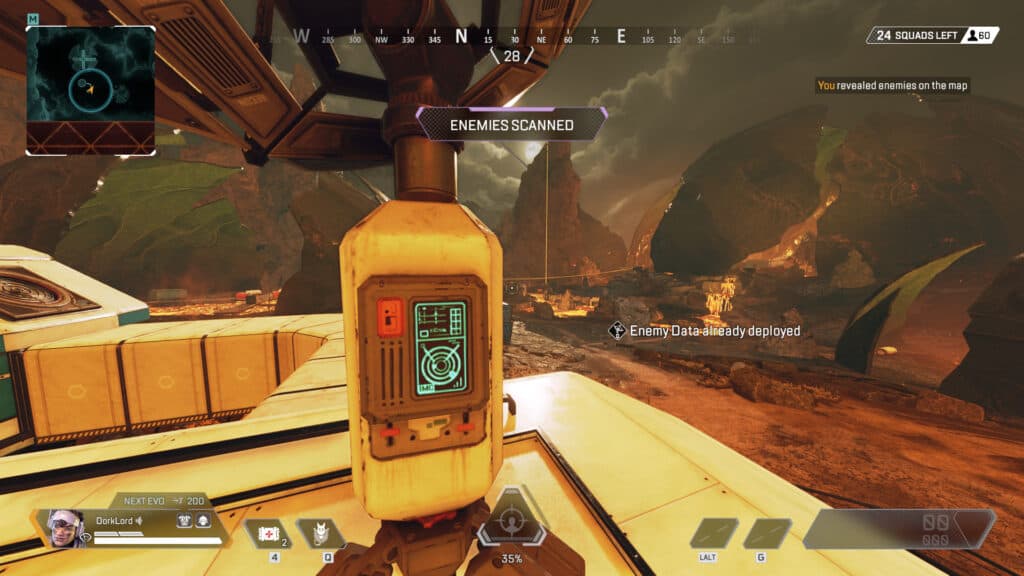 Recon Legends can use Survey Beacons on the map to reveal enemy positions on the map for a short duration.
Skirmisher Class - Skirmisher legends can reveal the contents of incoming care packages by scanning them.
Support Class - Support Legends can craft unrecovered banners of their squadmates using the Crafter for 35 Crafting Materials. They can also access the hidden compartments in blue supply bins which contain improved healing items and survival gear.
Stay tuned to esports.gg for the latest esports news and more Apex Legends guides.