College CoD has increased its prize pool by 60% for 2023.
The 2023 season of College CoD will feature the biggest prize pool in the history of the competition with $40,000 up for grabs. This is a $15,000 increase from last season's $25,000 prize pool that was given out to the competitors at the LAN event that closed off the 2022 year.
That's 60% extra prizing that College CoD and eFuse are putting into their season. This makes it the most in the history of College CoD.
2023 College CoD prize pool split:
1st - $16,000
2nd - $8,000
3rd - $6,000
4th - $4,000
5th - $2,000
6th - $2,000
7th - $1,000
8th - $1,000
This amount of money can be life-changing to the students that will be taking part in this year's competition. It can go a long way to paying for the education that they are currently studying.
Prizing has encouraged players to drop down to a collegiate level and enroll in courses even when they have been in Call of Duty for years.
Last season former World Champion Justin "Silly" Fargo took part in the CCL Finals. He and his Bay State College team finished second at the event, taking home $6,000.
The eventual Champions, Northwood University also won this season's Kick-off Open. Three of the four players that took the title in Colombus are now playing on Challengers Elite teams.
Kevin "Fame" Bonnano, who was part of that team, is now signed to an official substitute contract with Call of Duty League franchise, Minnesota ROKKR.
The fifth season of College CoD
Now in its fifth season, College CoD has become the top tier of collegiate Call of Duty competition across the world and has even attracted former World Champions to play in its events.
The league features teams from colleges and universities across the country, with each team representing their school in the competition. The teams compete in regular season matches, as well as in playoffs and a national championship event.
Any college can take part in College CoD. You don't even need to be part of a Varsity Esports program, with teams able to sign up as a club at their respective Universities.
The only caveat is that players who take part in College CoD must maintain above a 2.0 GPA in their studies.
Rosters for the upcoming season of College CoD are already locked, meaning new signups for the season are no longer being accepted.
2023 College CoD season
College CoD is starting its season at the end of January. They will host two open qualifiers for any team that has signed up. These two qualifiers will decide the 24 teams that makeup Division 1 and Division 2 this season. Each of the four regions that compete will have their own Division 1 and 2.
Teams will play a six-week regular season starting in February. The regular season starts the day following the second qualifier.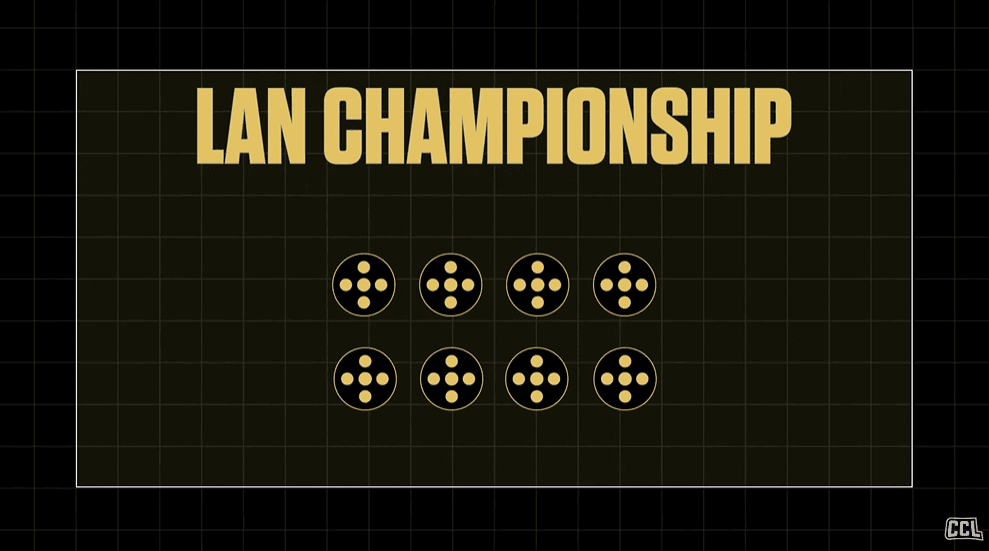 LAN Championship graphic. Image via College CoD.
Regular season matches will be broadcast on Twitch on Monday and Tuesday during the regular season. CCL will show six matches per week during this time.
Action will then break for Easter, returning with the playoffs. The final qualifier for the LAN event will happen on April 29.
Keep watch on esports.gg for all collegiate Call of Duty news and notes.