100T co-owner and streamer CouRage hit 100 wins in just under 36 hours.
On July 29th, streamer and 100 Thieves Co-owner, Jack "CouRage" Dunlop, announced his mission to "make history" by earning 100 Fall Guys crowns in one stream.
After going free-to-play in late June, Fall Guys saw a boost in popularity with top streamers such as CouRage, Sykkuno, and Ludwig playing the game.
CouRage's Previous Challenges
CouRage is no stranger to stream challenges. Earlier in the year, he streamed his attempt to win a game of Fall Guys without jumping and his attempt to win a Fortnite game without getting any eliminations.
On July 8th, CouRage streamed his attempt at achieving 25 crowned wins in the popular party game. This attempt lasted 10 hours, 57 minutes, and 26 seconds with CouRage averaging 2.25 wins per hour. 
The 25th win came after a grueling 6-game loss streak, including a game where the squad was robbed of a crown. Three days later, CouRage streamed his attempt at 50 crowned Fall Guys wins, lasting 17 hours, 32 minutes, and 33 seconds.
CouRage teased the 100-win Fall Guys stream idea on July 12th, only 18 hours after completing the 17-hour stream.
Top Moments from CouRage's 100 Wins in Fall Guys
With the lofty goal of 100 wins, CouRage opted to use the Squads Show gamemode, which allowed him to party up and gain wins as a team. The two-day stream saw the likes of LEGIQN, Cimarus, and Triumph as guest stars in the action.
25 Wins
Only 7 hours into the two-day stream, CouRage achieved 25 wins – beating his previous record by four hours. The squad secured win #25 after an easy round on the "Thin Ice" map. 
50 Wins
CouRage's 50th Fall Guys win came 13 hours and 30 minutes into the stream after a round on the "Thin Ice" map. As the round came to a close, CouRage wasn't sure which squad was taking the W:
75 Wins
Win #75 came on another round on the "Thin Ice" map, when LEGIQN and Triumph outlasted the final squad at 29 hours and 25 minutes.
100 Wins
After a grueling 35 hours and 57 minutes of streaming, CouRage and crew achieved 100 wins in Fall Guys. The 100th win was achieved on the "Basketfall" map on a five-game win streak. Over 32,000 viewers tuned in to watch the final victory.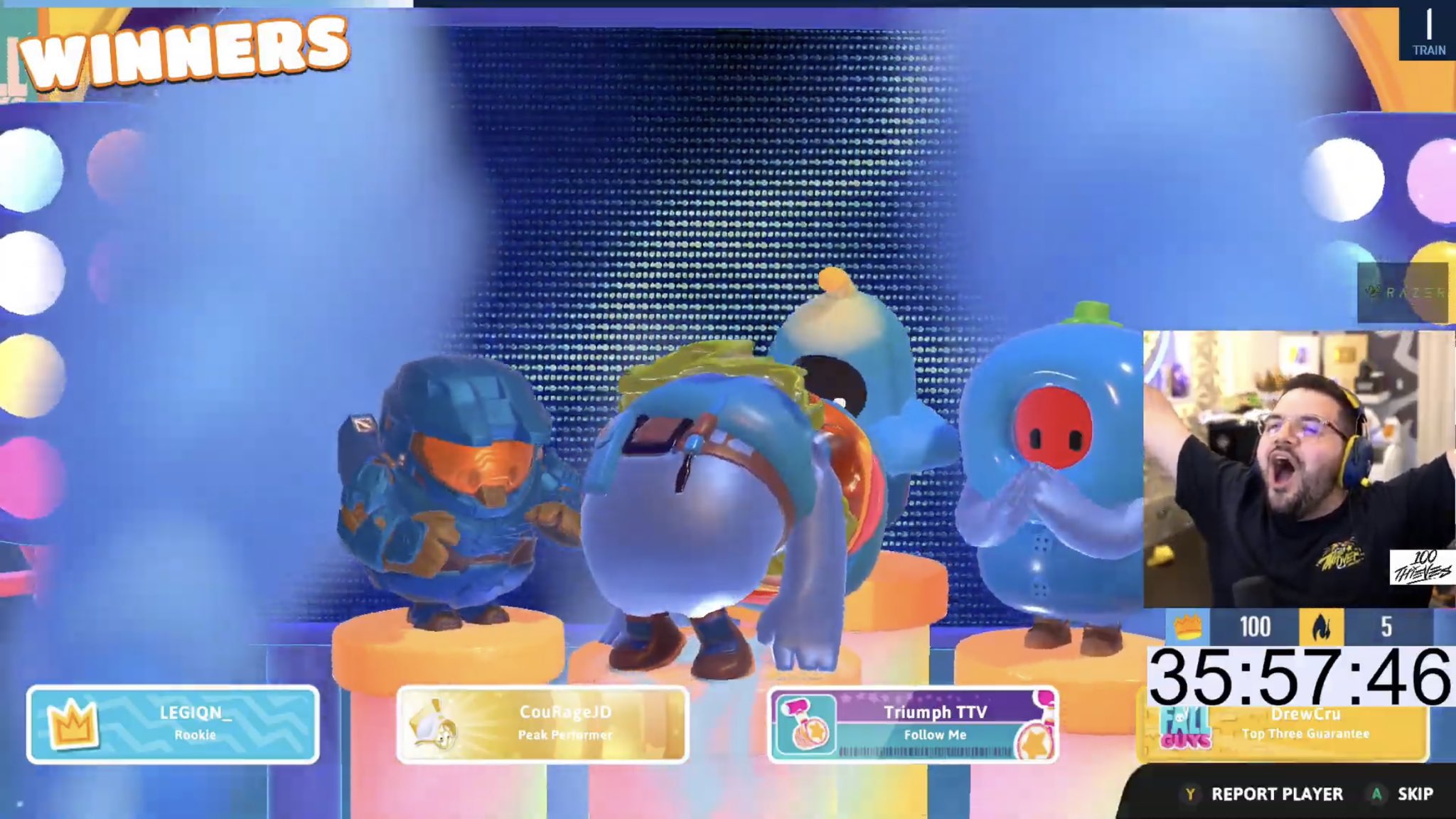 Future Fall Guys Challenges
While CouRage has not announced any future stream challenges, there's no doubt that more stream challenges are in the making. On July 24th, he tweeted the following:
This event could be the largest Fall Guys event in history. And if the players involved can play as well as CouRage during his monumental stream, it's sure to be one to watch out for!