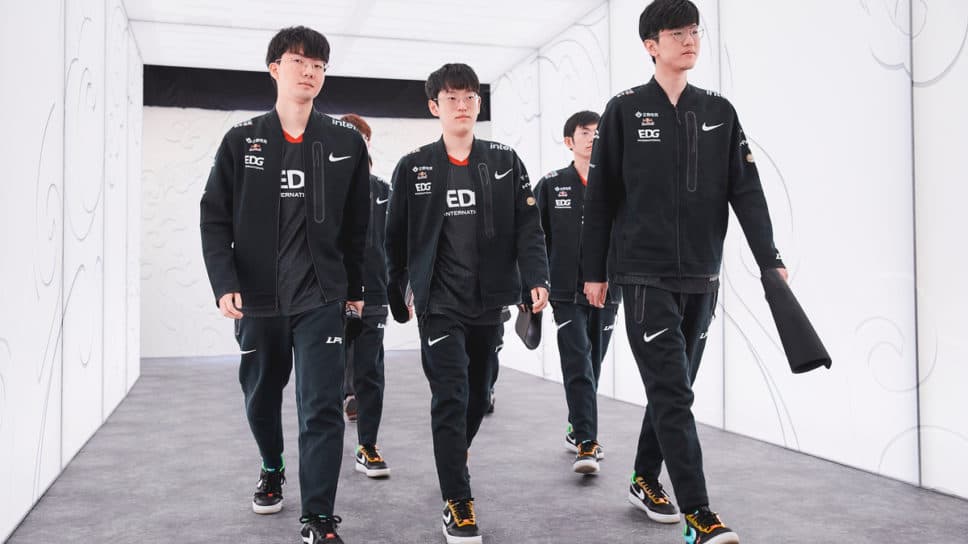 Worlds 2021: EDG e T1 avançam às quartas de final
As duas equipes cravaram a classificação ainda nos primeiros jogos do dia.
Neste sábado (16), foram disputados os últimos jogos do Grupo B na fase de grupos. Ao vencer os seus primeiros jogos do dia, os coreanos da T1 e os chineses da EDG garantiram sua vaga nas quartas de finais do Worlds 2021; 100 Thieves e DetonatioN FocusME estão eliminados do torneio.
Na primeira partida do dia, a EDG venceu seu confronto contra a DetonatioN FocusME com facilidade. Os campeões da LPL não deram brecha para os japoneses e finalizaram o confronto rapidamente, em cerca de 25 minutos. A T1 também teve uma vitória tranquila contra a 100 Thieves, apostando em um jogo bastante estratégico e controlado. Depois de garantir um barão, os coreanos utilizaram muito bem o poder do buff para finalizar a partida. 
Em seguida, T1 e EDG se enfrentaram e a equipe de Lee "Faker" Sang-hyeok quebrou a invencibilidade dos chineses ao garantir a vitória. Assim, as duas equipes empataram na quantidade de vitórias e derrotas, fazendo com que a definição da primeira e segunda posição ficasse para os demais jogos do dia.
No último confronto do dia, a 100 Thieves saiu com a sua maior vitória do Worlds 2021, isso porque a equipe norte-americana conseguiu bater a EDward Gaming com uma grande performance. Por isso, a equipe chinesa termina a fase de grupos na segunda posição, com quatro vitórias e duas derrotas, e cede a liderança para a T1, que ficou com cinco vitórias e duas derrotas.
Resultados do dia
EDward Gaming 1 X 0 DetonatioN FocusME
T1 1 X 0 100 Thieves 
T1 1 X 0 EDward Gaming
100 Thieves 1 X 0 DetonatioN FocusME
T1 1 X 0 DetonatioN FocusME
100 Thieves 1 X 0 EDward Gaming
João Vitor Costa
Estudante de jornalismo. Começou recentemente na cobertura de esports e é especializado em League of Legends. Também se aventura no Wild Rift, Valorant e Legends of Runeterra.