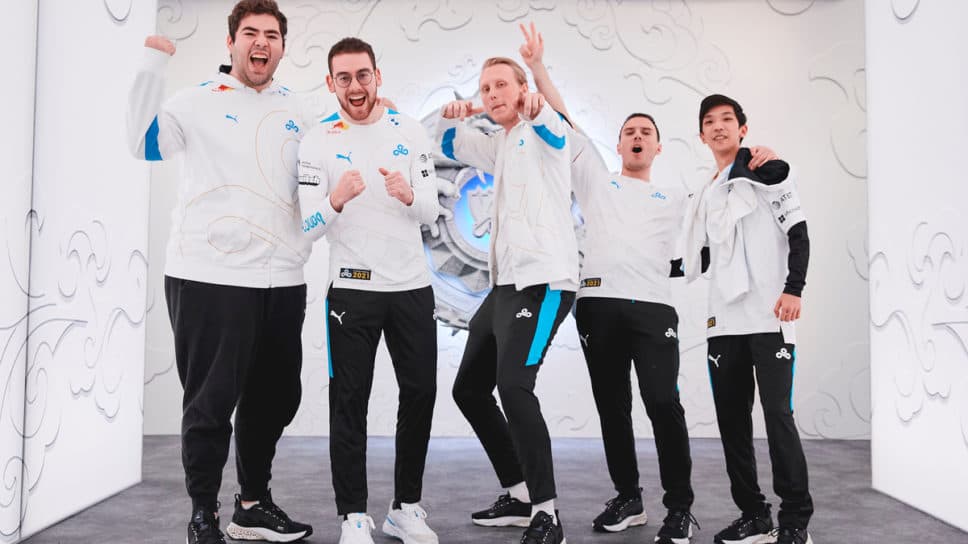 Worlds 2021: Cloud9 e DWG Kia se classificam aos playoffs
Cloud9 fez uma campanha milagrosa nos seus últimos jogos e garantiu sua vaga nas eliminatórias; DWG já era favorita e continua invicta.
Nesta sexta-feira (15), Cloud9 e DWG Kia cravaram sua vaga nas quartas de finais do Worlds 2021. Já se esperava que a DWG Kia se classificasse com facilidade, e foi justamente o que aconteceu: os coreanos terminaram a fase de grupos sem perder um jogo sequer, com seis vitórias e zero derrotas. Mas o fato mais impressionante de hoje foi certamente a classificação improvável da Cloud9. A equipe norte-americana começou o dia com três derrotas e nenhuma vitória, mas conseguiu vencer a FunPlux Phoenix e Rogue, só perdendo para a DWG Kia.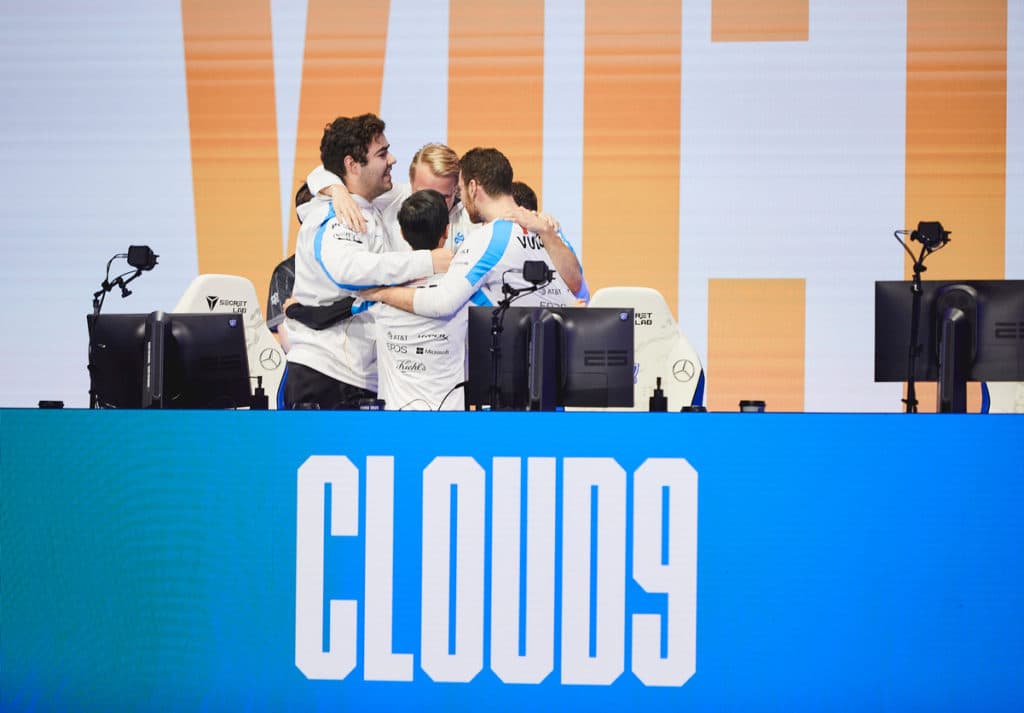 Jogadores da Cloud9 depois da classificação - Foto: Lance Skundrich/Riot Games
No final dos confrontos houve empate triplo entre Cloud9, FPX e Rogue, todos eles tinham duas vitórias e quatro derrotas. Então, seguindo o critério de tempo acumulado em vitórias, a C9 se beneficiou e esperou o vencedor entre FunPlux Phoenix e Rogue. Os representantes da LPL acabaram derrotados na disputa contra Rogue e foram eliminados do Worlds 2021 mais cedo do que o esperado. A FPX chegava como forte candidata ao título mundial depois da grande campanha que fizeram na liga chinesa, mas o time de Kim "Doinb" Tae-sang não conseguiu emplacar seu potencial na competição mais importante do ano.
Isso fez com que a Rogue jogasse o desempate definitivo contra a Cloud 9 para decidir a segunda vaga do Grupo A para as quartas de finais. No fim das contas, a C9 se mostrou superior e alcançou a vitória com um desempenho espetacular do meio Luka "Perkz" Perković .
Resultados do dia
DWG Kia 1X0 FunPlux Phoenix
Cloud9 1X0 FunPlux Phoenix
Rogue 1X0 FunPlux Phoenix
Rogue 1X0 FunPlux Phoenix -Desempate
Cloud9 1X0 Rogue - Desempate
João Vitor Costa
Estudante de jornalismo. Começou recentemente na cobertura de esports e é especializado em League of Legends. Também se aventura no Wild Rift, Valorant e Legends of Runeterra.