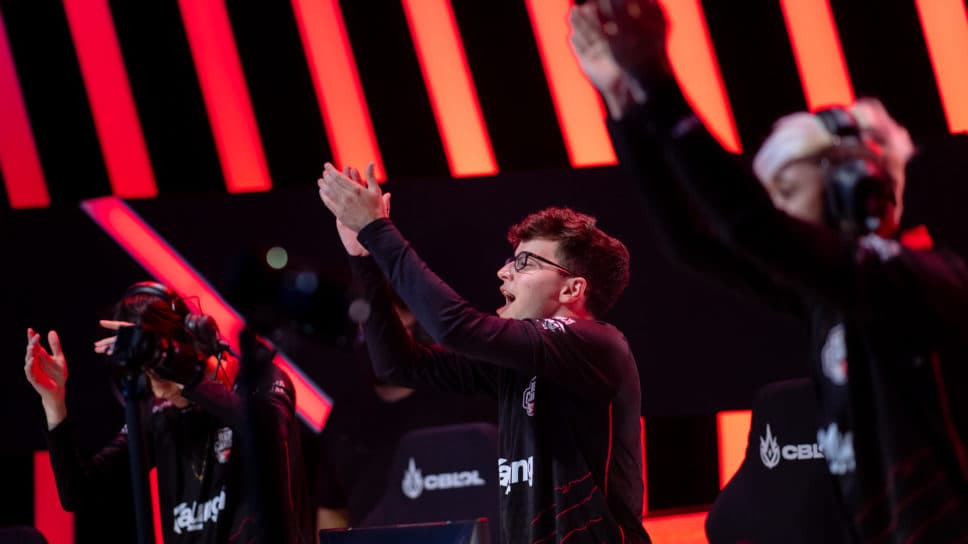 CBLOL 2022: RED Canids supera KaBuM! e se classifica para a grande final
A Matilha desbancou os Ninjas na final da chave inferior pelo placar de 3×1.
Neste domingo, a RED Canids desbancou a KaBuM! em confronto válido pela final da chave inferior e, assim, se garantem na grande final do CBLOL 2022. A Matilha desbancou os Ninjas pelo placar de 3x1 em uma série tranquila. Essa será a segunda final seguida para a RED, que foi campeã da segunda etapa de 2021.
RED comemora após vitória - Foto: Bruno Alvares/Riot Games
A KaBuM! saiu com a primeira vitória da série com uma virada impressionante. Os grandes destaques do jogo foram Lee "Parang" Sang-won, Na "Wiz" Yoo-joon e Gabriel "Scuro", que trabalharam muito bem nas brechas que encontraram para reverter a vantagem que a Matilha tinha adquirido. Nas três partidas seguintes, a RED mostrou que não se abalou com a primeira derrota e conseguiu superar os Ninjas.
Mesmo que não tenham sido jogos isentos de erros, a Matilha mostrou que estava melhor coletivamente e individualmente. Destaque para a rota inferior de Alexandre "TitaN" Lima e Gabriel "Jojo" Dzelme, que praticamente anulou seus adversários de lane. O caçador Gabriel "Aegis" Lemos também brilhou em momentos-chave e vem se provando mais uma vez um dos melhores da sua posição no Brasil.  
KaBuM! está aliminada do CBLOL 2022 - Foto: Bruno Alvares/Riot Games
Agora a RED Canids enfrenta a paiN Gaming na grande final do CBLOL 2022 no dia 23 de abril. O evento terá a presença de torcida pela primeira vez desde que a pandemia começou. A transmissão acontecerá nos principais canais oficiais do CBLOL na Twitch, Youtube e Nimo TV.
João Vitor Costa
Estudante de jornalismo. Começou recentemente na cobertura de esports e é especializado em League of Legends. Também se aventura no Wild Rift, Valorant e Legends of Runeterra.