Viva Piñata is a bizarre and lovable farming game franchise from the 2000s, but the game hasn't seen a new title in years.
Rare, the iconic studio behind GoldenEye 007, Banjo-Kazooie, and Battletoads, hasn't made a Viva Piñata game in 15 years. In a world where gamers can't get enough of cozy farming sims, it seems like the perfect time for Rare to resurrect the piñatas. So why haven't they? We'll run down what exactly the Viva Piñata franchise is all about and why it deserves to make a comeback.
The OG Piñatas
What exactly is Viva Piñata? The game came out on the Xbox 360 in 2006 to rave reviews. Put simply, it's a farming simulator where you create your ideal garden and fill it with happy Piñatas. These brightly colored animals frolic about while you try and attract even more Piñatas. Actually, that's pretty much all there is to do in Viva Piñata.
A typical garden in Viva Piñata (via PinataJohn on YouTube)
The candy themed piñatas can squeak, walk around, and dance with each other. You can dress them up with various hats and accessories and have pairs of Piñatas romance each other to create even more piñatas. However, some types of piñatas will fight if they happen to bump into each other, so you have to keep them separated. In fact, the piñata violence doesn't stop there. Certain piñatas will only take up residence in your garden if they can eat one of your piñatas, so sacrifices must be made if you're looking for a full set. Others are more tame and can be attracted by planting certain seeds or adding certain features, like a pond.
The first Piñata you can attract in the game, the Whirlm (via PinataJohn on YouTube)
While the game is certainly targeted towards younger kids, with its candy themed Piñata names and bright aesthetic, it's totally engaging to all age groups. In fact, it was one of the most popular and well received games of the Xbox 360 era. At the time of release, IGN gave Viva Piñata a 8.5 out of 10 while Metacritic gave it an 84 out of 100.
The sequels
Later on, Viva Piñata was followed up by a sequel in 2007, titled Viva Piñata: Party Animals. This game was more based on the short lived Viva Piñata show than the original game. Rather than introduce another sandbox experience, Party Animals consisted of multiple minigames framed around a game show setting. This game was less well received than the original and was soon followed up by another sequel.
A Buzzlegum in black and white before joining your garden (via PinataJohn on YouTube)
In late 2008, Viva Piñata: Trouble in Paradise was released. This game added 30 new types of piñatas as well as a sandbox mode and various new environments for the gardens. Besides the additional content, Trouble in Paradise didn't add too much to the core sandbox gameplay of the original. Additionally, this game was launched within days of a Nintendo DS counterpart, titled Viva Piñata: Pocket Paradise. Functionally, the gameplay was the same as Trouble in Paradise.
Why should Rare bring Viva Pinata back?
If there's anything the past couple of years have proven, it's that gamers love a cozy farming simulator. Stardew Valley, Animal Crossing, Slime Rancher, Coral Island, Harvest Moon, etc. The list is endless and more cozy little games like these are being released constantly. The point is that gamers are hungry for cute games. The time is ripe for Rare to bring back Viva Piñata.
While Viva Piñata may not be the first farming simulator (that achievement may belong to Harvest Moon), it is one of the most iconic. The unique designs, the bright environments, the uncanny human characters with their giant masks and weird personalities. The fans want to see the majestic Fudgehog, the quirky Whirlm, the hulking Fizzlybear, and the iconic Horstachio roaming the lands again in their full glory.
Simply put, the franchise and games are iconic. It deserves a comeback and the fans are hungry for it. The piñatas are hungry, the fans are hungry, we're all hungry and we deserve a new installment to the franchise. C'mon Rare, you know you want to.
Additional pinata droppings
In fact, Rare hasn't completely forgotten about Viva Piñata. The game has a significant presence on Rare's store page. Products include a 24K Gold-Plated Ingot for some reason, as well as various shirts and hoodies with the logo stamped on them.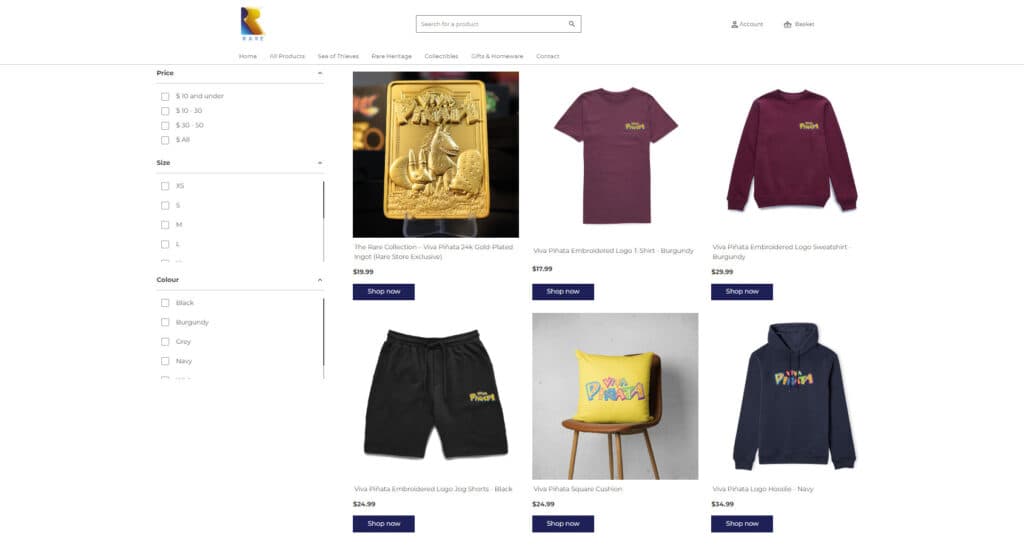 The Rare store front for Viva Pinata (via Rare.com)
To note, there is currently a fan made game, titled Return to Paradise, in the works. However, there's no date on when that might be finished. As of a post in their discord in September 2023, the game is in Alpha and still under development.
If you aren't sold on Viva Piñata, at least give this insane advertisement for the game a watch. It features a smooth talking piñata promising a group of children at a birthday party increasingly insane wishes in exchange for not busting him open.
---
For more gaming and esports news, check back on esports.gg!