X10 Esports may be out of the tournament but they definitely made an impect. We spoke to sScary and Crws from SEA's representative at the VCT Masters Rejkjavik,
The VCT Stage 2: South East Asia Challengers champions, X10 Esports, delivered more than a respectable performance at VCT Masters Reykjavík. The Thai team has had their fair share of attention and time in the spotlight, deservedly so. Players like Patiphan "Patiphan" Chaiwong showed us the potential talent to come out of this region. It is not only him though, as his teammates were all equally as incredible.
We got the chance to sit down with X10 Esports' sScary and Crws, following their loss to Team Vikings and victory over Crazy Raccoon respectively. Unfortunately, the team wasn't able to continue their tournament run after clashing with FNATIC in the 3rd round of the lower bracket. However, they gave us one hell of a show, and didn't back down from a fight. They even pushed FNATIC's limits on Haven, pushing the score to 13-9 with the European team scraping by a number of rounds.
X10 sScary: Everyone was expecting Patiphan to play a Duelist
Both maps came down to really close scores, what do you think was the obstacle for you in the last few rounds on both Ascent and Icebox that denied you from closing them out?
It happens from time to time. Because at the end of those rounds, they they had a much better trade then they are more confident on trading. When they tried to retake us or try to push site, it allowed them to have a better chance of winning overall because of these favorable trades early on.
Patiphan played Sage on Ascent provided X10 Esports with unique wall placements. Was this something you were hiding to bring out in Masters? How useful do you think was it in staying unpredictable to Vikings?
It was more of a surprise from our side. Everyone was expecting Patiphan to play the duelist, but then when he plays on Sage, they will not know what he will be doing in the rounds. The play was basically to surprise our opponents every round with a different wall or setup to throw them off.
Since Astra was released, you played the cosmic agent 14 times. How strong do you think the agent really is in a competitive environment? What does it bring to your team specifically?
I had a lot of fun playing Astro when it came out. I think she brings a really useful utility to use to help my teammates while I am not even close to them. So she is really a good utility agent for me to help the team succeed.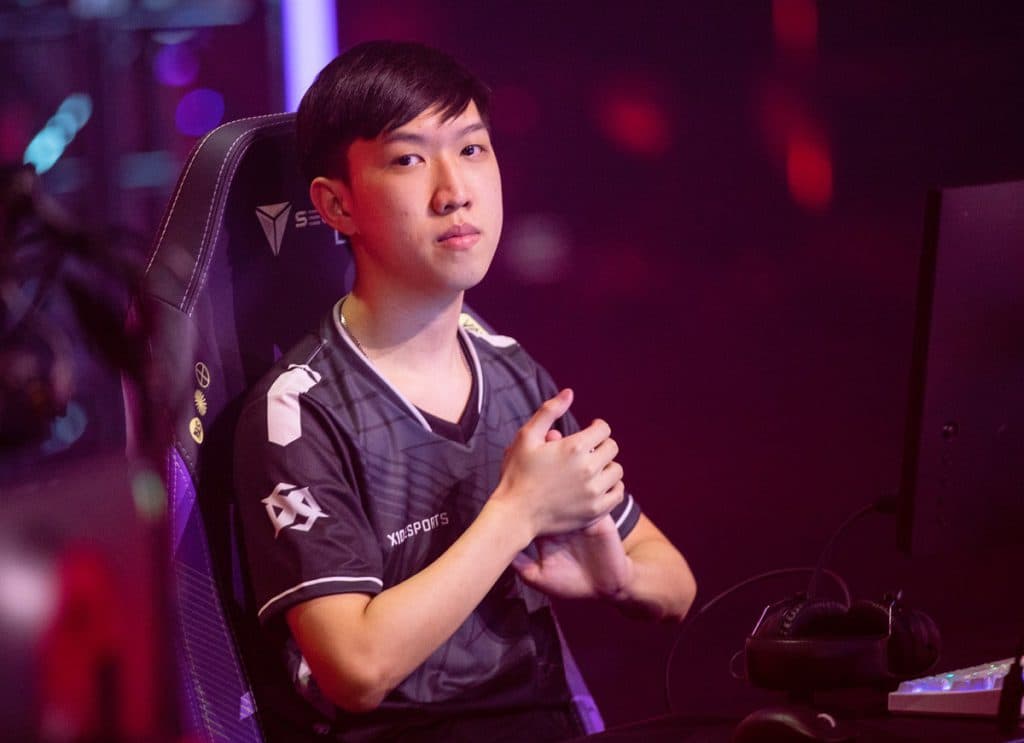 X10 Esports's Nutchapon "sScary" Matarat
X10 Esports are the most dominant team without a doubt in South East Asia, winning almost every tournament since December. Why do you think was it hard to translate this success onto an international tournament?
It is because of how we play and in SEA, we actually know how each team normally plays. We have been only competing in the Southeast Asia. When we came here to Masters Reykjavík. we knew there are many different teams with many different styles. We need to adapt as fast as possible to the styles they play to be able to put up a fight. So it is a bit hard for us to adapt in 10 days.
Is there any specific preparations for Crazy Raccoon? Is there any region that surprised you more than another?
No, not really. We're prepared for any teams we play. Whoever it is next, it doesn't matter. If it's gonna be Crazy Raccoon or whatever team. We just think that the most important factor in our win is to be able to pull out the performance we normally do and to bring out everyone's talent to the game and not feel bad after the game. We need to give it our all every game, that's all.
X10 Crws: Brazilian playstyle is way too chaotic and are flexible in their own style
Your ability to transition from Skye to Breach in the two maps you played against Crazy Raccoon shows your versatility. Do you think you are better and more supportive or aggressive roles?
To be honest, I think I'm better on the supportive role. Because there's a lot of times in the game where I choose to buy utilities instead of a gun. Just to support the team to be able to take site.
Is there any player in the team that you think? Like, you're, you're supporting around where you play around a certain player and your team?
I am basically supporting Patiphan for most of the time. Naturally because he is our entry fragger I would say. I am considered as the second support where the flashes need to coordinate with his play. So mostly, it's me and him.
X10 Esports have played arguably the best Brazilian and Korean team that in the tournament so far, Which one did you think gave you more trouble?
The Brazilians for sure, it's because the style they played is hard to predict what they are doing next. It's more chaotic, it's way more chaotic. They are flexible. I would say they are flexible in their own style. They love to gamble. And if we get into their traps, it's a big mistake.
The next step for you is FNATIC, which is relatively a chaotic team as well. Is there any special preparations for them?
We don't prepare our games for a team specifically. But then, for the time being here, we've prepared to play many different teams. The style we play will be able to fight against any different team from any region. We are trying to adapt as fast as possible to the style they play here.
Do you think after Masters Reykjavík your style of play will change after seeing that chaotic play style from Brazil, and other regions as well? Do you think it will change the playstyle that you will bring back home?
Yes, for sure. Since we came here, there's many different styles we played against. We actually see the advantages of playing those styles. We could actually surprise a lot of teams back in SEA, because they have never played against a style like this. So definitely, we would actually do something like that in the future.
On Haven, you played Cypher and Breach throughout the SEA Challengers Finals tournament What made you replace them with Viper and Skye against Crazy Raccoon?
Like I said previously, that we don't practice to just play against one team or specifically Crazy Raccoon. We chose this composition, just because we needed to adapt to the style you played, and to be able to deal with many different teams. So we were just holding onto a comp that was able to do many things, I'd say.
At the end, it was unfortunate to see X10 Esports go back home empty handed. They captured our hearts, and gave the world a glimpse of exactly what everyone expected going into Masters Reykjavík, the vast difference in playstyle between minor and major regions. The rest of the tournament proves to be incredibly entertaining to say the least.