We took a look at the most played NA and EU team compositions for Bind going into Masters Reykjavik, now it is time for Haven.
A new day, and a new VCT Masters Reykjavik piece coming at you to cover the most played team compositions by North American and European VALORANT teams in Haven. Of course, just like we did for Bind, there will be worthy mentions at the bottom of this piece.
We are almost guaranteed to see Haven in every series, considering it is the only map with three bomb sites. Its unique map design and rotations allow for a very entertaining viewing experience.
Team Liquid
Team Liquid played on Haven 4 times during the Champions Tour Stage 2: EMEA Challengers Playoffs, and their winrate is split right down the middle. They have won twice, and lost the same number of times. Team Liquid is going into VCT Masters Reykjavik with a 57% defensive winrate, successfully holding their ground for 20 rounds out of 35.
Once the sides are switched, they managed to record a 45% attacking winrate. This percentage is a result of winning 15 and losing 18 rounds. The organization played two compositions across those four games, one of which was repeated three times.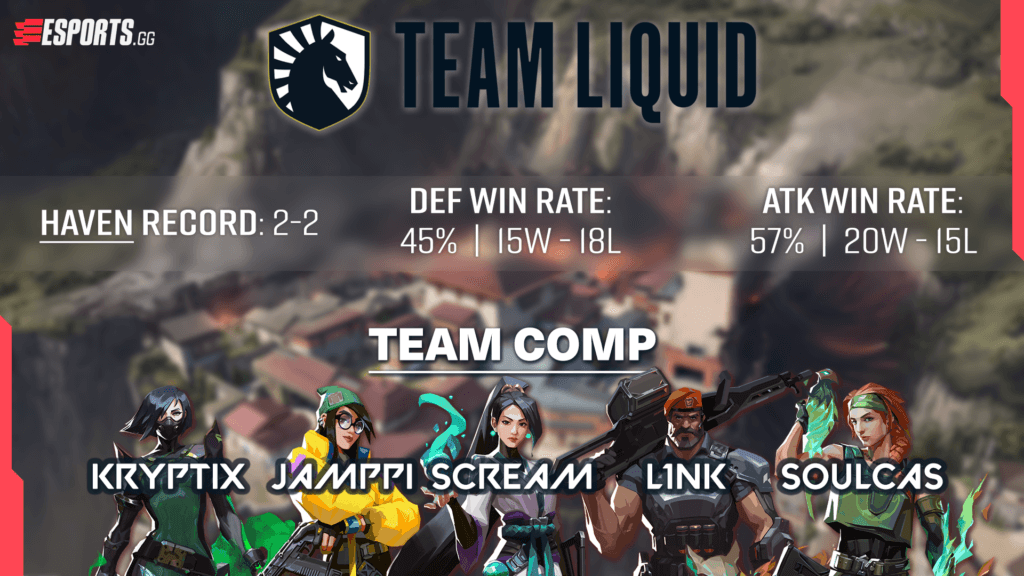 The most common mixture saw Kryptix on Viper, Jamppi on Killjoy, L1NK on Brimstone, soulcas on Skye, and ScreaM in the "battle Sage" role. Only soulcas out of the five stayed on Skye for the variation of this composition against BBL Esports. The others switched to Killjoy, Jett, Omen, and Phoenix respectively.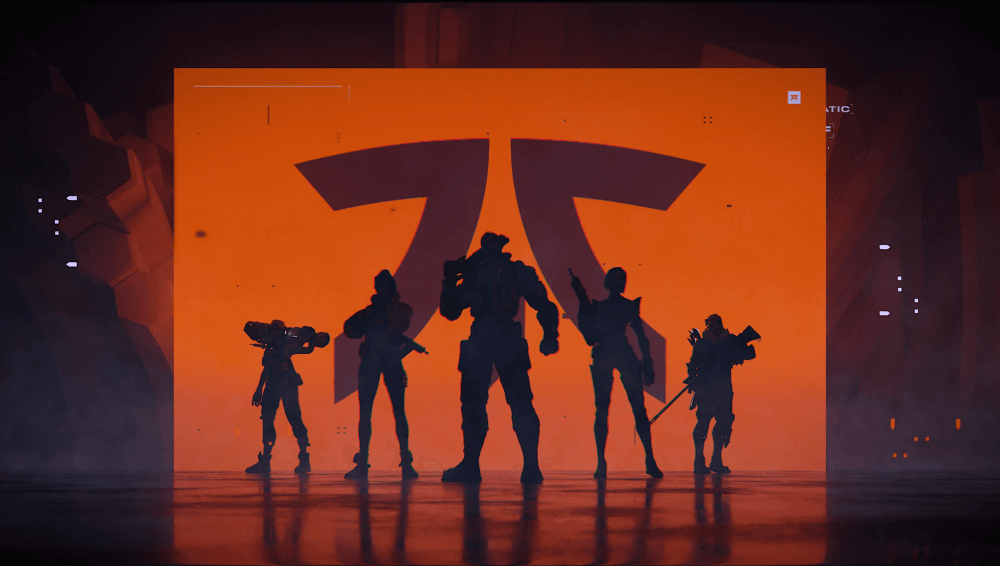 FNATIC
FNATIC is the second team to qualify through Champions Tour Stage 2: EMEA Challengers Playoffs Grand Finals. The European roster played on Haven twice, and is undefeated on the map. Their impressive attacking and defensive statistics can't be taken lightly during VCT Masters Reykjavik.
Their attack was successful 75% of the time, infiltrating the enemy's plant sites 12 times and only failing 4 times. When they were on the defensive, they enjoyed a 70% winrate, winning 14 times and losing 6. This might prove the success of their composition and their gameplan execution.
The talented roster composition consisted of Astra, Killjoy, Raze, Sage, and Skye. They were assigned to Boaster, MAGNUM, doma, Derke, and Mistic respectively. Whether they will stick what worked for them so far, or will adapt to their opponents' diverse playstyle is yet to be seen.
Sentinels
As usual, this is when we stop talking about Europe and go to North America. Well, Sentinels' undefeated record on Bind holds on Haven as well. TenZ and his teammates were capable of winning 4 times during the Champions Tour North America Stage 2: Challengers Finals.
They go into VCT Masters Reykjavik holding a 63% attacking and 54% defensive winrates. The latter calculation was the result of winning 22 rounds and losing 19. While the former better percentage was due to their strong offensive displays. It allowed them to pick up 30 rounds and dropping 18.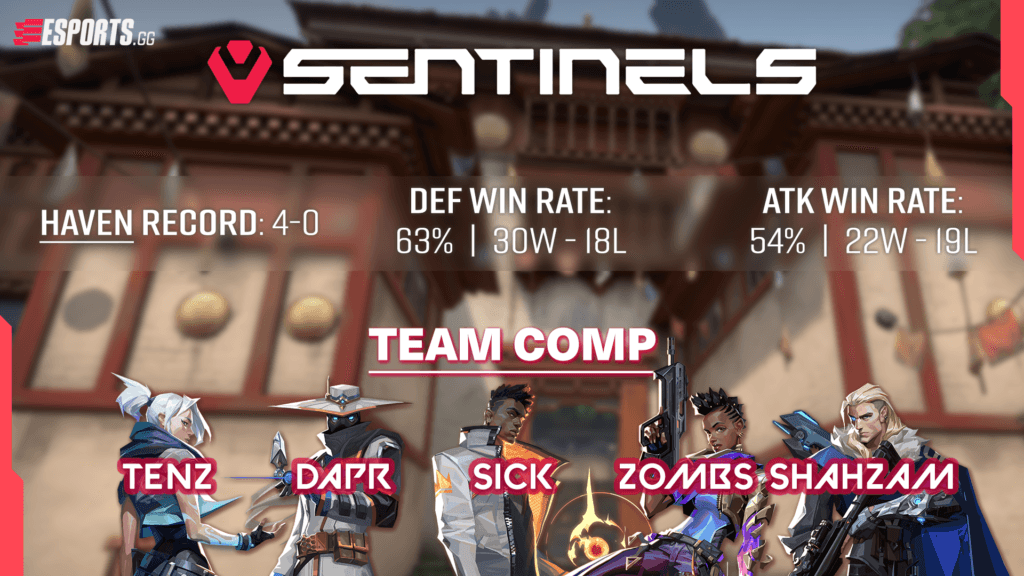 The team played the same team composition in all 4 occasions. The roster's coaching staff assigned SicK to Phoenix, TenZ on Jett, dapr on Cypher, zombs on Astra, and ShahZam on Sova. They started on the attacking side first three times out of the four, which might give an indication of their comfort zone.
Version1
Version1 is the only team out of the aforementioned three that has been more experimental. The second North American representative at VCT Masters Reykjavik played three different compositions in only 5 matches. This might have played a part as to why they won 2 games and lost 3.
During the Champions Tour North America Stage 2: Challengers Finals, Version1 tried to surprise their enemies with a different composition. This happened against Sentinels and ANDBOX, before settling for a composition that seemingly worked for them. At least it did attackingly.
Version1 enjoys a 67% attacking winrate, comprised of 32 wins and 16 losses. However, their defense was much worse. They managed to only record a 39% winrate, losing 33 rounds out of 54. Their most played composition featured Astra, Jett, Reyna, Sova, and Viper. These were played by vanity, penny, Zellsis, effys, and wippie respectively. Will they repeat it or mix it up for Masters Reykjavik?
Worthy Mentions
KRÜ Esports deserve a spot on the list with their 3 wins on Haven during the Champions Tour LATAM Stage 2: Challengers Finals. The organization enjoys a 58% winrate across both sides of the map. This shows how consistent they are in being able to steal rounds off their opponents regardless of their position on the map. On attack, they won 21 and lost 15. Meanwhile on defense, they won 28 and lost 20. Their most played composition consists of Cypher, Jett, Omen, Phoenix, and Sova.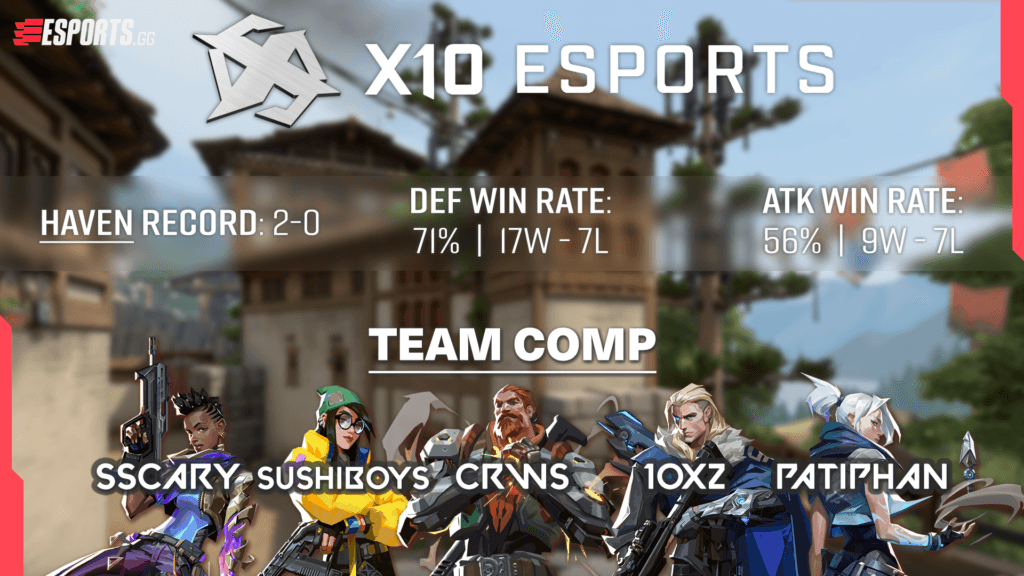 Last but not least, X10 Esports, the Champions Tour SEA Stage 2: Challengers Finals champions. The team were victorious on the two times they played Haven during the tournament. They stuck to one composition during both of them, and can't say it didn't work.
Their attacking side is tremendous with 71% winrate, successfully planting the spike on 17 occasions and failing in 7. On the other side, they have a 56% winrate, split between 9 wins and 7 losses. The team composition behind these impressive performances includes Astra, Breach, Jett, Killjoy, and Sova.
Two maps down, and only Split to go. Stay tuned on esports.gg for the third and last entry in our most played team compositions series. Which composition intrigued you the most?
Note: All statistics for this piece and the following ones are pulled from VLR.