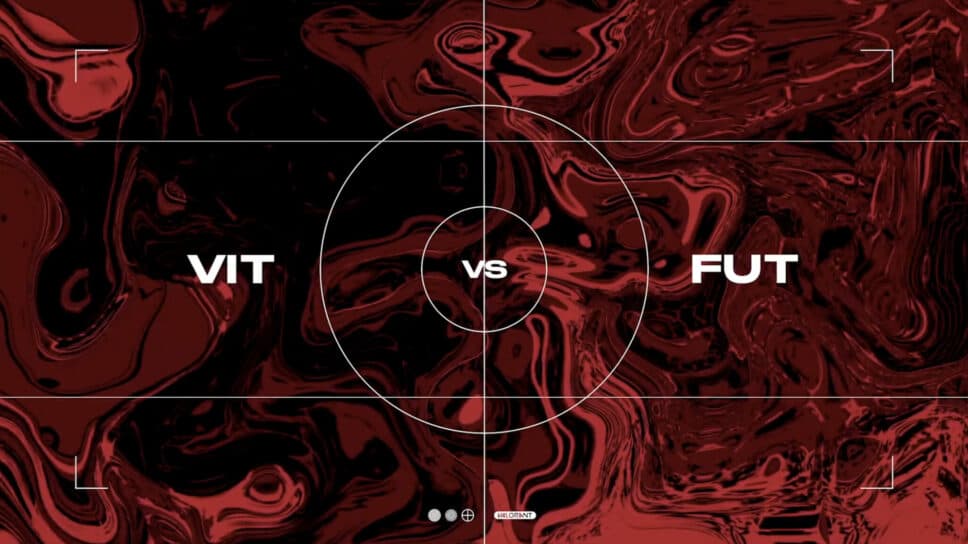 Team Vitality vs FUT Esports: FUT wipe Vitality off their map to 2-0 the series
Team Vitality and FUT Esports hit the EMEA stage to kick off another exciting series…
Having already claimed a win over KOI and at the top of the leaderboard after the first week of VCT EMEA, Vitality hit the stage to go up against FUT Esports and see if they could remain at the top.
| | | | | | |
| --- | --- | --- | --- | --- | --- |
| Team Vitality | FUT Esports | Lotus (13-4) | Haven (13-10) | Icebox | 0-2 |
Team Vitality vs FUT Esports
For Team Vitality, this matchup was to prove that their tough start to super week facing off against KOI and claiming the win over KOI was no fluke. While for FUT, it was about proving that pushing Liquid to map three wasn't all they could do. They could also take down a team reaching for the top with a star-studded roster.
Plenty of eyes were on one of FUT's best players, Knour 'qw1' Šahin who had not only pulled back rounds FUT should've lost. But was also known as a top-tier talent in general, with incredible shots and pop-off plays. That put him as one of those players to be very very excited about.
On the other side, plenty of Vitality fans had their eyes on Karel 'Twisten Ašenbrener, who had been popping off since the super week. For both teams, eyes were on making it to playoffs and put themselves in a strong position to qualify for Masters Tokyo.
Where to watch Team Vitality vs FUT?
All matches will be streamed live on Twitch. Users can catch up the latest action in our embed below as well.
Team Vitality VALORANT roster
Karel "Twisten" Ašenbrener
Jokūbas "ceNder" Labutis
Santeri "BONECOLD" Sassi
Michał "MOLSI" Łącki
Tomas "Destrian" Linikas
FUT VALORANT roster
Buğra "mojj" Kiraz
Doğukan "qRaxs" Balaban
Konur "qw1" Şahin
Furkan "MrFaliN" Yeğen
Ata "ATA KAPTAN" Tan
FUT takes Map 1 - Lotus
FUT Esports already had a strong track record on Lotus, and their defence was quite clearly top tier as they secured the pistol round for themselves with ease. Vitality were expected to go all in with a ton of aggression, and while they did, FUT had their number. Both teams had done well on this map against Team Liquid, so to see them face off would show who had it down better. Qw1 successfully got kills as FUT forced round wins with ease, even when Vitality knew where they were.
But Vitality did claw their way back onto the board, Destrian secured three kills in round three to ensure they would not fall too far behind. Many of Vitality's wins were through clutch rounds, with BONECOLD rotating from one half of the map to the other. FUT continued to power on ahead to close out the first half of the map 9-3. It could have been higher but Vitality pulled off a clutch play of getting the final kill onto FUT with less than three seconds of the round left to go.
After swapping sides, Vitality pushed harder to claim more rounds for themselves in an attempt to not lose the map. However, FUT still had their number and happily pushed ahead. Qw1 powered on ahead with quick plays and even quicker kills, and despite Vitality's best efforts to claw back the 8 round gap it wasn't enough. As FUT claimed Lotus for themselves with 13-4.
A close comeback by Team Vitality was not enough
The fact that Vitality are often referred to as the kings of Haven should possibly have been an indicator that they were on their own territory. But if it wasn't obvious from the name, then the ease of sweeping the pistol for themselves, and rounds after that. We were treated to the joy of Gekko from FUT complete with wingmen. FUT went toe to toe with Vitality as much as possible to level the score, even sneaking away Vitality's operator at one point. Not that they got to keep it, as BONECOLD went to reclaim their operator and finalize the round.
Although Vitality are known for this map, they weren't storming through to the extent fans may have expected, creating small leads only for FUT to catch up. This back and forth continued as qw1 claimed incredible kills on his lurks and repositioning, which had Vitality fans very very nervous understandably. At half time, FUT had showed that they could fight up against Vitality on Vitality's home map and managed to pull ahead at round 11. FUT closed out the first half, two ahead of Vitality with 7-5.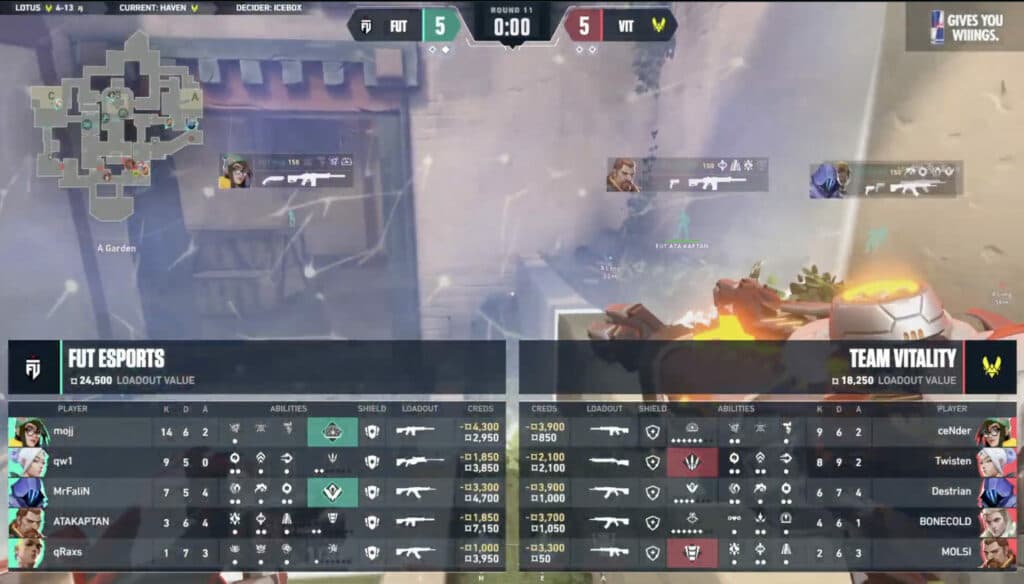 FUT start to push ahead of Vitality on haven - the map Vitality are the kings of. Image via VALORANT EMEA during the Team Vitality vs FUT Esports
Even after swapping sides, it wasn't getting any easier for Vitality. FUT continued to power on across Vitality's map choice, putting a four-round gap between themselves and Vitality. As Vitality's economy began to take a hit and FUT pulled ahead, you could see the nervousness coming in. Vitality had started the week at the top of the EMEA leaderboard.
But as FUT played slowly and took picks from qw1's opening fights, it was looking less likely that Vitality would be staying at the top of the board. For fans of Gekko though, it was plenty of good news, as Vitality claimed round 15 for themselves, while Gekko's wingman planted the spike for FUT. MOLSI put Vitality on his back by round 16, claiming up-close kills to keep Vitality in the series, which was the start of things coming together for the French bees.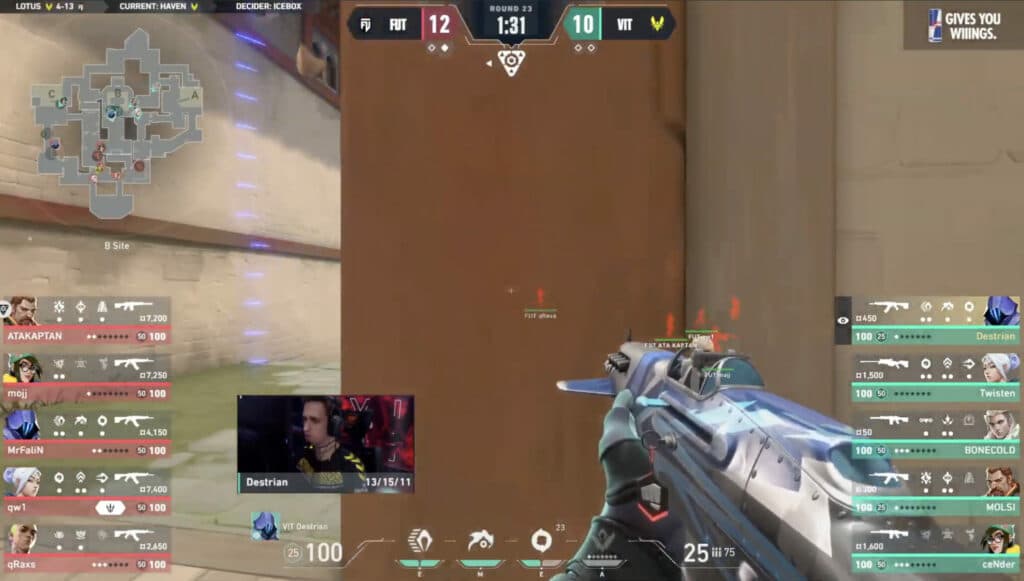 FUT push onto matchpoint against Vitality - Image via VALORANT EMEA during the Team Vitality vs FUT Esports
By round 18, Vitality had tied things up 9-9 with FUT and had began their rampage on their map. But FUT weren't having that and took kills with a knife to ensure Vitality couldn't run too far ahead. Qw1 went on a walk around the map and bought matchpoint into sight for FUT.