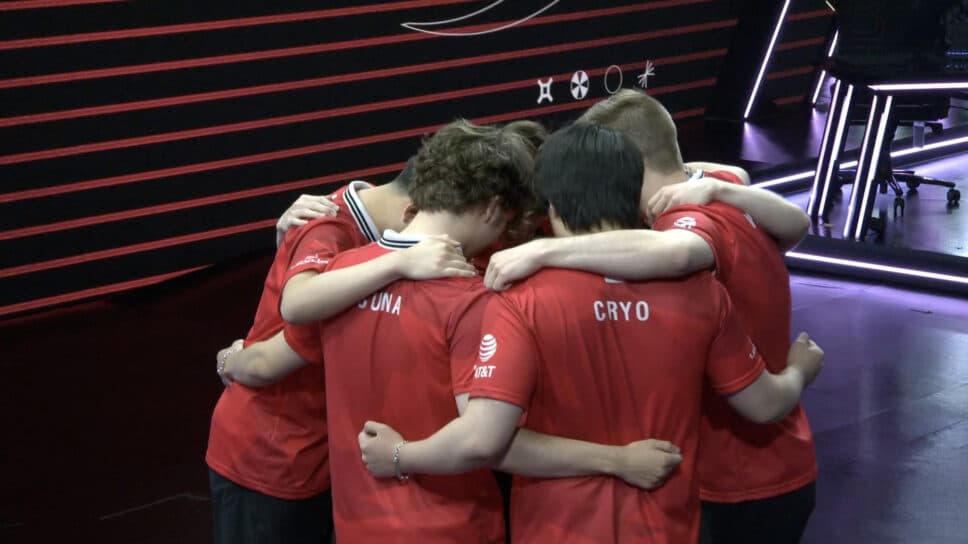 VCT Americas Leviatán versus 100 Thieves: 100 Thieves claim victory with clutch kill
100 Thieves emerged victorious in the VCT Americas match against Leviatán. Here's the match recap and how they did it.
Two more teams faced off on the VALORANT Champions Tour (VCT) Americas stage today. This match showcased the action between Leviatán and 100 Thieves.
| | | | | | |
| --- | --- | --- | --- | --- | --- |
| Team 1 | Team 2 | Map 1 | Map 2 | Map 3 | Score |
| Leviatán | 100 Thieves | Icebox (15-13) | Haven (11-13) | Lotus (11-13) | (1-3) |
Leviatán versus 100 Thieves
For Leviatán, this match showed just why they're viewed as a star-studded roster with high ceilings and strong talent. Since Leviatán tied with Furia and Cloud9 for second place, the competition for that spot became crowded. Therefore, a win in this match was necessary for Leviatán to move ahead of the frontrunners, LOUD, and secure their position as second place in the standings.
Meanwhile,100 Thieves needed a win to put themselves further up on the scoreboard for a chance at Masters Tokyo. Having lost to Cloud9, and Cloud9 being beside Leviatán, a win here was necessary for 100 Thieves to show that they could take on top talent. They also needed to show that their match against Cloud9 wasn't the best they could do.
Map 1: Icebox
As a 100 Thieves map pick, it was a flawless start for them. The players claimed the pistol and kept every member alive. It was also worth noting that Icebox was one of Leviatán's weaker maps yet one of the best for 100 Thieves. The latter team continued to clear house as Asuna and Bang took round two. Despite it being 100 Thieves map pick, Leviatán put a stop to a bonus round to get themselves on the board in round three. For much of the first half, it was even between the two teams as they climbed the board. At halftime, the teams were all but even with only two rounds between them.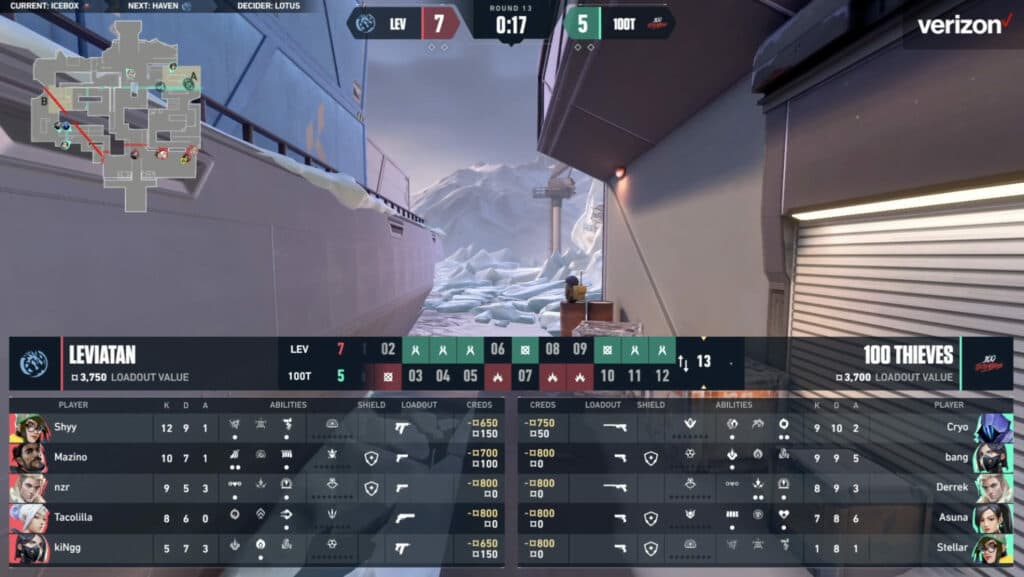 Leviatán on the rise despite this being a weak map for them (Image via VCT Americas)
After this, Leviatán claimed the pistol round for themselves, quickly putting their stamp on 100 Thieves' map choice. Even as Leviatán put a four lead into place, 100 Thieves hit back. It got tense as the score hit 11-11. One team had to win and it was clear the fans in the audience wanted that team to be 100 Thieves. But instead of a quick win, it went into overtime and finished with Leviatán cleaning it up despite 100 Thieves choosing the map.
Map 2: Haven
Despite a difficult first map for 100 Thieves, they were back for map two 2. But even with Gekko, Leviatán was simply too fast. Shyy took quick flanks to secure the pistol round for Leviatán while 100 Thieves tried to get themselves back on the board. However, Leviatán was simply too good and kept sticking defuses and blocking off angles.
But 100 Thieves kept pushing to pull off a flawless round that Leviatán simply wasn't ready for. Leviatán used up both timeouts before halftime, but the second timeout clearly helped as they swung heavily onto 100 Thieves. Cryo then hit back, clearly unhappy with Leviatán's swing, and secured four kills in the next round.
100 Thieves refused to be knocked down on Leviatán's map pick (Image via VCT Americas)
Leviatán continued to secure another pistol round for themselves, but Cryo kept hitting back to keep 100 Thieves in the competition. 100 Thieves then pushed ahead to create a two-round lead for themselves. Leviatán, having used their timeouts, were struggling as 100 Thieves pushed to map point to keep a four-round lead over Leviatán. However, Leviatán didn't let them close the series so easily as Shyy saved the map for them. With that save, Leviatán kept pushing the map forward and were determined to close it out in a 2-0. But 100 Thieves stopped that and claimed the map for themselves.
Cryo's stats ahead of the third map (Image via VCT Americas)
Map 3: Lotus
Ready to go the distance, 100 Thieves hit back hard to secure the pistol round. As 100 Thieves headed to the bonus, Leviatán stopped the bonus and got a point on the board. Both teams hit hard, but 100 Thieves' economy kept getting weaker. While 100 Thieves' economy took a dip, Leviatán continued leveling up. Even as Leviatán took the lead, 100 Thieves did everything to hold on for as long as possible.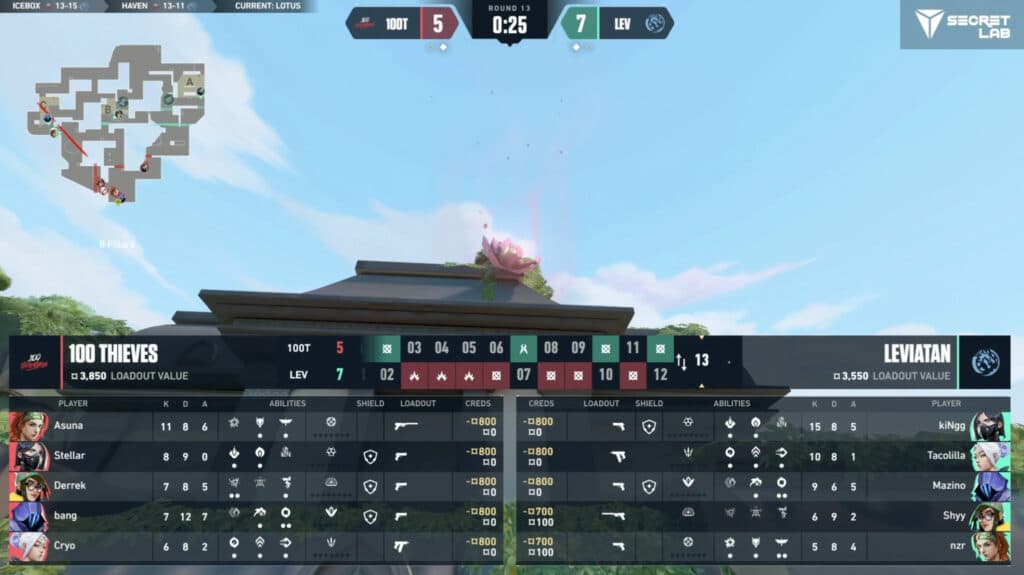 Leviatán showed up against 100 Thieves who were forced to cling on (Image via VCT Americas)
Fresh off halftime, 100 Thieves pushed on to take the pistol round. They then leveled the score against Leviatán, fully intending to take the map the full distance. However, Leviatán managed to hold on and get a lead once more for themselves and push 100 Thieves into taking a timeout. Unfortunately for Leviatán, the forced timeout worked a bit too well as they then had to take their own timeout. By round 20, it was a 10-10 split. With the last timeout called, 100 Thieves kept pushing for match point. Bang closed out the series with a clutch kill.