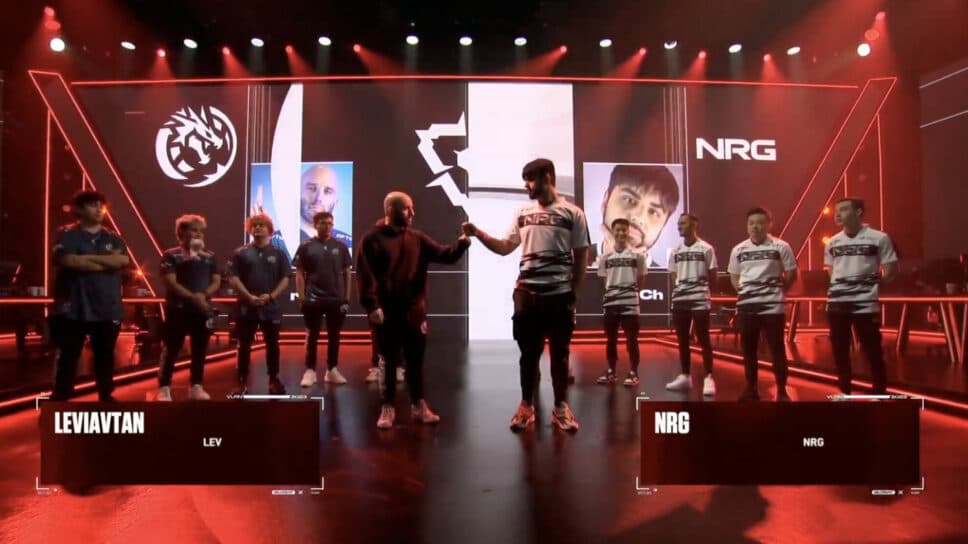 VCT Americas: from scrim buddies to competition – Leviatán clean house as they wipe NRG out of the series
Leviatán and NRG hit the stage to face off in their series in the VCT Americas region.
With the VALORANT Americas region already in full swing, it was time for Leviatán and NRG to take to the stage and show what they had been practicing since LOCK//IN. Especially when they played against each other as scrim partners in LOCK//IN.
| | | | | | |
| --- | --- | --- | --- | --- | --- |
| Team 1 | Team 2 | Map 1 | Map 2 | Map 3 | Score |
| Leviatán | NRG | Pearl (13-11) | Lotus (13-4) | Split | (2-0) |
Leviatán vs NRG: VCT Americas
Pegged as two of the top teams in the entire Americas league, this was a match to be excited about. Leviatán is known for being the top of the Latin America league before it transitioned to be part of the 2023 VCT Americas. This was the chance to take on the top of the North Americas league. Leviatán are a roster that is consistent, robust and disciplined against their competition.
With players who were frequently underestimated but huge talent - Francisco 'kiNgg' Aravena for example. He is a huge talent with incredible fundamentals that were coordinating well with the rest of the team at LOCK//IN. This is a team for other teams to fear, and for fans to get behind because they have the potential to go all the way.
kiNgg and FNS face off - Image via VALORANT Americas
On the other side was NRG. Another top team, with a core that is easily one of the strongest seen in recent years. Pujan 'FNS' Mehta, Victor 'Victor' Wong and Austin 'Crashies' Roberts, as the former Optic core that moved over to NRG and had two new players come in, this is another team to fear. NRG are a team capable of taking down all of those who are ahead of them and similarly to Leviatán.
NRG are a team who are expected to be at the top. The huge flexibility on this roster, that can hold its own is proof that this is a match to remember. Similarly to Leviatán, NRG are known for incredible fundamentals with incredibly high ceilings that we have yet to fully see considering recent roster changes. It's time to get excited…
Map 1 - Pearl
What kicked off as a Leviatán (Lev) map choice that began relatively calmly with NRG claiming the pistol, soon spiralled into the back and forth fans had expected. NRG pushed hard onto site, claiming kills but Leviatán weren't going to let them take it all. After so much respect had been shown between the two teams, to see a scrappy back and forth was what we had been waiting for.
Victor really showed up in the early rounds on a Viper we had never seen before, pushing onto site to gain ground in a way that Lev had no response to it. The fact these two teams scrimmed at LOCK//IN really showed as Lev claimed rounds for themselves here and there, proving why these two teams are the top of the Americas league already.
Sam 'sOm' Oh came in clutch with his kills that Lev were just never ready for, while FNS also showed up on a pick we had never seen before – his Skye. By half time they were all drawn up as kiNgg hit back to bring the score 6-6.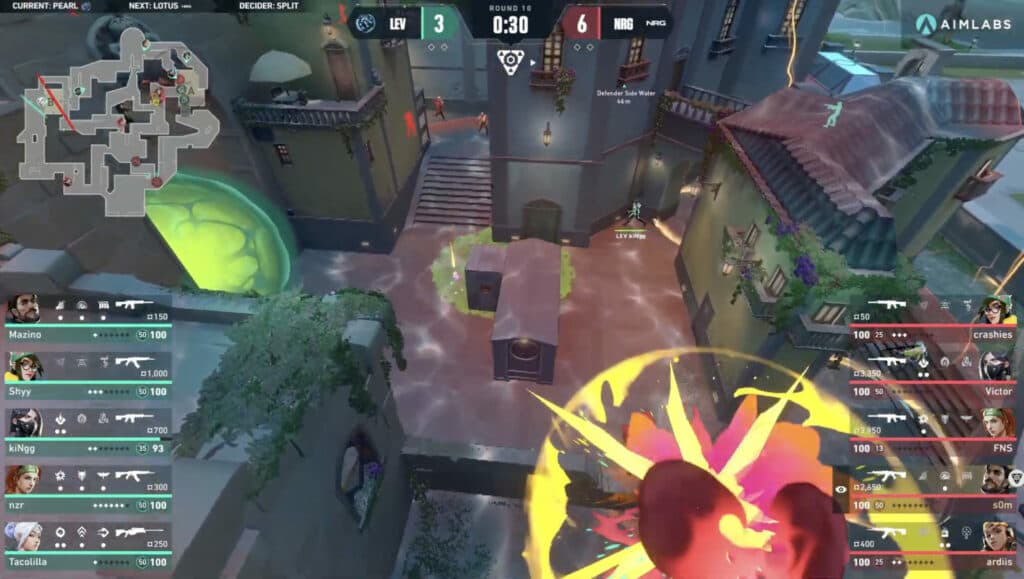 LEV vs NRG on Pearl - Image via VALORANT Americas
The switching sides was very much on NRG's side, as they claimed the pistol round with clean ease. Before proceeding to win the next two rounds and deny space by flashing in early and blocking Lev from taking space at all. Never mind an opportunity to plant as NRG took no prisoners with their bonus round. This was a full force, no prisoners taken, all in from NRG.
While NRG stormed ahead with Victor securing kills that seemed almost impossible, Lev kept it even as far as possible. Lev kiNgg was having to pull back lost kills and deaths from the Lev side but pulled out of the bag lurks to keep the map going. He kept it going so much so that Lev were on match point by round 24 (12-11 to Lev) and claim the win. It was too close to call as the VCT Americas Pearl was incredibly close.
Map 2 - Lotus
After a tight win by Lev on their map choice, NRG was ready to hit back and claim their map choice as a win to force their fellow top team to a map three. Except it wasn't really happening for a long part of the map, as Lev took them out again and again. So much so that NRG couldn't take space, but NRG refused to be beaten down.
NRG managed to pull back rounds as Victor and FNS put in the work to take down Lev wherever possible to push the match. While it looked shaky for NRG early on as Lev claimed numerous rounds, Victor was ready to put NRG on his back to take kills. Between him and FNS saved many rounds that NRG needed to keep the map going before swapping sides.
But with that, Lev moved into halftime with 8-4 silencing the audience. Forcing NRG to show up in the second half to show why they had chosen this map.
Lev lead on NRG's map choice of Lotus to push towards a 2-0 sweep for the top two team's match - Image via VALORANT Americas
Despite NRG's best efforts, it faltered in the second half. Lev pushed it to matchpoint with ease after just 16 rounds and pushed to the series point as well. Leaving NRG unable to keep up or pull it back as they would have loved to. From being scrim buddies at LOCK//IN to facing off in week one of the VCT Americas and winning the series, Lev were ready.