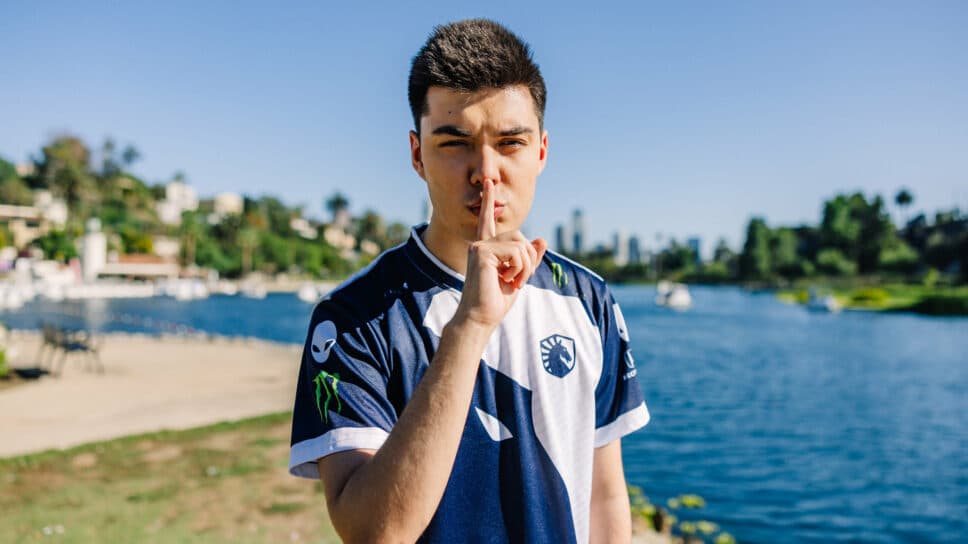 Team Liquid vs LOUD Champions LA 2023: LOUD dumps Team Liquid out of Champions with a dominant 2 – 0
LOUD go on a rampage against a lackluster Team Liquid side to keep themselves alive at Champions LA.
It's Team Liquid vs LOUD to kick off the first set of elimination matches here at Champions LA. Both teams will be hopeful of ending the 2023 season on a high note and will have plenty to prove as well. So, make sure you keep an eye on this page as we will be bringing you all of the live scores and updates throughout the duration of this match.
Team Liquid (TL)

LOUD

LOUD (13 - 2)
Haven

LOUD (13 - 8)
Split

N/A
Lotus

LOUD (2 - 0)
Final scores for Team Liquid vs LOUD Champions LA 2023
EMEA's Team Liquid face America's LOUD in a battle of the champions here in LA
Team Liquid face off against LOUD in the first elimination match of Group D. A match which has the makings of a unique affair in that both of these teams won their respective league's regular season title. Meaning that, whatever happens today, we will be seeing one of VCT's very best make an early exit here at Champions LA.
LOUD found themselves outclassed by DRX 2 - 1 in their last match out on the Shrine Auditorium's stage. The Americas' League winners and the current World Champions looked far from their best at times in that match; often having to rely on their star man Aspas to bail them out of a few close calls. The Brazilian will certainly be hoping that the rest of his team can step up to the plate this time around as the stare down the barrel of another early tournament exit this season.
Team Liquid also found themselves on the losing side in their opening match of Group D; losing in a cagey 2 - 0 at the hands of NAVI. While the Number 2 seed from EMEA wasn't struggling in the kills department, with nAts finishing the match with the highest K/D in the lobby, they often found themselves being picked apart by NAVI's play-calling. An issue that they will need to have addressed by the time they take to the stage. Otherwise, they may find themselves having to rely on more moments of individual brilliance to get them across the line over LOUD today.
Team Liquid VALORANT Roster: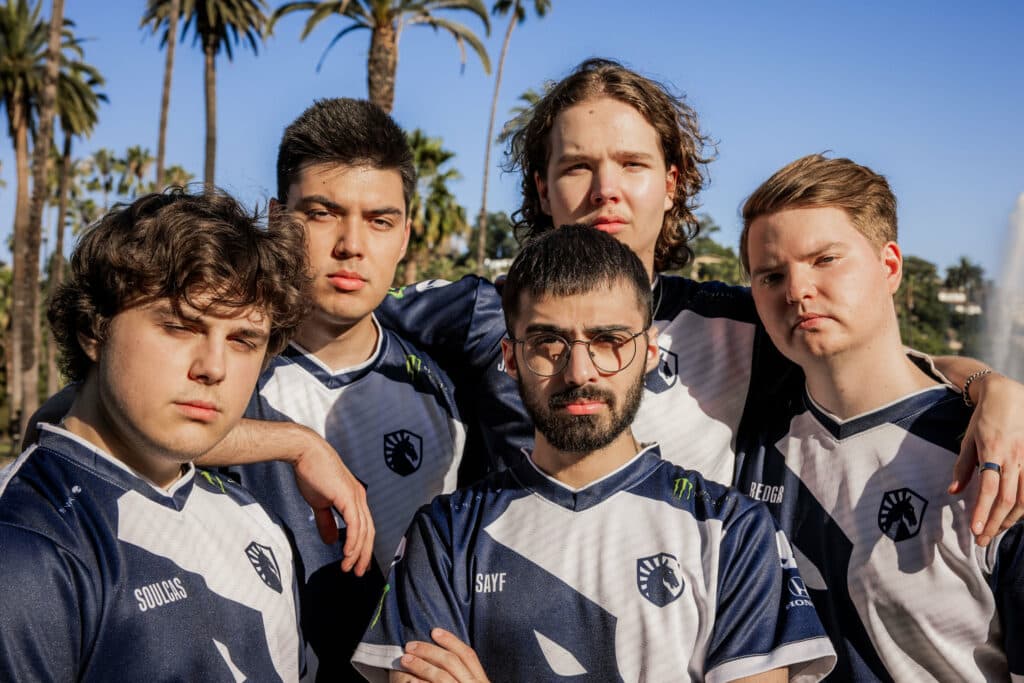 Team Liquid VALORANT Roster Champions LA 2023 (Photo by Stefan Wisnoski/Riot Games)
Igor "Redgar" Vlasov (IGL)
Ayaz "nAts" Akhmetshin
Elias "Jamppi" Olkkonen
Dom "Soulcas" Sulcas
Saif "Sayf" Jibraeel
Nico "Harmii" Harms
LOUD VALORANT Roster:
LOUD VALORANT Roster Champions LA 2023 (Photo by Stefan Wisnoski/Riot Games)
Matias "Saadhak" Delpietro (IGL)
Erick "Aspas" Santos
Felipe "Less" de Loyola
Arthur "tuyz" Andrade
Cauan "Cauanzin" Pereira
Haven proves to be anything but safe for Liquid
We begin this match with a trip to LOUD's pick of Haven for map 1. The Brazilians bust out the Harbor and Viper double-controller composition for this map. Whereas Team Liquid go with a double-initiator setup of Breach and Skye.
LOUD take the opening pistol round and barely manage to lock-up their anti-eco round to kick things off in this first half. Liquid get themselves on the board but a fumble on their post-plant in Round 5 enables LOUD to maintain their lead at 4 - 1. The lead continues to grow for LOUD, with Aspas finding a lot of success with his Operator. Whereas Liquid's laborious approach to their attack only proves to be a hinderance. And their struggles are laid to bare, as LOUD accumulate a 10 - 2 lead to close out the first half.
LOUD take the second pistol round off of a brilliant post-plant setup. They then manage to get themselves onto map point without much of a fuss from Liquid who look truly deflated. And, without any shred of doubt, LOUD manage to close out an utterly dominant performance on Haven 13 - 2 to take a 1 - 0 lead in the series.
Saadhak and Tuyz take care of business on Split
After their disastrous performance on Haven Team Liquid bring us over to their map pick of Split for game 2. And they decide to opt to go with a double-duelist composition in an attempt to keep themselves alive in this series. Whereas LOUD decide to employ a double-initiator team composition.
LOUD get the pistol round as well as their anti-eco as they continue their round streak from Haven. Liquid get themselves on the board off of a rare thrifty round which enables them to creep towards LOUD's lead. The Brazilians manage to push their lead to 5 - 2 but Liquid are able to make the rounds much more costly for them. The EMEA side pull close to tying the map up, but an outstanding clutch from Less and Tuyz keeps Liquid at bay for but a moment. And thanks to a couple of 3ks from Jamppi and Sayf, following a brief tech-pause, Team Liquid do manage to tie the map up at 6 - 6 to end the half.
Team Liquid win the second pistol and convert on their anti-eco to give them the lead on Split; their first of the series. But a fumble from Liquid on the bonus followed by a 3k from Tuyz provide LOUD with the means to tie the map back up on 8 - 8. And they continue to benefit from more mistakes from Liquid as the Brazilians hit the 10-point mark. LOUD reach match point to put Liquid in a truly desperate situation. One which they, unfortunately, cannot overcome. Leaving LOUD to close out Split 13 - 8 to take the series 2 - 0 and keep themselves alive at Champions. Whilst also eliminating Team Liquid in the process.
How to watch Team Liquid vs LOUD Champions LA 2023:
We are at the business end of the 2023 VCT season. Sixteen of the best VALORANT teams from around the world have come together in the city of Los Angeles as they fight for the right to be called Champions. Fans who wish to watch the Team Liquid vs LOUD match at Champions LA may do so by heading to the VALORANT Twitch and YouTube channels.
You can also tune in via the embedded stream link down below for those who don't wish to click off of this page.
Head on over to our Champions LA hub for all of the latest news from across the tournament here at esports.gg.