Team Envy were humble in defeat as they answered questions from the press following their loss to Gambit in the Grand Finals of VCT Masters Berlin.
Following their defeat to Gambit in the Grand Finals of the VCT Masters Berlin, Team Envy took part in a press conference. The questions were a combination of pre-submitted question and live submissions from a variety of VALORANT outlets. Esports.gg's Dustin Steiner and Timothy Kimbirk.
Team Envy showed humility and were respectful of Gambit's victory over them, despite the press conference coming so swiftly after the loss on stage. Despite the defeat, Team Envy are still qualified for Champions.
Press conference questions for Esports.gg
Was Gambit a team you expected to see in the Finals?
Victor: Gambit was one of the teams we expected to see in the finals, even if it wasn't against us because we scrimmed them before the tournament. They were honestly really good and we took some stuff from them.
You, 100 Thieves and Sentinels are relatively close in your region, and now taking turns internationally. It feels like a case of rock, paper, scissor in NA. What do you think of the parity of the regions. Is NA still the strongest overall?
Marved: Yeah, I think so but we didn't have our best game today. I'm sure the other NA teams would have made it close too. The only team that I'm worried about in Europe is Gambit. Once everyone in North America gets a little better it should be on our side.
All three maps were really back and forth, it seemed like neither team was able to pull ahead and get momentum. What do you think played into that and did it affect you mentality wise because a lot of your victories were blowouts earlier in the tournament?
Marved: We take every game one round at a time, so we weren't really thinking about us having a bad map because weren't pulling ahead by a lot of rounds. I just think in the late rounds they clutched up harder than we did. That's why they come out on top today.
Press conference questions from other VALORANT outlets
Gambit was able to win a lot of eco rounds against you. Was it just Gambit playing their hearts out or maybe nerves, or was it perhaps your anti-eco strats not working?
Fns: "Yeah, I feel we got a little careless on some rounds, and others I feel I definitely could have called better on Bind specifically. On both Bind and Haven there were rounds where we should have very easily won the round if I had made a different call or a slightly better one.
Do you think not having a coach in the arena made any difference at all in this match?
Fns: Not really. We knew what they were doing, we knew what their game plan was. We knew all their tells way beforehand. Mike's our current coach, did a pretty good job of that, helping us out with his notes even he wasn't able to be here. We just didn't execute when we should have. We should have closed out Bind, we should have closed out Haven. Split fair play to them, but we threw the first two maps.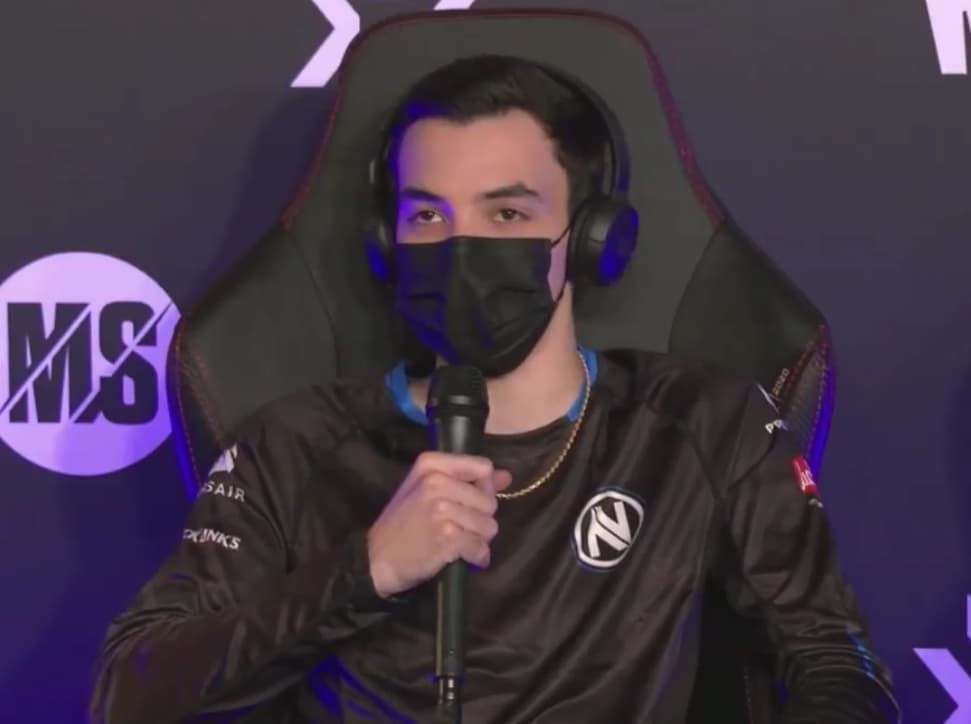 crashies in the VCT Berlin press conference after the Grand Finals
The games Gambit failed to win they tried to hamper the economy of Team Envy by securing multiple exit frags. Do you think it cost you the match to some extent?
Marved: They obviously played those rounds well, breaking our money. I'm not sure if it cost us the match but they definitely played it well. We were a little careless, but we can't say overall that's what lost us the match. It was obviously mistakes.
You guys talked about being careless and not performing as you would have hoped throughout the series. On Gambit's side, they performed pretty well. How difficult was it to thwart chronicle through that series.
Crashies: Chronicle was playing out of his mind that game. Even before the match he was one of the players I knew was going to be good. Chronicle is up there with nats, he had an insane series, can't take anything away from him. I'd say series MVP to be honest.
"Chronicle is up there with nats, he had an insane series, can't take anything away from him. I'd say series MVP to be honest."
Crashies on Gambit Chronicle
Yay, on the second map Haven you were able to pull off a couple of amazing clutches and multi-round kills. It was by far your best map of the series. What was the difference between that map and the other maps for you that allowed you to perform better?
Yay: Haven has always been a strong map for me. I just have a really good understanding and feel of the timings and angles. I would say in the past in regards to Bind, on my previous team Andbox it was a permaban for about 4-5 months. So when I joined Team Envy, Bind is a little uncomfortable to a certain extent. I don't have a ton of experience, I haven't see all the tells and my timings aren't as strong. In regards to Split, the comp that they use was really suppressive, they always had hard utility and a lot of traps. So it was hard to take the space or take ground.
Is there anything Gambit did today that you felt you weren't prepared for?
Fns: Their Haven was absolutely ridiculous but we should have beat them. We were up at 8-4 but that bonus round made it really really hard. It made it so they came back to make it 8-8 and then we were trading rounds back and forth. Haven is a really good map for us when we know how the other team plays and we're able to make the rotations well attack side. But we didn't expect them to just rush every single round and I think we had no answer for it, or we figured out how to stop it too late. They ended up winning 13-11 there.
Nats was not nearly as "oppressive" in the Grand Finals as other matches. Did you do anything specific to counter him?
Crashies: I don't think we did anything specific to counter him. He kind of plays the same in every game, he's a really strong lurker. So we know when Viper wall is up or viper utility is up, we know he is most likely there. Then we we would just kill up and stop lurking as much.