T1 vs GE: T1 devour Global esports in their opening series 2-1
T1 vs GE was promising big things with rosters packed with potential. It was time for them to hit the stage…
T1 Esports entered the VALORANT Pacific region ready to show that they had learned from previous mistakes and with a new starting roster, their fight against Global Esports was one that fans had been waiting for with bated breath. This T1 vs GE matchup was one of tech pauses, delays and some exceptional gameplay.
| | | | | | |
| --- | --- | --- | --- | --- | --- |
| T1 | Global Esports | Pearl (13-8) | Haven (4-13) | Lotus (13-7) | 2-1 |
T1 vs GE
For both teams, the rosters featured a lot of potential that fans wanted to see break through the new Pacific region. For many, despite the high caliber talent and potential of these starting rosters, the ceiling for both teams was yet to be seen. The community has described both teams as somewhat unpredictable. They could make it to the top but are not considered to be the top two. Yet. For Global Esports one of their star players in SkRossi is missing from the starting roster. Meanwhile, Ayrin had stated that he wants to win two separate regions – having already won NA. He has set his sights on winning the Pacific with Global Esports.
On the T1 side of things, Intro has stepped up onto the starting roster who played at least map one. To some fans, this may have been a surprise, as Intro hadn't been playing in Challengers Korea for a while having gone over to Japan for a short time. His time in Japan saw him as a flex player of controller and initiator who was capable of holding down sites with high levels of success. The two squads facing off both had a lot to prove with this matchup.
Map 1 – Pearl
Global Esports' (GE) map selection of Pearl kicked off what was promising to be a banger series. Despite GE selecting Pearl, T1 wasn't going to let them have it all their own way. T1 ensured they got on the board first by securing the pistol round for themselves. The map continued in a similar style as T1 built up a five-round lead over GE with consecutive victories.
Even a timeout for GE couldn't put a stop to the five-round lead. By round eight, GE start to pull it back, getting more picks onto T1. Demonstrating why they are known for a slower approach where they warm up to pull back wins. GE's discipline and holding back slowly began to net them some round wins, but T1 still stormed ahead with a 9-3 lead at halftime.
T1 get an early lead before finishing GE - Image via VALORANT Pacific
With halftime over, GE hit back hard, taking multiple rounds off T1 as T1 began to stumble and hold back, leaving several plays too late. But Carpe was more than ready to put the team on his back to stop GE from getting too far ahead. While Munchkin ensured GE's KDAs were thoroughly obliterated. GE kept fighting, but T1 took map 1, 13-8.
Map 2 – The 'Haven'ly comeback
Global Esports took it to T1 following a tech pause on Haven which was T1's map. Kicking things off after a warm-up, GE took the pistol round off T1. Barely allowing T1 a window of opportunity to make a comeback as GE continued to stomp its mark on Haven. Although T1 managed to pull back two maps, GE had them read and took the tiniest of opportunities to secure kills and level the map in their favor.
With everything in GE's favor, halftime came with a 10-2 half in GE's favor. For T1 it was all on the line to secure the second half for themselves if they wanted to finish on a 2-0 series.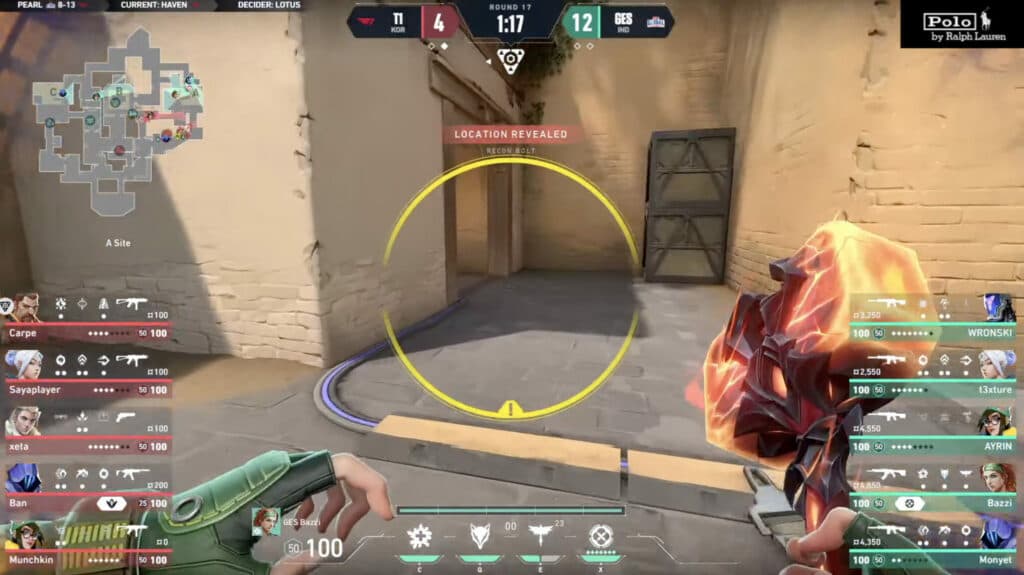 GES take on T1 and take their map off them - Image via VALORANT Pacific
T1 had clearly had enough of being stomped on their map choice as they came back swinging to claim the pistol round. They took no prisoners as they attempted to pull the map back in their favor.
But GE had no intention of letting them get back into the map and situated themselves to go to map 3. As they landed on match point with a scoreline of 12-4 in GE's favor.
Map 3 - T1 secure the victory on Lotus
Taking it to map 3, and debuting Lotus on the VCT stage. GE and T1 prepared to face off one final time for this series. T1 got onto the board early, securing the pistol round for themselves, and deciding that GE had taken one map too many. While GE had warmed up and been dominant on Haven. Lotus didn't begin anywhere near the same. Even time-outs couldn't save the first half which T1 claimed in 8-4 style.
T1 take the series against GE 2-1 - Image via VALORANT Pacific
For the second half of this incredible series, GE kicked off with a fifth-round victory to pull the pistol round back in their favor. But despite their best efforts to pull the map and keep it close. T1 were having none of it.
While GE constantly tried to go even, T1 kept multiple maps between the teams as they took kills to push it to match point, and at 1am KST – T1 took the series. In spite of the pauses, the runbacks, and losing the map pick, T1 claimed victory.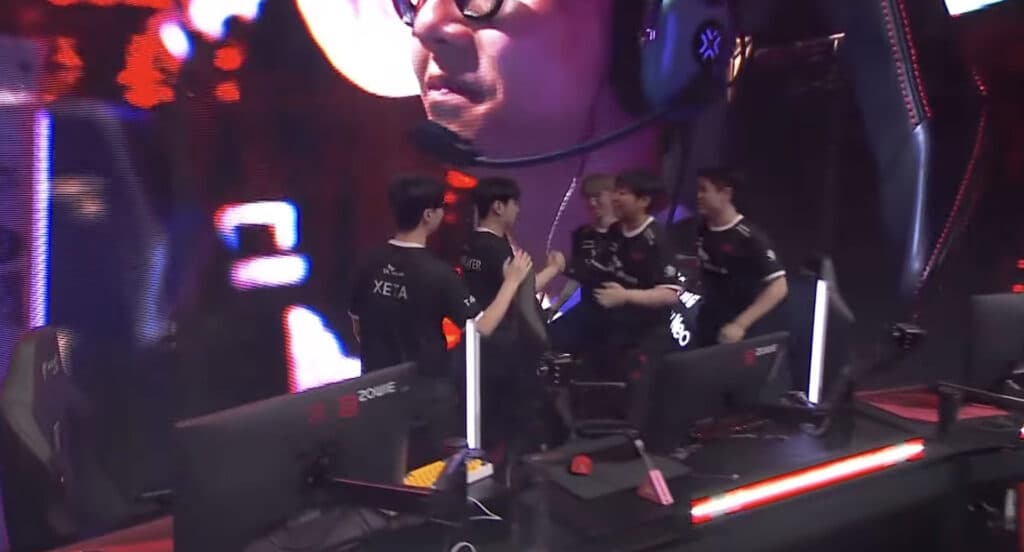 T1 win opening series against GES at VCT - Image via VALORANT Pacific
With this victory, T1 have secured a decent start to their VCT Pacific League campaign. The top teams get an opportunity to qualify for VCT Masters Tokyo that will take place in June. T1 will next face Talon esports while Global Esports will battle it out against the League-favorites DRX.