VCT Stage 3 Finals: Sentinels, 100T, Envy to represent NA in Berlin
We have our 3 representatives for North America at Masters Berlin. With their win over XSET today, Envy join Sentinels and 100 Thieves in the big event. Meanwhile, a comfortable win puts SEN through to the grand final.
Today was a big day for North American VALORANT. Two big matches were set to go between four of the best teams in NA with pride and seeding on the line. First up, Sentinels and 100 Thieves in a battle between two of the biggest names in VALORANT esports. The second was a clash between Envy and XSET to determine NA's last Masters Berlin representative. How did things work out?
SEN comfortably beat 100 Thieves in upper bracket final
This upper bracket final was a big one - the two most high-profile teams in North America, battling it out for massive viewership. While it doesn't mean much regionally, it gives seeding to Berlin and plenty of prize money. Ultimately, it would be Sentinels dominating on Split and taking a closer win on Haven to win 2-0.
"Honestly, [the match] went how we expected it to," Hunter "SicK" Mims said. "I don't want to be too cocky about it, but playing 100 Thieves hasn't been much of a challenge as of late. Even though it's just a seeding match, we came in expecting to play our best game and just take care of it."
"Map one, obviously, was a little rough, we kind of got rolled," said 100 Thieves' Ethan "Ethan" Arnold after the match. "We don't really play that map, so when they picked it, we were just hoping for the best. But going into Haven, I think we've always historically had really close games against them on that map. I think our attack was good, it was 6-6. We maybe lost a couple of rounds we could have won, and then on defense, the same thing. There were two really important rounds that we lost and that I think cost us the game. But I mean, that's every game we play against SEN. One mistake and you lose, so good on them for taking advantage of it."
Sentinels progress to Sunday's grand finals and have secured themselves a top 2 seed from North America heading to Berlin. 100 Thieves play in the lower bracket finals - a full best-of-5 - tomorrow.
Envy locked in as NA's final Berlin representative with win over XSET
The second match of the day was an even more important one. XSET was taking on Envy, with a spot in Masters Berlin on the line. The match was a closer affair, with neither map being a blowout like Split was in the previous series. Ultimately, though, it was the favorites Envy who came away with the win.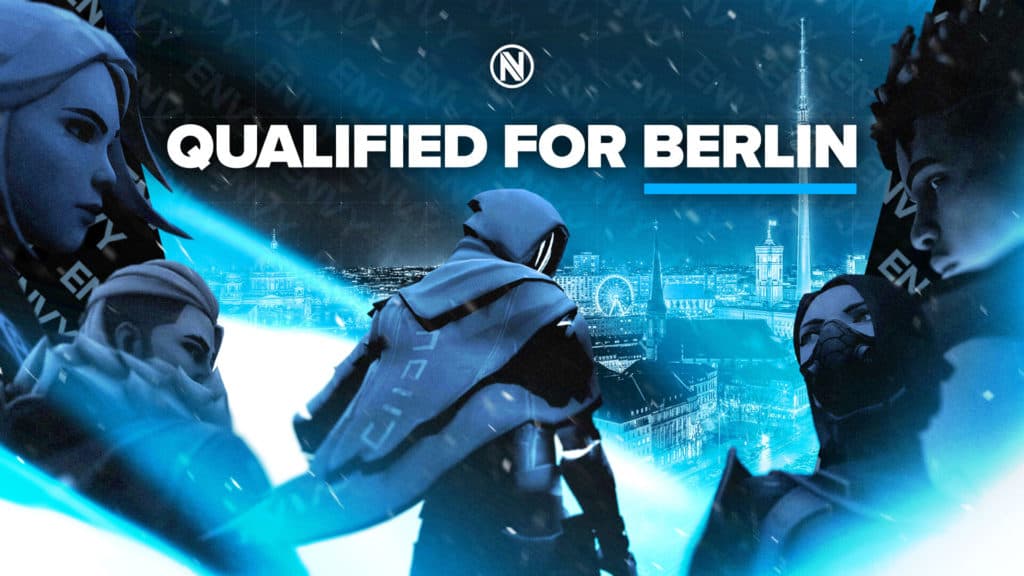 Envy's graphic celebrating their win over XSET and qualification to Masters Berlin.
Image credit:
Envy.
"The games went well," Envy's Jimmy "Marved" Nguyen said in a post-game interview. "We were confident the whole time. We did well to keep composure, especially when they started coming back on Ascent. We knew we were the better team and we played like it."
Both maps were relatively close, with 13-11 and 13-7 scores. Austin "crashies" Wong in particular had a fantastic game, as he had all tournament. He and Jaccob "yay" Whiteaker have been the stars for this team all event and will be looking ahead to Berlin too.
XSET's VCT run is not yet over, they'll be a mid-tier seed in the last chance qualifier. As for Envy, they take on 100T in a lower-bracket best-of-5 tomorrow, a match Marved thinks they'll win.
"Stylistically, I think it's an even matchup, but I feel like we are better. I don't find much trouble playing against them, but we'll see what happens."