Team Liquid had a scary comeback on Map 3, but OpTic's early lead prevailed.
The upper bracket match between OpTic and Team Liquid was the rollercoaster of a match that Valorant fans had been waiting for. Traditionally one of the best teams in Valorant, OpTic has had a rough time playing against EMEA teams. In fact, before this tournament, it was not out of the ordinary to consider EMEA teams as OpTic's kryptonite. But today, OpTic defeated Team Liquid in a three-map series that featured dominance, comebacks and some exemplary individual performance.
The first map, Breeze, saw Team Liquid off to an explosive start with a 9-1 lead. Their defense was extremely strong and OpTic looked slightly lost in the map. In the post-match interview, FNS spoke about how they knew Breezer was going to be a tough map choice for them. However, they knew Bind was the second map and they were confident of pulling out a strong performance.
The Istanbul crowd was clearly favoring Team Liquid in the EMEA vs NA matchup. Speaking of the crowd support, FNS said it made him angry, but it also motivated him to perform better.
Oh, it makes me angry. As you can clearly see, I was getting up a lot because it just triggered me right from the start when I saw that many people supporting 'not us' and the other team. I know they have a lot of supporters as they should. They have Scream. so obviously they have half the fan base. Can't really beat him in that battle. But hopefully, or rather luckily we were able to beat them in the game.
FNS
Bootcamp focus was on improving Map pool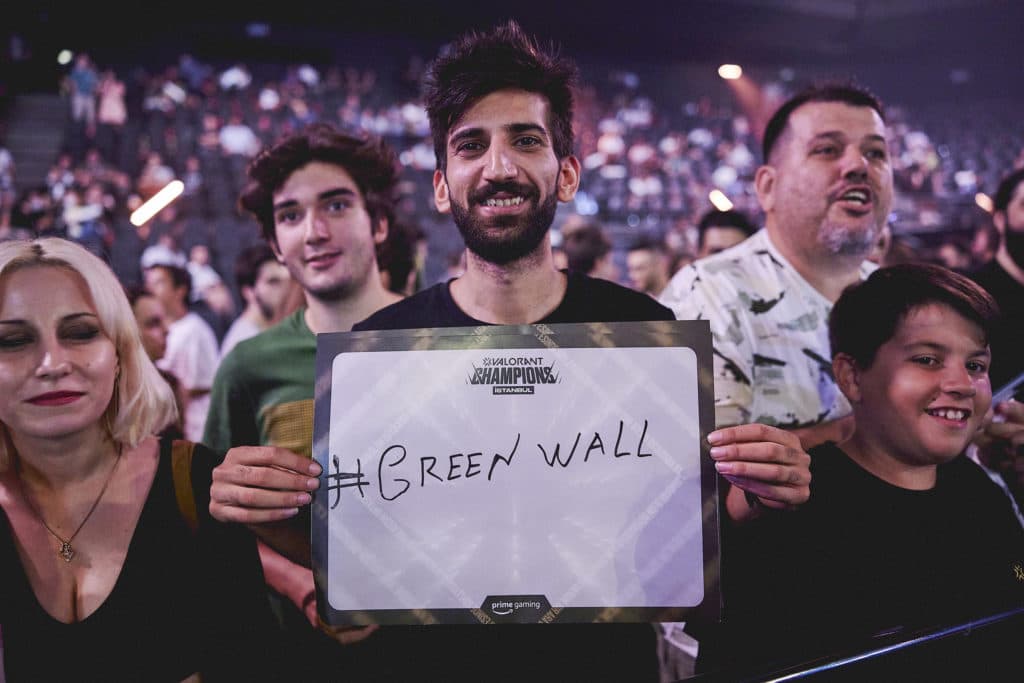 Fans appear in the audience at the VALORANT Champions 2022 Istanbul Playoffs Stage on September 10, 2022 in Istanbul, Turkey. (Photo by Lance Skundrich/Riot Games)
In the post-match press conference, when asked if they had an advantage against EMEA teams due to their Poland bootcamp, Chet said their focus during the bootcamp was on improving their map pool.
"I think our bootcamp helped us figure out Pearl mainly in the boot camp. I wouldn't say like it helped us exactly with EMEA teams, but maybe a little bit, just maybe help with our mappool."
Pearl is a new addition to the map pool this Champs and teams have been trying to include it in their map pool. Most teams have a fairly decent knowledge of the new map and look strong on it. 
The second map was relatively one-sided too, but this time it was OpTic in the driving seat. Yay in particular had a splendid performance, and he had clearly left the first map behind. Even though Marved had more kills than Yay, the latter had many more impactful kills where he would simply stop the entire attack right at the beginning.
OpTic got its first win over an EMEA team

Team liquid also picked a Phoenix on the final map. Phoenix is usually an agent that is not widely popular in professional games. However, ScreaM's Phoenix was not only effective, he dictated the pace of the game.
During our bootcamp, we scrimmed Team Liquid a lot. So we had a pretty good idea of his Phoenix, and they had a pretty good idea of our playstyle as well. So not too many things caught us off guard besides maybe some fast paced strats. But overall, we kind of knew where to expect his flashes and like where his walls were gonna be. So it was just okay. It was like, we just expected most of the things that he did.
With this victory, OpTic will now face the winner of XSET and Fnatic. Meanwhile, Team Liquid will have to go through the arduous process of the lower bracket route. They will face the loser of XSET and Fnatic. Fans can catch all the action live on Twitch.