LOUD vs EDG Masters Tokyo: EDG eliminates LOUD in a stunning series sweep
It's a surprise seeing LOUD vs EDG in the Lower Bracket, but it is where the first team will be eliminated from Masters Tokyo playoffs.
The first elimination games of the VCT Masters Tokyo Bracket Stage are upon us. More teams are starting to go home and will have to wait to try again at Champions. That's the case for the LOUD vs EDG match up. The VCT Americas champions and EDward Gaming are going at it to keep their tournament hopes alive.
| | | | | | |
| --- | --- | --- | --- | --- | --- |
| Round | Series | Map Count | Map 1 | Map 2 | Map 3 |
| Lower Bracket Round 1 | LOUD vs EDG | 0:2 | Lotus 6:13 | Fracture 10:13 | Bind |
LOUD vs EDG: Will EDG shock the 2022 champions of VALORANT?
It has been a long time since LOUD has faced diversity in the VALORANT Champions Tour. On the contrary, EDG has faced two losses in Tokyo, but remains in the picture. This game could truly be a toss up just by looking at the resiliency of both teams involved.
This is the first time that LOUD has been sent to the Lower Bracket of a playoff stage in VCT. That could light a fire underneath them or give EDG the confidence needed to take down the the 2022 champions of VALORANT.
Look for a battle of firepower between the likes of aspas and ZmjjKK. Then prepare for difference makers Less and CHICHOO to shine. It might be obvious, but there hasn't been a single game so far at VCT Masters Tokyo like this one, where the team whose players truly perfect their roles will win.
LOUD VALORANT roster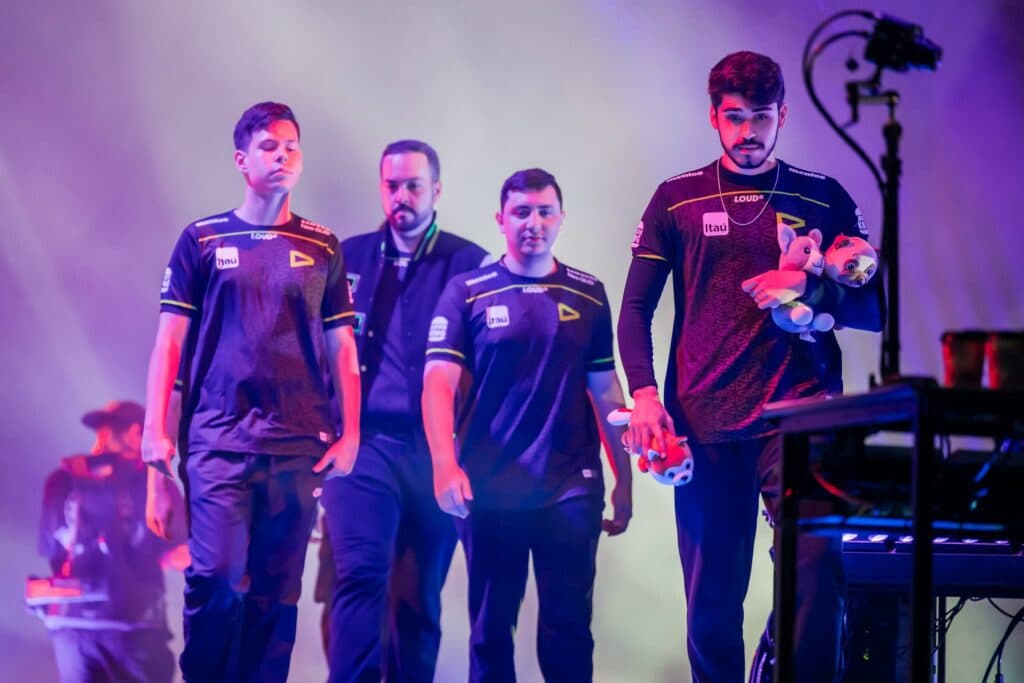 (Photo by Colin Young-Wolff/Riot Games)
Erick "aspas" Santos
Felipe "Less" Basso
Matias "Saadhak" Delipetro
Cauan "cauanzin" Pereira
Arthur "tuyz" Vieira
EDG VALORANT roster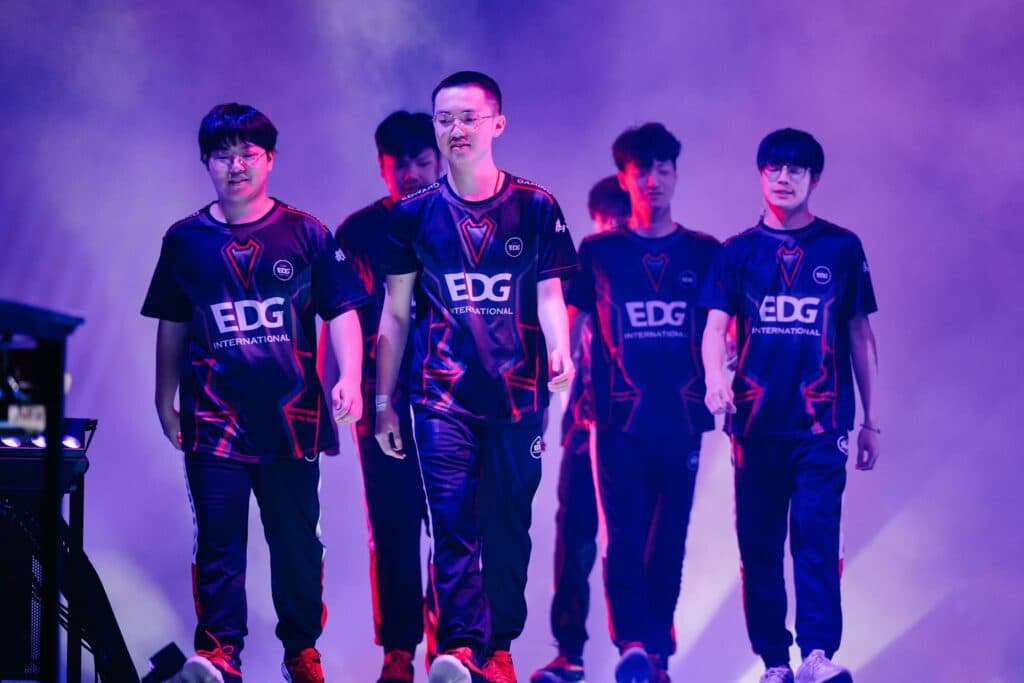 (Photo by Colin Young-Wolff/Riot Games)
Wan "CHICHOO" Shunzhi
Guo "Haodong" Haodong
Wang "nobody" Senxu
Zhang "Smoggy" Zhao
Zheng "ZmjjKK" Yongkang
How to watch LOUD vs EDG?
You can always watch the VCT Masters Tokyo action live on the VALORANT YouTube and Twitch channels. There are also many co-streams taking place, so you can see if your favorite streamer or content creator is hosting one and watch along with them. Otherwise, watch LOUD vs EDG along with us right here.
LOUD vs EDG full match recap
Map 1: Lotus
EDG got off to a hot start on Lotus. In the first four rounds, ZmjjKK had six kills to his name, and it wasn't long before the rest of his team joined him in the fragging party. EDG pressured LOUD on attack and collapsed onto the sites with ease. It was another uncharacteristic start for LOUD, but they managed to stop the bleeding by performing how we expect them to, entering halftime with a doable 8:4 score.
LOUD looked for some quick round victories on their attacking side, but EDG had other plans. After a pistol round win by the Brazilian team, EDG shut them down as nobody and Smoggy stomped their way to double digits nine (shown above), and double digits was not far behind. LOUD was absolutely outclassed for the remainder of the map. EDG took a swift map one 13:6.
Map 2: Fracture
EDward Gaming continued to show their stuff at the start of Fracture with two fast rounds. A 3K by Less in the bonus was the sign of life LOUD needed, though. A few back and forth rounds prevented either team from pulling ahead. It was a solid clutch by Less playing in and out of his Viper's Pit that gave LOUD the lead. With a couple more rounds to their name, they reached halftime up 7:5.
The pistol round was LOUD's, which was followed by a 4K from cauanzin to extend the lead. As soon as EDG got better weaponry, they started to close the gap. It wasn't long before their offensive plan tied the map at nine a piece. A calculated timeout by LOUD saw them take the following round and reach double digits first. Then ZmjjKK and CHICHOO punished them and got their 10th round. EDG kept rolling and a huge 3K by nobody, while stunned by a Rolling Thunder, helped them to series point. A quick final round then gave EDG the win against LOUD and the emotions poured out of them.