The final regional VALORANT event of the year will take place in part on the big screen.
Riot Games have announced that the Grand Finals of the Last Chance Qualifier for Champions in North America will be shown in select movie theatres across the United States.
The promotion is a partnership with Iconic Events. The event will be shown in Cinemark Theatres, as well as some other locations, across the U.S. All in all, 22 different states will host showings.
The grand finals will take place on October 17th. Tickets for the showing go on sale starting September 30th.
"Iconic Events Releasing is thrilled to bring the VALORANT LCQ to movie theaters through our partnership with Cinemark," Steve Bunnell, CEO of Iconic Events, said in the official announcement. "Movie theaters offer a safe and inclusive experience for fans across the US to watch these talented players battle it out live in one of the most exciting esports competitions of the year."
Last Chance Qualifier promises to provide excitement
Any fans who attend the event in theatres should be treated to a great match. The North American Last Chance Qualifier is shaping up to be incredibly interesting. Eight top North American teams, as well as two from OCE, will battle it out. And there's a lot to look forward too. Version1, Cloud9 Blue, Gen.G, and favourites 100 Thieves will all be debuting new rosters.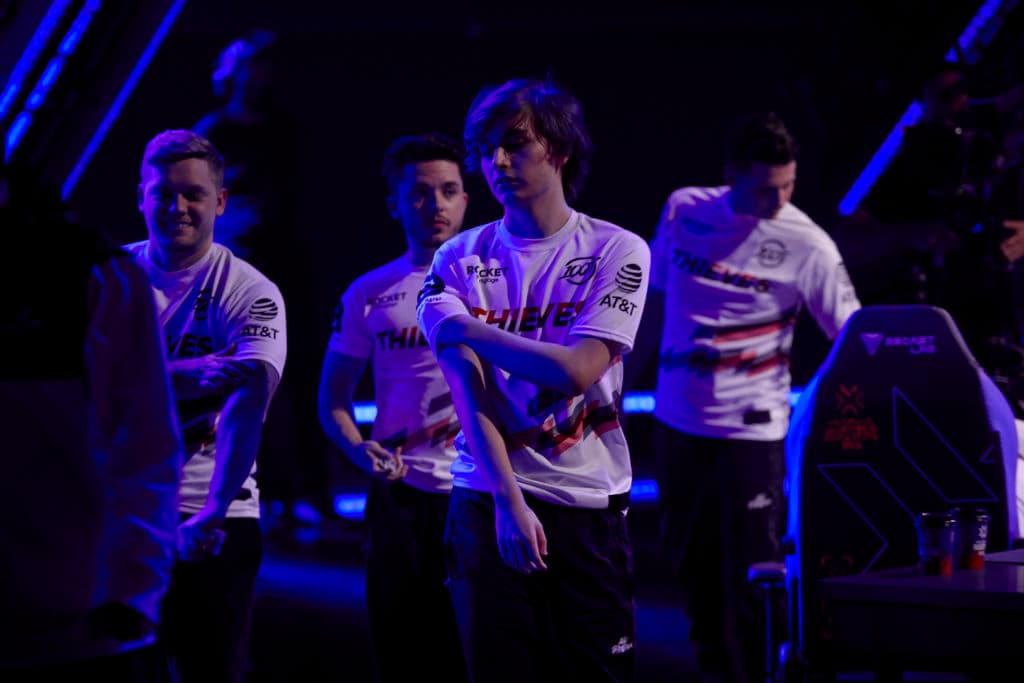 Despite making the semifinals of Masters Berlin, 100 Thieves have made roster changes. Image credit: Lance Skundrich/Riot Games.
Version1 lost Anthony "vanity" Malasplina to Cloud9 Blue, and are reportedly replacing him with Chad "oderus" Miller, formerly of Kansas City Pioneers. Gen.G have benched Michael "MkaeL" De Luca, with his replacement unknown. For 100 Thieves, they've shifted Josh "steel" Nissan out of the active lineup. Aaron "b0i" Thao will replace him, while exciting prospect Johann "seven" Hernandez will be the team's substitute and trainee.
Joining those teams, of course, are some of North America's best. FaZe Clan, XSET, Luminosity, and Rise all will be vying for that LAN spot. And lastly, ORDER and Chiefs are coming over from Oceania to try their luck.
---