VCT EMEA LCQ: KOI surpasses Heretics to kickstart their LCQ run
KOI and Heretics look to right the wrongs of an otherwise poor 2023 season here at the VCT EMEA LCQ
It's KOI vs Heretics in the opening match of the VCT EMEA LCQ. Both sides will believe they have a shot at claiming one of the two remaining spots at Champions 2023. So make sure you keep an eye on this page, as this is a match you won't want to miss.
KOI

Team Heretics

KOI 13 - 8
Fracture

Heretics 13 - 10
Pearl

KOI 13 - 6
Haven

KOI (2 - 1)
Live scores for KOI vs Heretics VCT EMEA LCQ
KOI face Heretics in a chaotic LCQ matchup
The EMEA LCQ kicked off with a battle between two major Spanish organisations with KOI facing off against Team Heretics. This will be the first time we see these two teams since the end of the regular season back in May. A season which was plagued by inconsistencies and overall poor performances from teams. But, given that there are two spots available to the remaining teams in this league, thanks to the efforts of Fnatic at Masters Tokyo, both sides will feel that this is a chance for some much needed redemption. Especially given that there are only six teams competing in this bracket instead of seven, as a result of Team Vitality's decision to pull out of the LCQ in the wake of Twisten's passing.
Team Heretics finished have gone through a bit of a change since the conclusion of league play. With the most notable being the signing of former Fortnite star benjyfishy to their starting roster. While it is unclear just how he will fit into this much maligned roster, we can likely expect to see sparks fly wherever he finds himself on a map. And while there hasn't been much in the way of notable changes within KOI's roster ahead of the LCQ, this is still a team that has the potential to cause an upset or two. But the question facing both of these teams today will be whether or not either of them have what it takes to overcome the demons that have plagued them all season long. Either way, this is sure to make for an entertaining match.
KOI VALORANT Roster: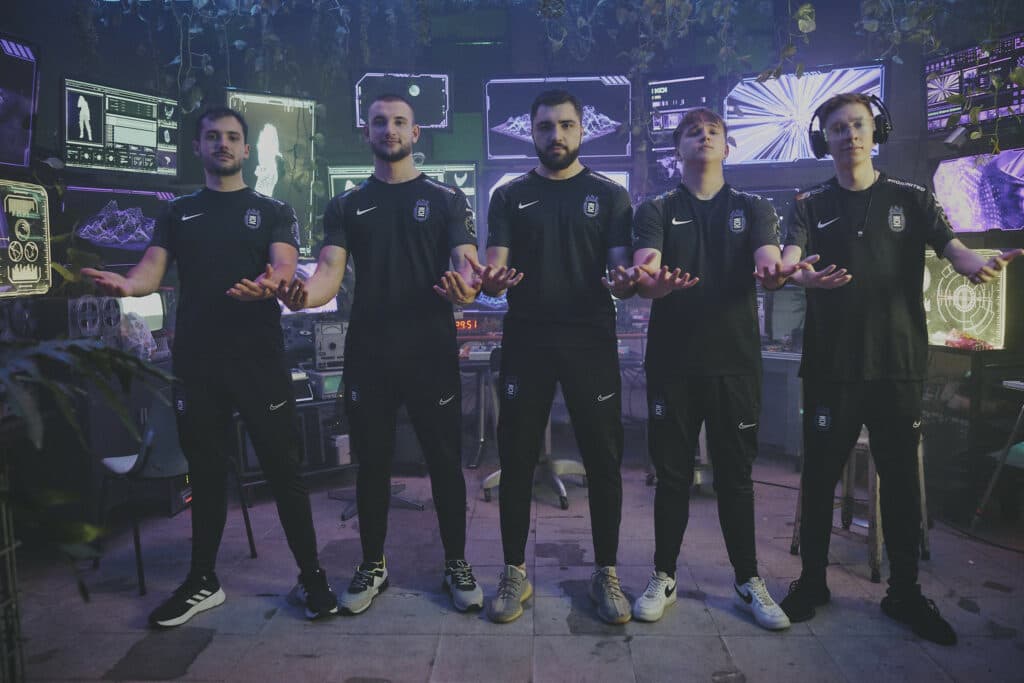 KOI VALORANT Roster VCT EMEA LCQ (Photo by Lance Skundrich/Riot Games)
Jose Luis "Koldamenta" Aranguren Herrero (IGL)
Patryk "Starxo" Kopczynski
Bogdan "Sheydos" Naumov
Nikita "trexx" Cherednichenko
Berkant "Wolfen" Joshkun
Team Heretics VALORANT Roster:
Team Heretics VALORANT Roster VCT EMEA LCQ (Photo by Lance Skundrich/Riot Games)
Ričardas "Boo" Lukaševičius (IGL)
Wassim "keloqz" Cista
Óscar "mixwell" Colocho
Auni "AvovA" Chahade
Benjy "benjyfishy" Fish
KOI stand firm on Fracture
The match begins with a stroll over to Fracture for Map 1, curtesy of KOI. We get a slight variation in agent composition approaches to this map from both sides. With KOI going with a double initiator comp and Heretics going with an interesting variation of a double controller comp, with AvovA on Omen and Mixwell on Viper.
Heretics take the opening pistol round as well as their anti-eco to get things going early into their attack half. KOI snatch the bonus away from their opponents but Heretics remains in control with a 4 - 1 lead. KOI slowly get to grips with matters on their defense, but Heretics still remain in control with Keloqz firing on all cylinders for his side. Nevertheless KOI are able to stabilize enough to reduce Heretics' first half lead to 7 - 5.
KOI take the second pistol round as well as their anti-eco to tie the map up at 7 - 7. The teams trade blows in the kill feed as Mixwell and Trexx pull off some impressive multi-kills for their respective teams. But KOI wrest control of Fracture away from Heretics, depleting their economy in the process, as they manage to crack the double-digit mark at 10 - 8. And it didn't take long for them to hit match point as Heretics truly struggled to cobble up any sort of response to the unending amount of aggression coming out from KOI's players. Especially Trexx, who was finding a lot more access in this attack half with his Raze. Efforts which enabled KOI to close out Fracture 13 - 8 and establish a well-earned 1 - 0 lead in the series.
Keloqz and Mixwell outwit KOI on Pearl
After faltering on Fracture, Heretics find themselves with their backs up against the wall as we head to their map pick of Pearl. And they opt to go for the kitchen sink approach with their agent compositions as Mixwell busts out his Yoru alongside Keloqz Jett. KOI on the other hand decide to stick with another double initiator composition.
Heretics take the opening two rounds of the map to get off to another decent start on their attack half. KOI respond with two strong rounds of their own as the map dissolves into a never-ending brawl. One which KOI find a way to gain the upper hand of, as they quickly begin to pull away from Heretics as they hold an 8 - 4 lead going into halftime.
Heretics take the second pistol round as well as the succeeding anti-eco as they begin to claw their way back into the game. And they continue to shutdown KOI's attack, which looks tame compared to how they approached it on Fracture. Which greatly benefits the duelist duo of Keloqz and Mixwell. with the former having a field day with the Operator in his hands. Heretics breach the double digit mark but so too do KOI who refuse to say die on this map. But KOI were ultimately unable to muster up the same sort of presence which they had on their defensive half. Something which suited Heretics all day long who were able to take Pearl 13 - 10 and tie up the series 1 - 1.
KOI plant the final dagger into Heretics on Haven
After a grueling contest on Pearl, we head to Haven for the final map of this series. Once again we have some contrasting agent compositions from both sides. With KOI going with a double-controller composition, with Trexx being placed on Viper duty. And Heretics going with the double-initiator combo of Breach and Fade.
KOI take the opening pistol round of the map as well as their anti-eco to get their defensive half off to a good start. And they stretch their lead to four, before Heretics answers back with a round win of their own. But the momentum lies solely with KOI in the first half, as Starxo and Trexx prove to be a nuisance for Heretics with their utility usage. A peculiar blunder from KOI following a lengthy tech pause gifts Heretics a way back into the map. But KOI are able to take a commanding 8 - 4 lead into halftime nonetheless.
KOI secures the second pistol round of the Haven as their lead only continues to increase. And they hit the 10 point mark off of their anti-eco round. Heretics manage to get two rounds in a row to halve their deficit, but another thrifty win from KOI puts them that much closer to victory. KOI put themselves onto match point at 12 - 6 despite a desperate team fight initiation from the Heretics players. It was pure domination from start from KOI on this map, as the Heretics players became more and more desperate to force team fights to go their way. And in the end that proved to be their demise as KOI closed out Haven 13 - 6, allowing them to walk away with a 2 - 1 victory in the series.
How to watch KOI vs Heretics
Three EMEA League teams have already secured their spots at Champions 2023 in LA later this year. And thanks to Fnatic's victory at Masters Tokyo, there are a total of two spots up for grabs amongst the remaining six teams here at the VCT EMEA Last Chance Qualifiers. Fans who wish to watch the KOI vs Heretics VCT EMEA LCQ match may do so by heading to the league's Twitch and YouTube channels. You may also tune in via the embed stream link down below in case you don't wish to leave this page.
Stay tuned to esports.gg for more esports news and VALORANT coverage throughout the VCT 2023 season.