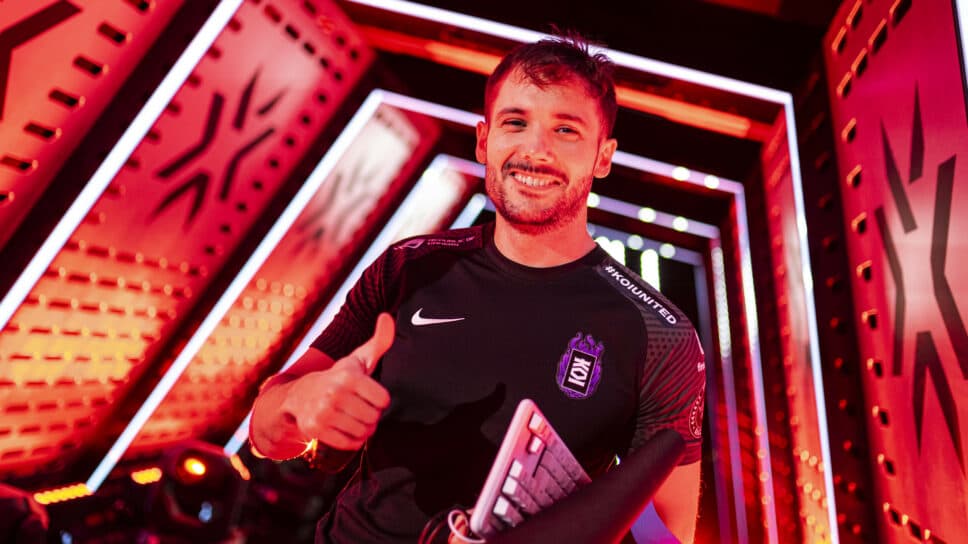 VCT EMEA LCQ: Giants punch their ticket to Champions LA with 2 – 0 win over KOI
Will Giants be able to handle an in-form KOI in the battle for the first Champions slot available at VCT EMEA LCQ.
It's KOI vs Giants here at the VCT EMEA LCQ upper bracket final. KOI have already seen off one Spanish organization at this tournament. Will they be able to do it again as both sides fight to secure the first ticket to Champions 2023 here in the LCQ?
KOI

Giants Gaming (GIA)

GIA 14 - 12
Haven

GIA 13 - 5
Pearl

N/A
Ascent

GIA (2 - 0)
Final scores for KOI vs Giants VCT EMEA LCQ
Champions 2023 in touching distance for KOI and Giants
We have another battle of the Spanish organizations on our hands, as surprise package KOI go up against Giants Gaming in the VCT EMEA LCQ. Both teams will need to be at their best as the winner of today's match will become first team across all three regions to punch their ticket to Champions 2023 in LA from this LCQ stage.
KOI have been quite the interesting run here at the Messe Berlin arena. While they had a nervy tie against Team Heretics in their first round matchup, they ended up being the runaway victors in their semi-final win over NAVI.
KOI's star duelist Trexx has been a standout player for his side in the run up to this match, as his high-octane aggression has seen him pick up a total of 93 kills thus far in the tournament. He will be hoping to add more to his tally to help KOI get over the line today. But they will be facing by far their toughest challenge of the LCQ.
Giants were the victors in their previous match in the LCQ, winning 2 - 0 over Karmine Corp. While Giants haven't had quite as perilous of a journey as KOI have to get to this point in the tournament, they remain a force to be reckoned with here. They did have a few slip ups in that win over Karmine Corp which could have cost them dearly.
But they were able to overcome those slight mishaps to dispatch their foe nonetheless. They were victorious over KOI the last time these two faced off against each other in the regular season. But given KOI's red-hot form at the moment, you have to wonder whether they will be able to replicate that feat today. Especially with a Champions slot on the line.
Giants Gaming VALORANT Roster:
Giants Gaming VALORANT Roster VCT EMEA LCQ (Photo by Lance Skundrich/Riot Games)
Emir "Rhyme" Muminovic (IGL)
Adolfo "Fit1nho" Gallego
Kirill "Cloud" Nehozhin
Zygimantas "nukkye" Chmieliauskas
Aaro "hoody" Peltokangas
KOI VALORANT Roster:
KOI VALORANT Roster VCT EMEA LCQ (Photo by Lance Skundrich/Riot Games)
Jose Luis "Koldamenta" Aranguren Herrero (IGL)
Patryk "Starxo" Kopczynski
Bogdan "Sheydos" Naumov
Nikita "trexx" Cherednichenko
Berkant "Wolfen" Joshkun
Giants snatch Haven away from KOI
We stroll on over to KOI's chosen field of battle Haven for Map 1 of this series. We get some slightly similar compositions coming out from both teams. With Giants utilizing a double-initiator combination of Breach and Sova, and KOI with the double-controller duo of Omen and Viper.
KOI take the opening pistol round, thanks in part to an early mistake coming out of Giants. They also manage to convert on their anti-eco but they lose out on their bonus. Giants briefly manage to take the lead thanks to a 4k from Nukkye, but Wolfen answers back with a 3k to keep things level. Giants are able to overtake KOI again and they slowly begin to pull away from them. Sheydos and Starxo manage to reel them back in a little bit, but Giants remain resolute on their defense. And they are rewarded for the efforts with a well-deserved 7 - 5 lead to take into the second half.
Giants take the second pistol round and their anti-eco to extend their lead on Haven to 9 - 5. And they manage to hit the double-digit mark, despite losing out on their bonus. KOI steal another round for themselves thanks to a defuse play from Koldamenta, but it does little to faze Giants who continue to be efficient across the map. Giants hit map point with plenty of time to spare. But KOI manage to find their second wind at a vital time, with Trexx finally starting to make his presence known on the map. It felt like this map was destined to fall to Giants. But Sheydos and Starxo link up once more to pull KOI out from the brink to send Haven into Overtime.
Giants shore things up in their defensive round to put themselves back onto map point. But KOI are unable to conjure any more moments of magic to keep themselves alive on their map pick. Leaving Giants to take Haven 14 - 12 and take a 1 - 0 lead in the series
Map 2: Pearl
After falling short on their own map pick, KOI head into Giants' playground of Pearl for game 2. Giants opt to stick with the same double-initiator composition they used in their previous match with Karmine Corp. KOI also go for a double-initiator setup but with Trexx on Kayo versus Cloud's Sova.
Giants make quick work of KOI in the opening pistol round to get things going on their attack half. Trexx responds with an early 3k to gift KOI an early eco round. The teams trade a couple of rounds but it is KOI that hold an early lead, with Giants struggling to deal with their mid-round setups. Giants come up with the necessary adjustments to jump in front of KOI following a brief timeout. Things begin to fall in to place for Giants, as they start to build a small, but impactful lead at 6 - 4. Whereas KOI's defensive setups become a bit paper thin as Giants continue to overwhelm them with their entry utility. They do manage to come up with a response of sorts, but Giants are still able to take a 7 - 5 lead into the side switch.
Nukkye pulls off a big 1 v 2 clutch in the second pistol round as Giants pull further away from KOI. And Giants continue to come up with some big plays on both their anti-eco as well as their bonus round to hit the double digit mark, whilst also leaving KOI's economy in a less than ideal state. Giants hit match point at 12 - 5 with Fit1nho firing on all cylinders for his side. KOI are left with a mountain to climb, even more so than the situation they found themselves in on Haven. But there were no heroes to be found in KOI colours, only in the blue of Giants. And with one final bit of brilliance from Fit1nho and Hoody, Giants are able to close out Pearl 13 - 5 and the series 2 - 0 to claim their spot at Champions 2023 in LA.
How to watch KOI vs Giants VCT EMEA LCQ:
Three EMEA League teams have already secured their spots at Champions 2023 later this year. And thanks to Fnatic's victory at Masters Tokyo, there are a total of two spots up for grabs amongst the remaining six teams here at the VCT EMEA LCQ. Fans who wish to watch the Giants versus Karmine Corp VCT EMEA LCQ match may do so by heading to the league's Twitch and YouTube channels. You may also tune in via the embed stream link down below.
Stay tuned to esports.gg for more esports news and VALORANT coverage throughout the VCT 2023 season.