Fnatic take down Zeta Division in dominant fashion at Champions LA
Will Zeta Division be able to put an early dent in Fnatic's title charge at Champions?
It is Fnatic vs Zeta Division at the heart of all the action on Day 3 of Champions LA. This is a match you most definitely do not want to miss, which is why we are here to bring you all of the action as it happens live:
Fnatic (FNC)

Zeta Division (Zeta)

FNC (13 - 5)
Fracture

FNC (13 - 6)
Haven

N/A
Lotus

(2 - 0)
Final scores for Fnatic vs Zeta Division Champions LA
Fnatic begin their Champions conquest with a duel against Zeta Division
The prodigal sons of VALORANT are preparing to take the stage at Champions LA as Fnatic face Zeta Division in their first match of Group C. All eyes will be fixed upon the Masters winners as many see them as the clear favorites to claim the crown here in Los Angeles. If they were to achieve this feat, Fnatic would become the first team in VCT history to win every major tournament across a single season; having won both LOCK//IN and Masters already. They will have their work cut out for them in the Group Stages though, as they will be going up against a resurgent Zeta Division squad to kick things off.
The Japanese side had, had a rough go of things during the regular season. But after their impressive showings in the VCT Pacific LCQ, Zeta Division look like their old selves again. And one man who has been at the center of this shift has been their IGL Laz. Since Laz started using Chamber again the man has been a one-man army at times for his team, averaging a total ACS of 262 with the Sentinel. Whether he will be able to find similar success with the agent at Champions remains to be seen. But if he can continue to be as impactful as he has been lately, alongside TENN and Dep, then Zeta have the means to cause an upset or two here in LA.
This is a match that promises plenty of action and we cannot wait for it to start. But will this be a case of business as usual for Fnatic, or will they start to crack under the weight of expectations placed upon them?
Fnatic VALORANT Roster:
Fnatic VALORANT Roster Champions LA 2023 (Photo by Colin Young-Wolf/Riot Games)
Jake "Boaster" Howlett (IGL)
Nikita "Derke" Sirmitev
Emir Ali "Alfajer" Bader
Leo "Leo" Jannessen
Timofey "Chronicle" Khromov
Maks "Kamyk" Rychlewski
Zeta Division VALORANT Roster: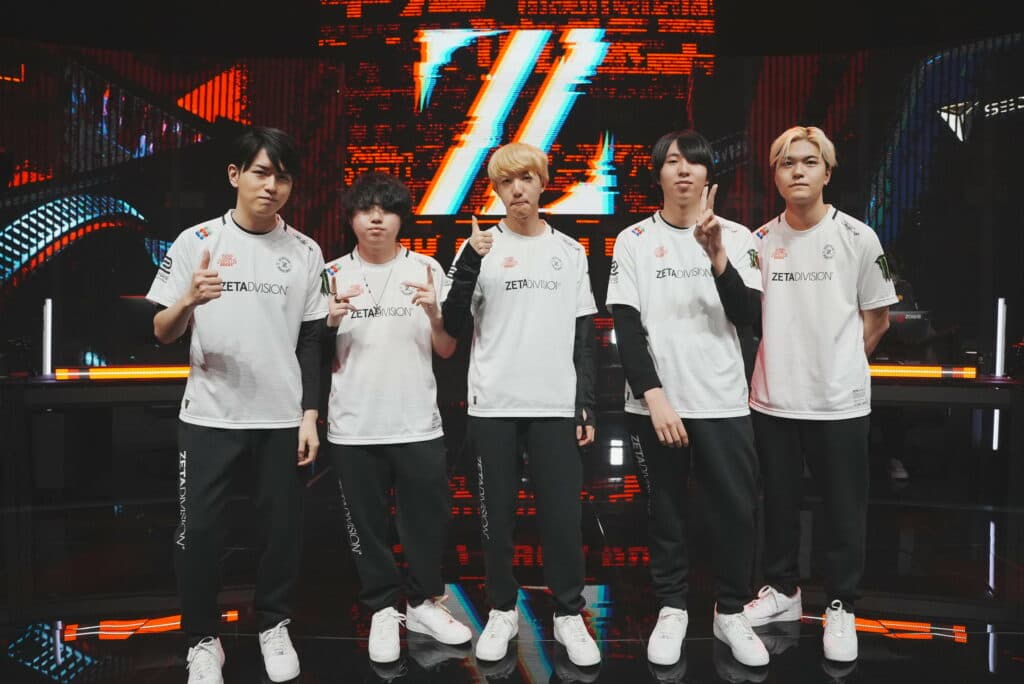 Zeta Division VALORANT Roster Champions LA 2023 (Photo by Riot Games)
Ushida "Laz" Koji (IGL)
Maruoka "Crow" Tomoaki
Yuuma "Dep" Hisamoto
Shota "SugarZ3ro" Watanabe
Tenta "TENNN" Asai
Fnatic lay down the gauntlet on Fracture
The match begins with a stroll over to Fracture for Zeta Division's map pick. The Japanese side go with their customary double-duelist composition alongside Laz's Chamber. Whereas Fnatic decide to add some spice to their typical double-initiator composition as Leo busts out Sova instead of his typical Fade pick.
Fnatic take the opening pistol round followed by a 4k from Boaster to secure the anti-eco. They convert on their bonus and in the first full rifle round to give themselves a commanding 4 - 0 lead. Zeta's patient playstyle begins to find value on their defensive half as they slash Fnatic's lead to 6 - 3. But the EMEA side steel themselves to maintain their advantage in this game. Finishing the first half with an 8 - 4 lead.
Chronicle and Alfajer are called into action to give Fnatic the second pistol and their anti-eco to eclipse the double-digit mark. Zeta respond well to deny Fnatic their bonus round, but the EMEA side remain firmly in the lead at 11 - 5. Fnatic manage to get themselves on to map point, and it doesn't take long for them to put an end to proceedings with unrelenting force on their defence. Leaving Fnatic to close out Fracture 13 - 5 and give themselves a well-earned 1 - 0 lead in the series.
Alfajer and Leo dismantle Zeta Division on Haven
After their statement win on Fracture, Fnatic bring us over to Haven for map 2 of this series. The EMEA side opt back into their double-initiator composition, with Boaster swapping onto Astra this time around. Whereas Zeta decide to bring out a double-controller setup, with Dep being locked into the Killjoy role.
Fnatic take the opening pistol round as well as their anti-eco to get things going on their attack. Zeta respond well to take the bonus away from them, which allows them to chain two more rounds in a row to give themselves the lead at 3 - 2; their first of the series. This prompts Fnatic to ramp up the tempo as they race back into the lead, with Alfajer and Chronicle really heating up for their side. But Zeta answer back with some ingenious setups to tie the map up at 5 - 5. Fnatic are nevertheless able to come out of the first half with a 7 - 5 lead; but only by the skin of their teeth.
Fnatic take the second pistol round on Haven to continue where they left off in the first half. They manage to scrape by in their anti-eco and bonus rounds thanks to the individual efforts of Leo as Fnatic cross the 10-point mark. Zeta try to claw themselves back into the game. But an unreal clutch from Alfajer puts a halt to any sort of momentum swing for Zeta. In the end the gulf in quality between the two sides was on display in this half. And with Derke pulling off an ace at the behest of the LA crowd, Fnatic managed to close out Haven 13 - 6 and take the series 2 - 0. With Alfajer and Leo finishing the map with a total of 42 kills between the pair of them.
How to watch Fnatic vs. Zeta Division Champions LA?
We are at the business end of the 2023 VCT season. Sixteen of the best VALORANT teams from around the world have come together in the city of Los Angeles as they fight for the right to be called Champions. Fans who wish to watch the Fnatic vs Zeta Division match at Champions LA may do so be heading to the VALORANT Twitch and YouTube channels.
You can also tune in via the embedded stream link down below for those who don't wish to click off of this page.
Head on over to our Champions LA hub for all of the latest news from across the tournament here at esports.gg.