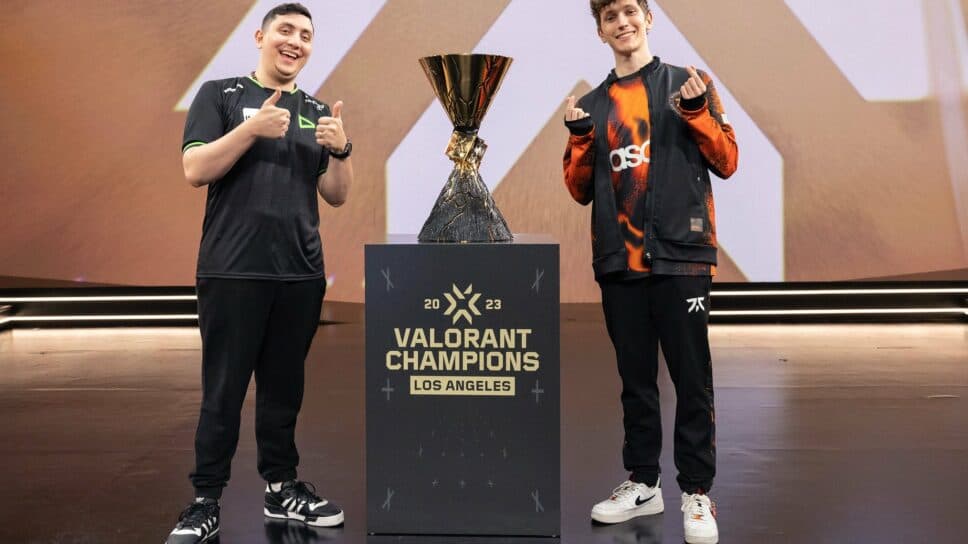 Fnatic vs LOUD: LOUD are the Fnatic kryptonite
Will Fnatic live up to the hype or can LOUD try to defend their title?
Fnatic and LOUD play in the lower bracket semifinals at VCT Champs and at stake is their position at VALORANT Champs 2023. Coming in as one of the best teams in the tournament, Fnatic suddenly find themselves on the brink of elimination. Meanwhile, LOUD are the defending Champions although they have a tough task ahead of them.
Fnatic vs LOUD VCT Champs Live score
| | | | | | |
| --- | --- | --- | --- | --- | --- |
| Fnatic | LOUD | Split (5-13) | Ascent (13-9) | Haven (1-4) | 1-1 |
Map 1 - Split
The first map of Split was a LOUD show. LOUD were clearly confident against Fnatic having already defeated them once before in the playoffs.
Split saw LOUD continue to take fights to Fnatic repeatedly taking raw duels. Fnatic, in some of these duels, despite having the advantage were simply unable to counter LOUD.
Mixwell mentioned how LOUD are Fnatic's nemesis. The South American team is able to control Chronicle, and without Chronicle performing at his peak, Fnatic are quite often not as adept in dealing with strategic opponents.
Map 2 - Ascent
The second map saw Fnatic come back with a rejuvenated vigor. They didn't really win the pistol but that didn't stop them from trying to win the half.
Heroic plays and calculated ones like the one by Alfajer clearly revealed the amount of preparation that the EMEA team have put into their performance.
However, while unique interesting plays are one thing, in terms of straight firepower, LOUD were simply the better team today. On the second half of Map 2, Fnatic showcased why they are considered to be one of the best teams in the world. With confident plays and aggressive maneouvers,
The third map saw LOUD emerge as the winners yet again. This time around, it was aspas as the best player on the server with a 327 ACS. With this victory, LOUD still have a few more games to go. They have to face off against EG in the lower bracket finals.
Only two teams have beaten the Fnatic superteam roster and one of them is LOUD.
Fnatic vs LOUD Preview
Fnatic and LOUD have already faced each other in their first match of the playoffs. The Brazilians won that series 2-0 sending Fnatic down to the lower bracket. But just a few games later, they also found themselves running across the brink of elimination.
Fnatic started the tournament with a dominant 2-0 performance in the group stage. This was not really a huge shock as Fnatic are and have mostly been the favorites in almost all the events they attend. Ofcourse, this event being the World Championship of VALORANT adds pressure and higher expectations of the star-studded EMEA roster.
Meanwhile, LOUD are the defending champions of VCT Champs. However, the team's roster has changed dramatically over the past year. Their current form is not as dominant as they were in 2022. LOUD lost to DRX in the Group stage and to Paper Rex in the playoffs. As such, their performance this event has been really good, with the exception of their losses against two very good teams.
Going up against Fnatic should be a matter of confidence for LOUD. They have already defeated LOUD once before. And the players should come into this series with their confidence at an all-time high.
Fnatic VALORANT roster
Jake "Boaster" Howlett
Nikita "Derke" Sirmitev
Emir "Alfajer" Beder
Leo "Leo" Jannesson
Timofey "Chronicle" Khromov
LOUD VALORANT roster
Erick "aspas" Santos
Felipe "Less" Basso
Matias "Saadhak" Delipetro
Cauan "cauanzin" Pereira
Arthur "tuyz" Vieira
Where can I watch Fnatic vs LOUD?
The Fnatic vs LOUD match is broadcast live on Twitch. We have embedded the stream below for your convenience.