Fnatic vs Heretics VCT EMEA: Fnatic coasts towards dominant 2 – 0 victory.
Leo puts on another shock dart masterclass as Fnatic brush past Heretics to stay at the top of VCT EMEA.
Week 2 of VCT EMEA is underway and we have the makings of a great match in Fnatic vs Heretics. Fnatic is on top of the scoreboard but Heretics has been having a hard time in the VCT EMEA 2023 league so far. Stay tuned to this page for all of the latest scores and updates throughout the game.
Fnatic

Team Heretics

FNC 13 - 3
(Icebox)

FNC 13 - 6
(Ascent)

N/A
Fracture

FNC (2 - 0)
Final Scores for Fnatic vs Heretics VCT EMEA 2023
Heretics feels the full might of Fnatic.
Fnatic had a fairly strong start to their VCT EMEA campaign after picking up wins against Giants and BBL Esports. They faced a slight setback in Week 1 as they were forced to turn to their sub Kamyk, who performed very well all things considered, with Alfajer having visa-related issues. But with their core roster back together for Week 2, we finally got to have a proper look at this squad for the first time since their LOCK//IN success. Though they sat at the top of the standings 2 - 0, their struggles against BBL in their previous match left more questions than answers. Especially as the teams they had already faced were ones many expected them to beat. But these questions appear to have been answered with an impressive performance against their opponents today.
Team Heretics had, had a mixed bag of results to start their season compared to Fnatic. They put on a dismal performance against FUT Esports, only to respond an utterly dominant win over Karmine Corp. Their match against Karmine Corp showed why they are considered contenders for a spot at Masters Tokyo. And a big part of that would appear to be as a result of a major role change for Heretics as Zeek takes up the mantle of IGL. But the question on everyone's minds coming into this match centered on which of these Heretics teams would turn up today. And unfortunately for them, it turned out to be the former.
Fnatic VALORANT roster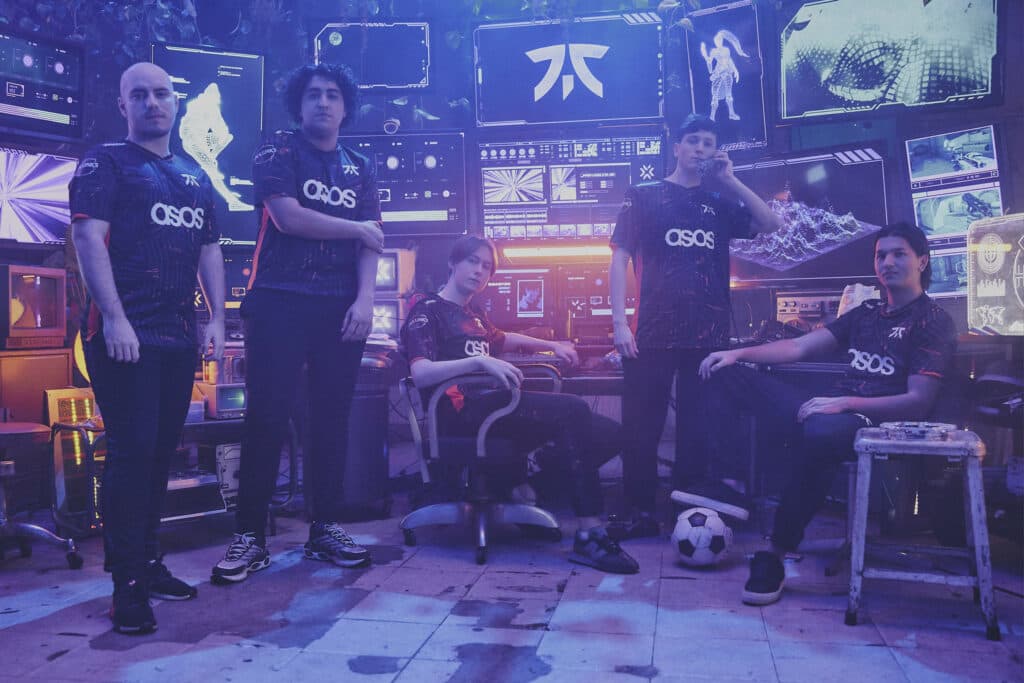 Fnatic Roster VCT EMEA 2023 (Photo by Lance Skundrich/Riot Games)
Jake "Boaster" Howlett (IGL)
Nikita "Derke" Sirmitev
Emir Ali "Alfajer" Bader
Leo "Leo" Jannessen
Timofey "Chronicle" Khromov
Heretics VALORANT roster
Team Heretics Roster VCT EMEA 2023 (Photo by Lance Skundrich/Riot Games)
Ricardas "Boo" Lukasevicius
Aleksander "Zeek" Zygmunt (IGL)
Oscar Canellas "Mixwell" Colocho
Wassim "Keloqz" Cista
Auni "AvovA" Chahade
Fnatic prove once more that they are the kings of Icebox
We head to Icebox for the first map of this series courtesy of Fnatic, with both teams opting to using relatively standard compositions. Fnatic opens up the map with two relatively comfortable round wins on their defense. Only for Heretics to respond with two of their own. Fnatic retakes the lead and begins to establish their influence across the map following a brief tech pause. Heretics manages to get their third round on the board following a brief timeout, but struggle to make much of a dent in Fnatic's rigid defensive setup. As well as the aggressive of tendencies of Derke. Fnatic takes a well-deserved 9 - 3 lead into halftime, with all of the players putting in a shift for the cause.
Fnatic wins the second pistol round of the map as their lead grows to 10 - 3. And it only continues to increase, with Heretics' defense looking as paper thin as their offense was in the first half. Leaving Fnatic to walk away from Icebox with a dominant 13 - 3 score to give them a 1 - 0 lead in the series. With every player on their roster finishing with a positive K/D, most notably Derke who finished the map with 25 Kills and 11 Deaths.
Leo puts on a shock dart masterclass on Ascent
After a dismal display against Fnatic on Icebox, Heretics bring us to Ascent for Map 2. Where they will look to claw back some presence in this series. And we get a slight variation in their comp as Keloqz opts to bring Phoenix in to play.
Heretics gets off to a good start to their map pick with a solid pistol round win. But Fnatic hits back with an eco-round win to keep things steady early on in the map. The pair trade blows again on the subsequent rounds, with Fnatic holding a slight advantage thanks a big 1 v 2 clutch from Alfajer and a 4k from Leo. Their lead continues to grow, and just like on Icebox with Heretics seemingly struggling to find an answer to Fnatic's offense. But two big plays from Zeek gives them a chance of tying up the map. Fnatic ends up taking a 7 - 5 lead into halftime, but Heretics look to have found their second wind.
Fnatic bullies Heretics to take the second pistol round as well as the anti-eco to increase their lead on the map to 9 - 5. Heretics responds with their first round win of the half, but Fnatic hits the double digits mark immediately afterwards. Prompting a timeout from Heretics. Which doesn't lead to much of an improvement for them as Fnatic hits match point. And, sure enough, Fnatic faced little difficulty in closing out Ascent with 13 - 6 scoreline to win the match 3 - 0, and extend their stay at the top of EMEA.
How to watch Fnatic vs Heretics
It is a new era for the VALORANT Champions Tour as we get set for the first season of Franchising. The VCT season will see 30 teams split into three region-based leagues of 10 teams, competing for the chance to secure a spot at both Masters Tokyo in June and Champions 2023 in August. Fans who wish to watch the Fnatic vs Heretics match in the 2023 EMEA League may do so by heading to the VCT EMEA Twitch and Youtube Channels.
You can catch all the EMEA action and live results on our VALORANT EMEA hub.
Stay tuned to esports.gg for more esports news and VALORANT coverage throughout the VCT 2023 Season.